Planning the ultimate Houston bachelorette party might sound like a big undertaking, but we're here to help make your planning easier! We've come up with a few tips to help you plan the best bachelorette party for your bestie and ensure the weekend goes off without a hitch.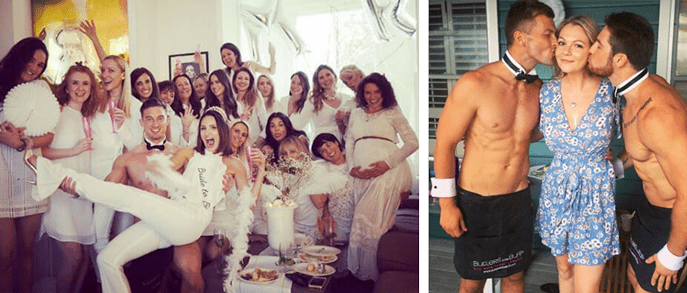 TIME IT RIGHT
The ideal time to have a Houston bachelorette party is two to six weeks out from the big day. This will give your bride plenty of time to recover before she walks down the aisle. No one wants dark circles and puffy eyes on their wedding day! A pro tip: try and find a holiday weekend to make planning easier for your crew of ladies.
HIRE YOUR BUTLER
Butlers in the Buff specialize in helping your party run smoothly. Your butler can serve appetizers and treats throughout the evening, a three-course meal, or simply mix up and serve your favorite drinks while you relax and enjoy the cheeky view. Our buff butlers are ideal for a Houston summer BBQ bachelorette party, as they can man the grill and serve dinner for your girls, complete with a cheeky view and apron. And he'll even do the dishes! All while working hard in their bottom revealing apron, collar, cuffs, and bowtie.

WHAT DOES THE BRIDE WANT?
This is one of the most common mistakes we see when planning a bachelorette weekend is missing the mark on what the bride actually wants. Does she prefer chill weekends, staying in, and getting pampered? Or does she love to go out bar hopping and dancing? No matter what her style is, there are plenty of options in Houston to make her weekend the most special yet! Learn about our Top Ten Houston Bachelorette Party Ideas you don't want to miss!
PICK A THEME
Bachelorette party themes are a great way to tie it all together while exploring Houston! Little details throughout the weekend make the bachelorette party extra special. Of course, a western theme is a popular choice for bachelorette party ideas in Houston. You could also try a nautical look with navy and white accents or a vintage pin-up style western theme if you want to be a bit different. Put a cheeky sailor or cowboy hat on your Butler in the Buff while he serves up drinks during a cocktail happy hour! For more great themes and bachelorette party ideas in Houston visit our Pinterest page for inspiration.