Houston Bachelorette Party Ideas #1 Cutie-pie Cocktail Hour
The perfect Houston Bachelorette Party Ideas are here! 10 Houston Bachelorette Party Ideas-you don't want to miss! The best way to begin your evening or weekend is with a Butler in the Buff cocktail hour in your home or hotel suite. These gorgeous and articulate servers will answer the door, serve drinks and host your party games. All while only wearing a little apron, collar, cuffs and bowtie! Helpful hunks who will have everyone giggling and mixing together-the perfect icebreaker before you head out for the night.
Houston Bachelorette Party Ideas #2 Big Bad Burlesque
So your bride to be loves it loud and wild. Well there's nothing more opulent and sassy than burlesque! Plan a fabulous evening around a "dirty martini" burlesque workshop at Polateaz where your instructor will lead your bachelorette party through the moves! Then off for a pamper session at Katz Meow for some decadent vintage hair and makeup before heading out to Prohibition for cocktails and a show.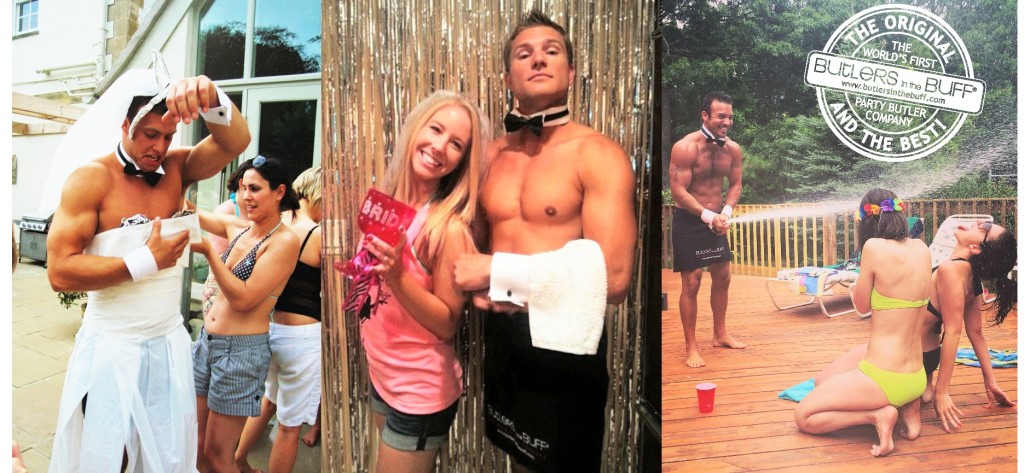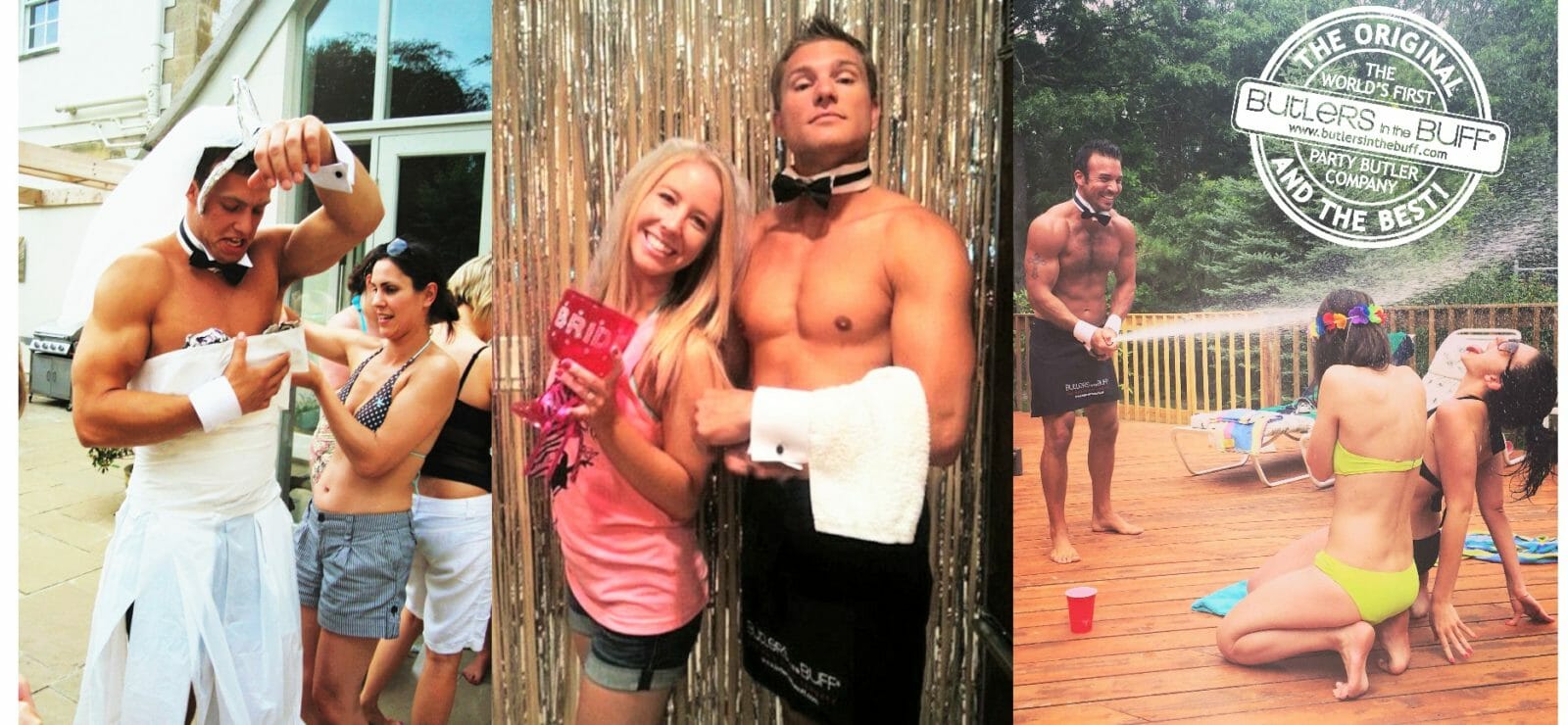 Houston Bachelorette Party Ideas #3 Hot Houston Nights
If your bachelorette party is in the heat of summertime then head up to the rooftop at Crush beautiful views of the city from here and the perfect Houston Bachelorette Party ideas by far is this spot to lounge with the girlfriends and a bottle of wine (or two!) Then head to Venue and dance the night away with all the beautiful people of Houston. If your group has a penchant for retro then Numbers is a fun option or go buck wild with men in tiny shorts and no meat market scene at South Beach!
Hire a Butler in the Buff
Houston Bachelorette Party Ideas #4 Luxe Lounge
A maze of nooks and cozy corners for sipping cocktails with the girlfriends and being seen is the order of the evening when it comes to a good cocktail lounge. Houston is making strides with creating luxurious venues that look like they're out of Miami or New York. The Flat's soulful ambiance and amazing cocktails make for a great happy hour.
Houston Bachelorette Party Idea #5 Foodie Fun
Perfect for bachelorette parties from out of town, or to rediscover your hometown-foodie tours are perfect for the low-key bachelorette. Taste of Houston Food Tours can customise the tour to suit your group-from pan-Asian, to Texan to chocolate!
Houston Bachelorette Party Idea #6 Naughty and Nautical
This idea is perfect luxury if you're able to go further afield! Customise your cruise with Star Fleet cruises-bachelorette friendly and what better way to spend an evening with the girls than watching the sunset from the Gulf! Go all out with a vintage nautical theme and have your Butler in the Buff play along with a saucy sailors cap. He'll host your party games, ensure everyone's drinks are topped up and keep your bachelorette party afloat all night long!
Houston Bachelorette Party Idea #7 Super Spa
There's a spa to fit every budget, but planning in some downtime with the girls is a must whether it's part of your bachelorette weekend away or the last pampering before the big day. For a chic and truly ambient day spa experience head to Sensia. Their products are truly out of zen bliss and your group will feel worlds away from the bustle of the city. If you're free to spend  head for The Four Seasons Houston and make a day of indulging in the expansive outdoor pool and cabanas, and treats from their "spa tapas"!
Houston Bachelorette Party Idea #8 Road to Recovery
A successful Houston bachelorette weekend is always in the details. So don't forget the morning after! After eye masks have been removed and raccoon eyes tended to. Then indulge in a champagne breakfast served up by a gorgeous Butler in the Buff. He'll feed you strawberries, mix mimosa's and cater to your every need. Why not go daring and make it a PJ party?
Best bachelorette friendly Houston hotels to sleep in:
Houston Bachelorette Party Idea #9 Cooking with Class
Cooking parties are a fabulous way to spend a low key bachelorette party night with the girls-perfect for those not into a bar crawl. Big City Chefs will send a pro or even celebrity chef to your home or hotel suite (if kitchen provided) for a cooking lesson your girlfriends will never forget! Have a Butler in the Buff or two to assist with the catering, pour drinks and mix cocktails for a truly luxurious experience.
Houston Bachelorette Party Idea #10 Totally Texan
The ranch experience- nobody does it bigger than Texas! Blisswood ranch has a great 'girlfriends getaway' package that includes complimentary bottle of wine, massages, and a trail ride! Beautiful country scenery, rambling ranch houses and of course you can get your fill of horseback riding.
Whether you are planning a bachelorette party for a conservative bride or a wild bride, these Houston locales and suggestions are guaranteed fun! Perfect for one wild night or combine for an unforgettable weekend!
We also offer our fabulous Butlers in the following cities: Las Vegas, Miami, New Orleans and New York!