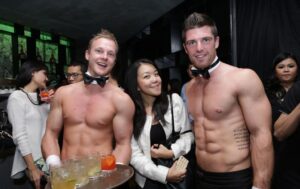 Celebrating a divorce? 
Say your goodbyes to the marriage behind you with our divorce celebration ideas, accompanied by a buff butler (and your closest friends) just for you. 
Embrace the Liberation
Celebrate your newfound independence with style. Hire our buff butlers to honor your freedom with an empowering and entertaining party. 
At Butlers in the Buff, we have all the empowering divorce party ideas you need to ensure it's a night to remember.
Buff Butlers with a Touch of Class
No divorce party is complete with our Butlers in the Buff. Include some twist to the celebration with our sexy male butlers at your service. Turn the boring talks into personalized and stylish experiences together with your friends.
Our butlers are here to keep the drinks flowing and keep the atmosphere lively with their charm and wit!
How to Throw a Divorce Party?
Encapsulate the past and enjoy the future. The buff butlers are here to keep the atmosphere warm all the time, lighten the mood, and engage you with divorce-related jokes while encouraging laughter. 
You need to wear only your elegant and stylish outfit or order custom divorce party shirts. Add slogan banners, make jokes, and look the best you can.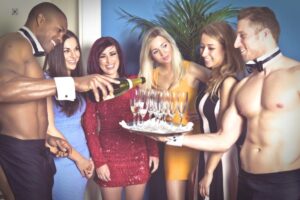 Divorce Party Ideas By Our Naked Butlers
Not sure what games to play? You don't think a divorce is a reason to have a great party?
What do you say about these ideas?
Burn the Marriage Decree

– Make copies of your papers and let the butlers set up a small bonfire or fire pit for you. Watch the documents burn as you step into your new and unburdened life. 

Tear Up Your Wedding Dress –

Throw the past far away from you!

Cut the Chains

– Our butlers in the Buff can help you make chains from paper or ribbon so everyone can cut them as you break free from your past.

Affirmation Wall

– Let the naked butlers create a wall with encouraging messages, reminding you that you're worth the good life that comes. 

Cut a Divorce Cake

– Divorce cakes are equally popular as wedding ones. And remember, you can eat your favorite cake with no worries and judgment! Cut the cake the same way you cut all the relationships from the past, embracing the future that comes.

Divorce-Themed Quizzes

– Let the butlers test your knowledge of celebrity divorces and their outcomes. 

Astrology Themed Party

– A great way to see what the stars and zodiac signs hold for your future, as you're now free to do whatever makes you comfortable. Indeed, some of our naked butlers can throw a tarot reading if you want.
The butlers in the Buff can be your perfect divorce party hosts, making every perfect divorce party idea come true.
Whether you're seeking classy divorce party ideas or fun divorce party games, our team is here to help you create an empowering, memorable, and stylish event.