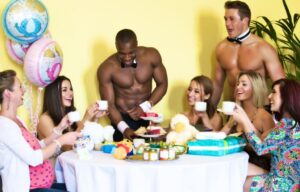 Baby showers are a delightful way to celebrate the nearing arrival of a new baby and to shower an expectant parent with love and gifts.
And the baby shower can be even more exciting with a sexy butler who can spice things up and entertain you and your best friends!
Baby Shower Themes
Choosing the right theme for your baby shower will set the tone and make the party even more unique. Here are some famous baby shower themes you should consider:
Classic Baby Pink or Baby Blue: An exciting idea is to create a mix of tradition with a color-themed baby shower and a modern style with a sexy butler.

Nature-Inspired: Go for a nature-themed baby shower with decorations like flowers, animals, and greenery. This theme can work well for both genders and is perfect for celebrating the miracle of life.

Nautical or Under the Sea: Host an aquatic adventure using sea-themed decorations like anchors, shells, and fish. This theme is perfect if you're expecting a little sailor or a mermaid.

Jungle Safari: Consider a jungle or safari theme for a wild and adventurous atmosphere. Decorate with stuffed animals, palm leaves, and earthy tones to transport your guests to the heart of the wilderness.

Storybook Baby Shower: Celebrate the world of children's literature by choosing a storybook theme. You can pick a beloved children's book as your central theme and decorate accordingly.

Vintage Baby Shower: A vintage theme can be a great choice if you love nostalgia and antique charm. Incorporate lace, vintage baby clothes, and pastel colors for a touch of old-world elegance.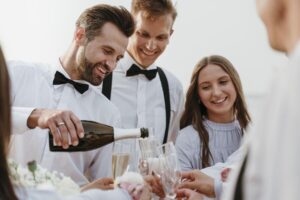 Baby Shower Games and Activities
Games and activities can add fun and excitement to your baby shower. Here are some game ideas to keep your guests entertained along with our nude Butler, who will make the games unique:
Baby Bingo: Make bingo cards with baby-related items and have your friends mark off items as they spot them in their gift bags. The first person who will get a bingo will win the prize.

Guess the Baby Food: Blindfold participants and have them taste different flavors of baby food, trying to guess what each one is. 

Diaper Raffle: Encourage guests to bring a pack of diapers in exchange for a raffle ticket. You can then draw a raffle winner for a special prize.

Baby Name Game: Give your friends a list of baby names and have them guess the meaning of each name.

Wishing Well: Set up a wishing well station where guests can write their well wishes or parenting advice on cards and place them in the well for the parents to read later.

Diaper Cake Decorating: Set up a station with plain diapers, ribbons, and decorations, and let guests create their diaper cakes. This activity doubles as a practical gift for the parents-to-be.
Check out more baby shower games you can enjoy playing with our Butler in the Buff!
Baby Shower Food and Drinks
Our buff butler will take a lot of your energy in the most positive way. So, you need to recharge with food and drinks, and our sexy butlers can also serve you! Here are some options you should consider:
Finger Foods: Opt for finger foods like mini sandwiches, fruit skewers, and bite-sized quiches. These are easy to eat and mingle with.

Cupcakes: Decorate cupcakes with baby-themed toppers or colors that match your chosen theme. They're cute, easy to serve, and a sweet treat for all.

Mocktails: Create non-alcoholic cocktails or "mocktails" for the guests. Consider offering a signature drink that ties into your theme.

Cocktails: If you want alcoholic beverages, cocktails are an excellent option. Also, our buff butlers can serve cocktails to you and your friends.

Candy Buffet: Set up a candy buffet with jars of various candies. Guests can fill bags with their favorite sweets as sweet keepsakes.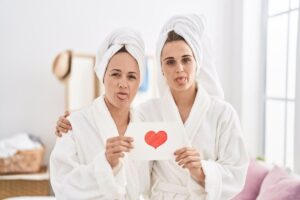 Baby Shower Gifts
Choosing the perfect gift for an expectant parent can be a joyful experience. Here are some gift ideas to consider:
Baby Essentials Basket: Create a gift basket filled with baby essentials like diapers, wipes, baby lotion, and onesies.

Customized Baby Blanket: Personalize a baby blanket with the baby's name, birthdate, or a unique message.

Baby Books: Give a collection of classic kid's books to start building the baby's library.

Spa Day for Mom: Treat the expectant mother to a spa day or a gift certificate for a prenatal massage to help her relax before the baby arrives.

Handmade Gifts: Consider crafting a unique, handmade gift, such as a knitted baby blanket, a framed nursery rhyme, or a hand-painted onesie.
Any gift made with love is perfect. However, the goal is to be authentic, and what can be more authentic than surprising your best friend by booking a buff butler for their baby shower party?