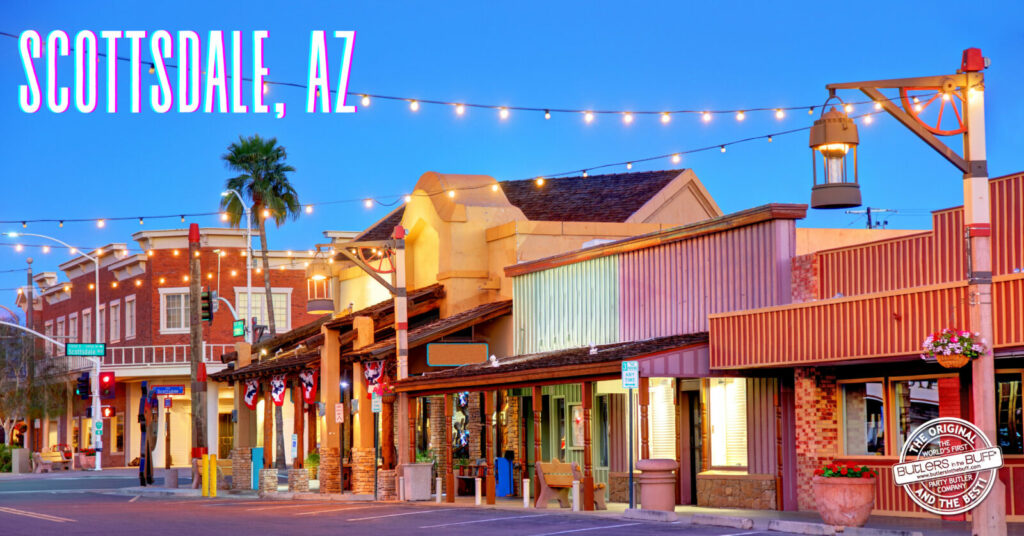 Scottsdale, Arizona has quickly become the premier destination for bachelorette parties, and it's not just us saying it! A quick search on Google will tell you that Scottsdale has appeared in the news a lot over the last couple of years as it grows into the #1 destination for bachelorettes in North America.
If you are planning a trip to Scottsdale for a bachelorette or any event, congratulations! You and your squad are going to have the trip of a lifetime. There is something for everyone in this beautiful desert city. From hiking Camelback Mountain or ATV tours in the Sonoran desert to pool-side pampering, a day at the spa and dancing late into the night, all of your group is guaranteed to be satisfied. 
On top of all that, our hot and helpful Butlers in Scottsdale are the most requested and highest-rated in the business. Be sure to incorporate Butlers in the Buff into some part of your itinerary. Keep reading for ideas on how to make the most of the city, and our Butlers at your bachelorette!

When to have a Bachelorette Party in Scottsdale
According to locals, the rumours about Scottsdale being an all-season hotspot is only about half true, and really depends on how hot of the weather you can handle! What this in mind, any time of the year you will have beautiful weather and countless things to do, but here are a few things to consider:
Winter in Scottsdale

Winter is great for mild weather and fewer crowds. All of the snowbirds who travel to Arizona can't be wrong! Although the weather might mean that you won't be partying poolside, this would be a great time for fun and games at your rental, a day at the spa or heading out into the desert for some adventures.

Spring in Scottsdale

Spring is the most popular time of the year to visit this city. The weather is perfect, the pools are abundant and people are always in a great mood. That being said, walking into a restaurant, spa, or club off the street will probably leave you disappointed and scrambling to find something else to do. If you're planning your trip in the spring, be sure to book your accommodation and make all of your reservations well in advance. 

Summer in Scottsdale

Summer might seem like a good idea, with less competitive reservations, guaranteed to get your tan on and rock your best sundresses every day. However, this time of year is also HOT AF! Like, melt your face off hot. If you're from a colder climate, you will definitely want to spend your time inside soaking up that AC. Good thing Scottsdale is home to America's most luxurious spas, countless clubs, and many other amenities to make sure you're having a great time beating the heat indoors.

Fall in Scottsdale

Fall in Scottsdale is incredible! When the rest of the country seems to be cooling down, the fall weather here is like a Goldilocks zone – just right. Although this time of year can be a busier time for tourists (book your reservations early), it is also the best time, in our opinion. From hot air balloon rides, and local farmers markets, to glorious warm weather for hanging out by the pool and getting pampered by your personal Butler in the Buff.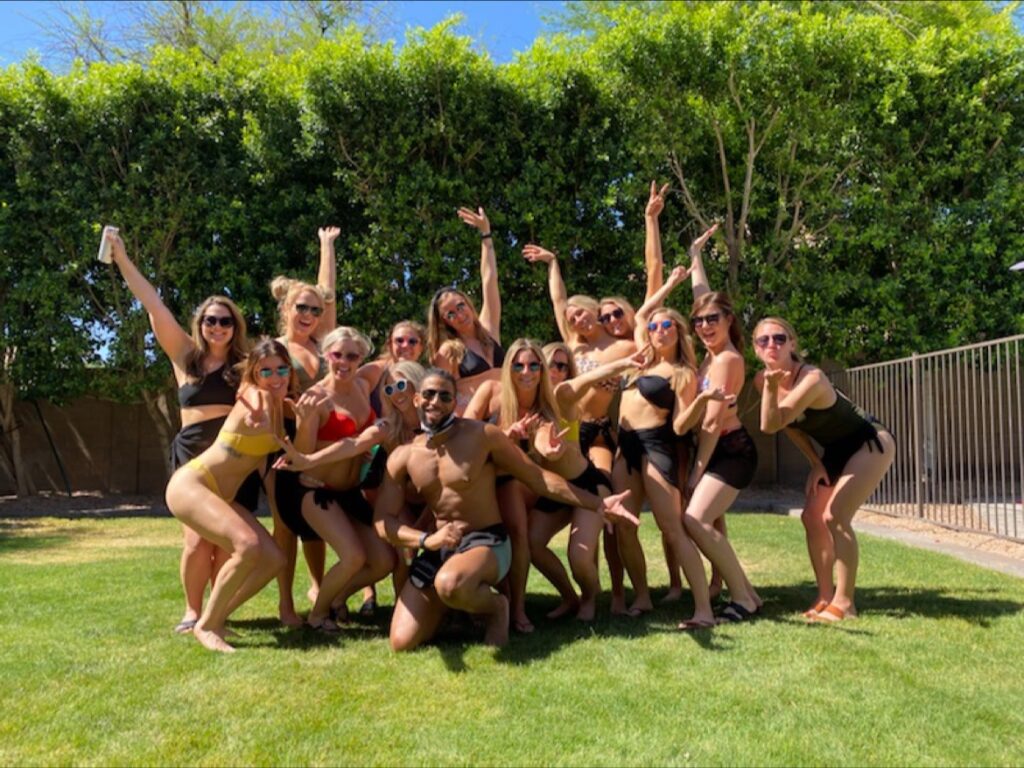 Where to Stay for your Bachelorette in Scottsdale
There are over 1000 Airbnb rentals, a dozen or more 5-star hotels, and even some fantastic glamping locations in Scottsdale. Where you stay really depends on a few things:
Guests

: How many are in your group? Narrow your search if you are looking for accommodation for a crowd, or if you are travelling with a smaller, more intimate group.

Theme

: Planning a poolside party, or even an adventurous romp around the desert? Or are you planning the most epic weekend out on the town within walking distance from everything? Your plans will determine whether you want to stay in a hotel or find a rental that suits your needs. Our Butlers are happy to attend events in any private location you plan to spend your time. 

Budget: If you have the cash for a hotel and spa combo, and all of your guests are into this definitely take advantage of all the celebrity-frequented resorts located in Scottsdale have to offer. If you want a more private, laid-back feel, choose from over 1000 Airbnb rentals located all over Scottsdale and the surrounding areas! If you are on a budget or more adventurous and want to experience the desert in all of its glory, a glamping excursion might be just what you need. 
Getting Around Scottsdale
Overall downtown Scottsdale is a very walkable area. That being said, if you are staying outside of the downtown area, there are plenty of options available as well. 
Book a day tour:

Companies like JoyRidesAZ offer great tour packages for bachelorette parties. They have an urban historic city tour, wine and brew tasting tour and a Scottsdale Sip and Shop as some great options.

Pedal around:

With Arizona Party Bike. Drink, play games, and get a tour of the city loved by locals and tourists alike. 

Hire a private driver:

Feel like a total boss babe and have a private driver or limousine service get you to where you and your group need to go.

Rideshare:

Uber and Lyft are available 24/7 in Scottsdale and are probably the easiest/cheapest option. Keep in mind that not all ride-share drivers can take groups.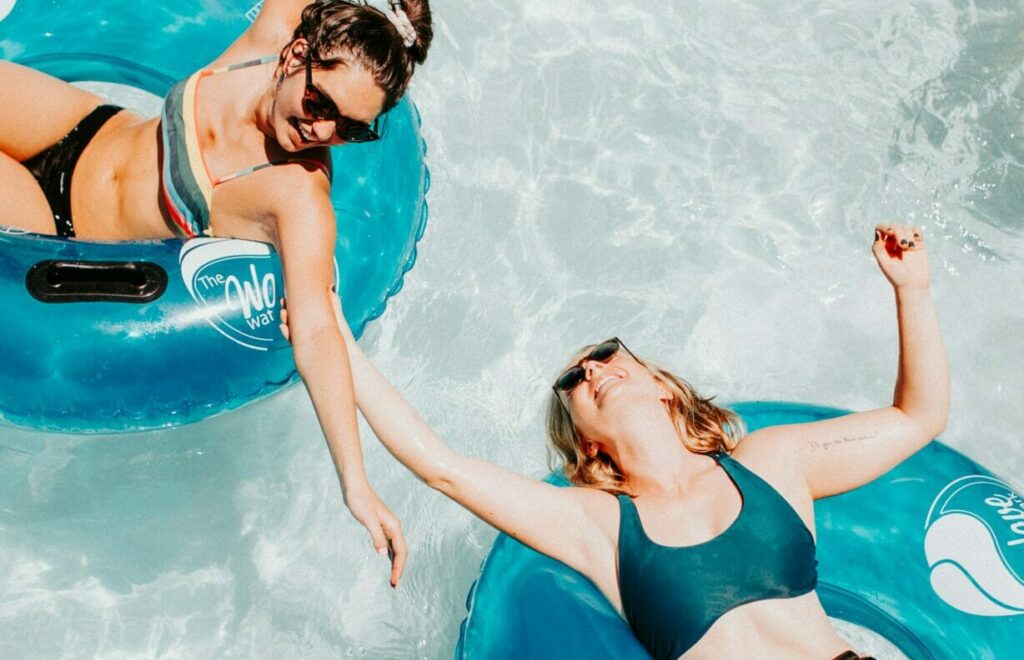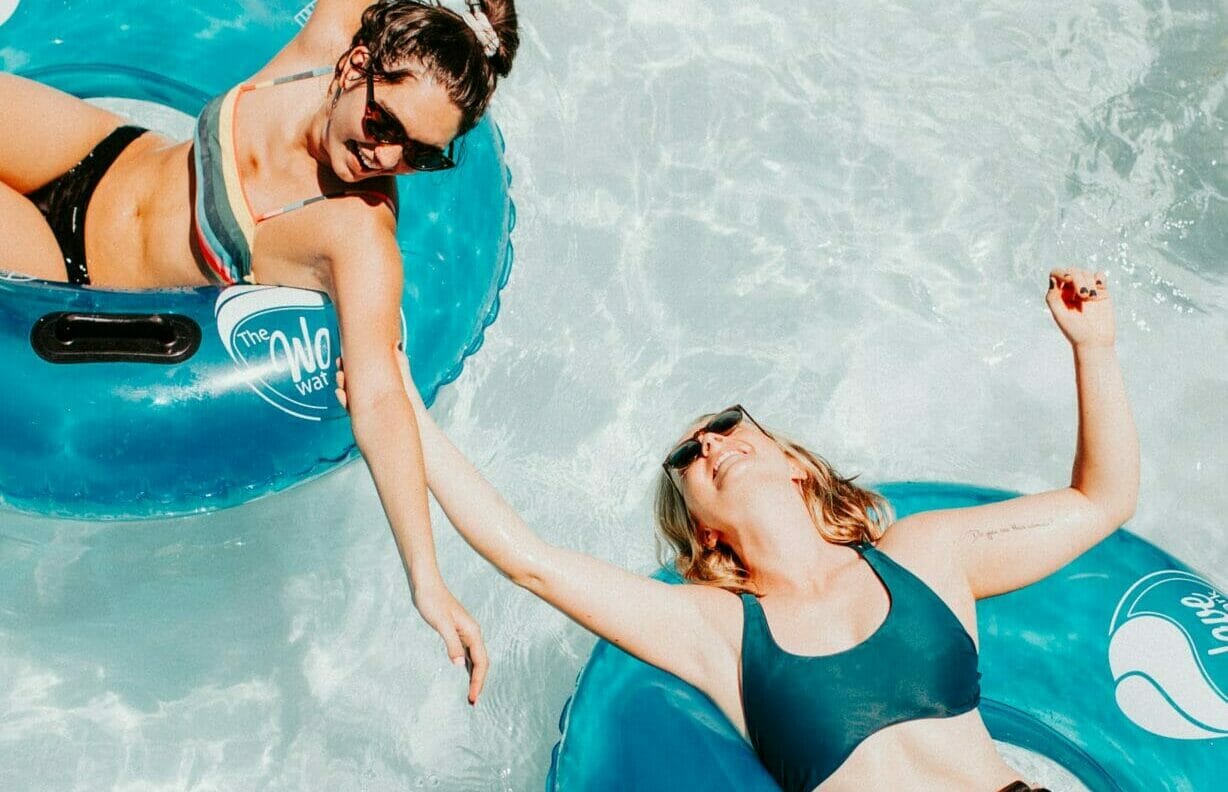 What to do in Scottsdale for your Bachelorette
Now that we have covered the basics, it's time for the fun. Scottsdale is home to world-class food, incredible spas, clubs to dance in and rooftop bars you won't want to leave! Some even call it a mini Las Vegas! 
Obviously, we could spend hours…days even going through every single one to let you know how awesome they are. But who has that kind of time? We are planning a bachelorette party after all! 
Here are some of our favourites:
Bars/Clubs:
The Bottled Blond: Pizzeria by day, night club by night. Book your VIP table with bottle service and dance the night away. 
Maya Day and Nightclub: Open all day and night, this 20,000-square-foot outdoor restaurant and beer garden has tons of fun and games for everyone. Book your VIP bottle service and get ready for a great time. 
The Rusty Spur Saloon: Known as Scottsdale's last cowboy saloon, this bar is the oldest in town and a host to live country music every night of the week!
Spas & Classes:
Adventures
:
Up Up and Away: Take the party to the sky in a hot air balloon with Hot Air Expeditions. They have some really great packages and group options. This is something you would definitely not want to miss out on!
Desert Monster Tours offers packages specifically for bachelorette parties. Off-road through the beautiful desert and get your adrenaline pumping!
The Scottsdale Tours also offers a BYOB tour of the glorious Sonoran Desert in a modified Jeep able to fit your entire group.
Now for the party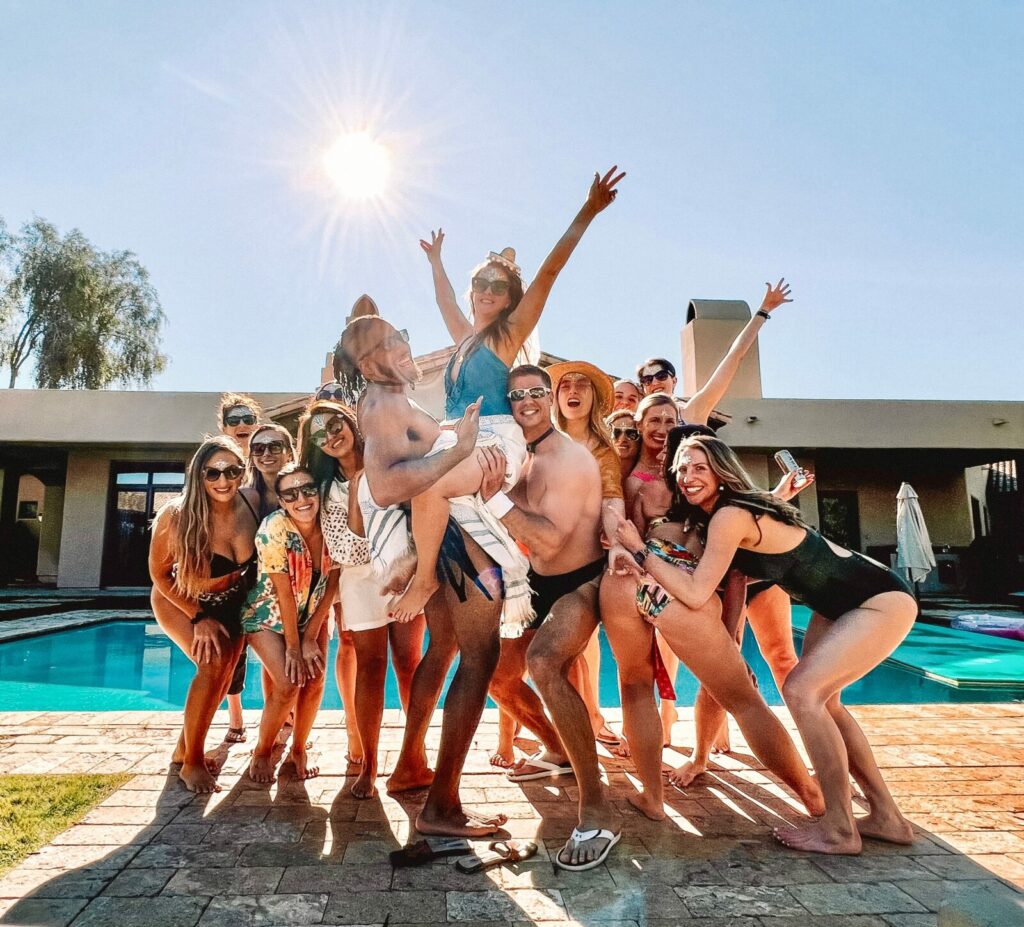 Where ever you chose to stay in Scottsdale, there is still the actual bachelorette party to think about! Being the top location for a bachelorette party there are countless options for decorating, catering and entertainment. 
At Butlers in the Buff, we specialize in getting the party started! These attractive fellas will mix your drinks, play and host games, and feed you chocolate-covered strawberries. Anything your heart desires. Our Butlers will make sure everyone is well taken care of.
Hire a Butler or two before your day/night on the town while you pre-game and get ready. They can even serve you breakfast the morning after the big night, while you get your IV drip on. 
Better yet, hire Butlers in the Buff for your main event. They will keep the party going and make sure you won't have to lift a finger.