New York City is one of our top destinations for many great bachelorette party ideas. Butlers in the Buff, the original and best party butler company, is an expert in bachelorette party planning.
We have provided hundreds of bachelorettes in New York City with hunky party butlers and have lots of great ideas to help you plan your party night or weekend to be the best ever.  Don't forget Butlers in the Buff's party butlers are not just for bachelorette parties in New York City but can be used for birthday parties, baby showers, house warming parties and bridal showers across the USA and Canada!
Check Out Our Top 5 Bachelorette Party Ideas New York City
Bachelorette Party Ideas New York City # 1
If you are planning your bachelorette party for the summer in NYC then there's no better way of celebrating than visiting one of New York's rooftop pools. You and the girls can have some gorgeous cocktails, catch a tan and have views of the Empire State building from the Gansevoort rooftop pool. A bachelorette party here will be sure to be a hit.
Bachelorette Party Ideas New York City # 2
For the more daring and risqué bride-to-be why not have your bachelorettes take a pole-dancing lesson. This will not only get you all fit; it ensures a great giggle and a bit of naughtiness mixed in! There are many places that offer pole lessons, however Shockra studios offers bachelorette lessons for all your party needs!
Get a Quote Now
Bachelorette Party Ideas New York City # 3
For the girls who are over the partying and drinking days, why not have some pampering and relaxation? There are some great spas in NYC for your bachelorette party, which will leave everyone feeling refreshed and energized for the big day. We recommend Spa Castle Premier 57 with their unique and first class spa packages and treatments.
Bachelorette Party Ideas New York City # 4
A night to really remember in NYC involves either seeing a comedy show or a Broadway show. Live entertainment will get the whole group in a great mood and this is great for a Bachelorette party that is hosting for a mix of ages. There are plenty of comedy clubs to choose from, and just check out what's live on Broadway on the dates of your party.
Bachelorette Party Ideas New York City # 5
If you're in New York City for your bachelorette party, you have to try some food! There are so many gorgeous places to eat in the city – it just depends on your taste and what you are after. We recommend picking from the Eater New York's list of restaurants.
We're the World's first, biggest and best naked butler company and here's why.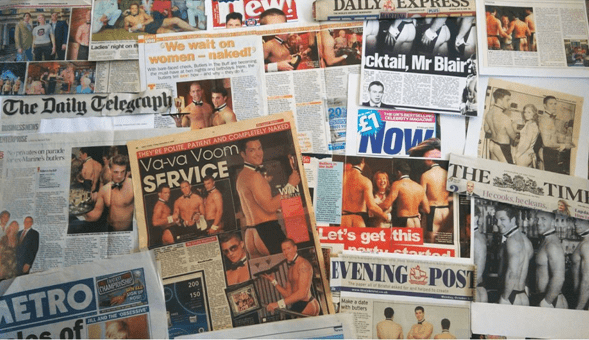 If you'd like to see more bachelorette party ideas in action and, of course, our hot naked butlers check our photo and video galleries here!