Set the Scene Anti-Valentine's Party Ideas
Colour, colour everywhere! Give your party-goers a welcome respite from 'red and white', go for purple and black or a swanky turquoise and black for a girls poker night in! Create charming flags or bunting from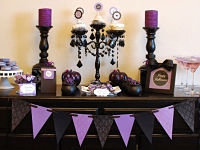 e-card postcards (quirky messages paired with vintage illustrations) or use pictures of famous divorced couples. Set aside a games area with broken heart darts, axe the ex and a heart piñata as the piece de resistance! All games have great visual impact and are easily made by hand leaving you to be as cheeky or as demure with them as you please. Ask your Butler in the Buff to assist with your anti-Valentine's party games! (See games feature at the end of the blog)
Great Anti Valentine's Day Food
Divine Anti Valentines Dinner Party
After a bleak January of strict diet regimes everyone deserves delectable dishes Feb 14. Go for garlic and fun, sticky foods in defiance of the tidy little dinner dates couples flock to. Start with sticky wings and garlic bread then indulge in this sumptuous Goats cheese and Pesto Mac with a fresh caramelised red cabbage salad. Finish with a layered chocolate mousse.
Debauched Anti Valentines Do
Its messy heart shaped jell-o shooters and a swift kick to that little cupids behind. Speaking of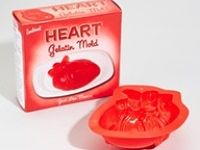 behinds…spice up your anti-valentines party with one or two of our fabulous butler behinds to serve drinks and mix a few anti-V cocktails! No champagne and chocolates allowed! Instead offer bloody-Marys, espresso martinis and plenty of cheesy, garlic dips like artichoke and crab or spinach dip. Great with dark (black) tortillas or toasted baguette fingers.
Anti Valentine's Day Party Games
Broken Hearts Darts
You will need:
• 5″red heart balloons, enough for one per guest minimum.
• strips of paper to write prizes on
• Heart tipped darts
• Bulletin board
Write out a few prizes on slips of paper. This is a fabulous opportunity to get your Butler in the Buff involved in your anti-valentines fun! Prizes can be as sensible as an anti Valentines T-shirt, themes lip gloss or key ring, or as naughty as a dare like take a shot from your butler (or off your butler!)
Heart Piñata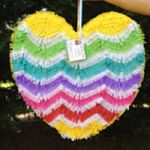 (For DIY)You will need:
• A large heart shaped box from a craft or dollar store
• 100+ post it notes in your colour theme according to size (Express DIY)
or
• tissue paper in your colour theme, a pencil and craft glue(If you have patience and time)
Fill your heart box with adult treats like small bottles of liquor, condoms, lip-gloss, cheeky pins etc.
Layer in rows the post it notes so that they create a feathered look or cut tissue into small squares, wrap around the end of a pencil, dip and stick like old school grade 3 art class.
Axe the Ex
You will need:
• A cardboard axe or a very light prop axe
• Velcro
• Poster of ex or a celebrity divorcee
• Blindfold
Attach random pieces of the fluffy side of the Velcro to your poster-be creative with your positioning!
Fasten the rough side of the Velcro to the blade of your 'axe'. Blindfold the participant, and have your Butler in the Buff spin them around. Then the player has one chop at the poster. Give a points system for prizes (top prizes back or head) or just have some random fun!