Wedding season is upon us, and spring 2023 bookings are already filling up! Right now is the perfect time to start booking a spring bachelorette party or bridal shower, and we have some great tips to pull off the perfect event.
According to expert event planners, bridal showers and bachelorette parties should be planned for within two months of the big day – Not so close that there is too much pressure and stress, and not so far away that it's anti-climactic.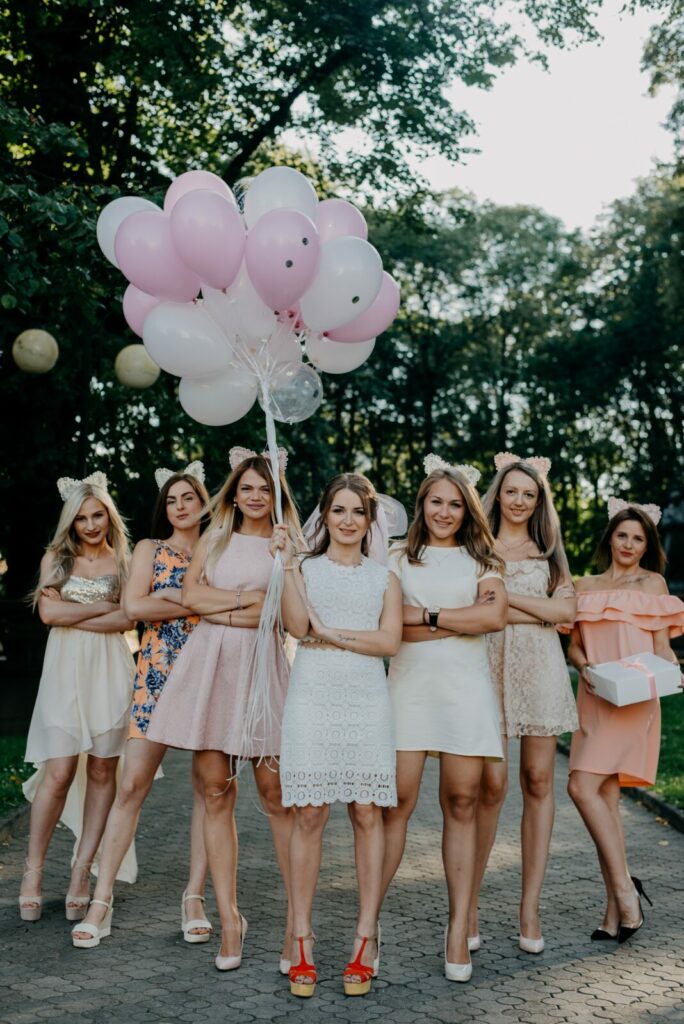 Tips for Planning the Best Spring Bachelorette Party
There are two types of people in this world–the spontaneous and the planners. Both of these people are amazing and bring so much to the table! Whether you are someone who lives by a schedule and checklist, or you're a grab life by the horns and ride with it kind of gal, this article will help you pull this off. 
So, your best friend has chosen you to be her Maid of Honour – an amazing privilege, and you're thrilled! You are excited to be a part of the wedding in such a big way and to help your friend have the happiest time of her life. Everything about planning a wedding is exciting, from the dresses, and the decorations, to the Bachelorette Party. 
The wedding is scheduled for the summertime, which means a spring bachelorette is just what you need!
The top 10 most important things you need to check off to pull off an epic spring bachelorette party:
Keep the bride in mind at all times.

Pick a date that works for everyone, especially the bride.

Establish a budget, and make sure all guests are on board

Pick a location and venue. Will the party be held locally or are you planning a weekend getaway?

Accommodation and travel – time to buy tickets and reserve a suite

Food and drinks

Accessories – Matching outfits, photo backdrop wall, press-on tattoos, personalized to-go cups. The ideas are endless!

Itinerary – Set the plan accordingly so everyone knows what to expect and the day can stay on track

Hire a Butler in the Buff
Ideas to incorporate Butlers in the Buff into your spring bachelorette party:
Wherever you choose and whatever type of weekend you end up planning the one thing that is a must-have addition to any bachelorette party, is a handsome and charming Butler in the Buff.
No matter how big, small, wild or low-key your party is, Butlers in the Buff bring a certain 'Je ne sais quoi'. Not only are they incredibly good-looking and outgoing, and they are actually useful!
Surprise!
Surprise the bride and even all the guests too. The butlers are used to being smuggled in through the side entrance and hiding in the downstairs bathroom until the right moment to deliver a glass of bubbly to the blushing bride-to-be!
A great way to surprise the bride is playing 'Guest the guest'. Simply blindfold the bride – get all guests to stand in a circle with the bride in the middle. Then by touch alone, the bride has to guess who everyone is. For an extra bit of naughtiness – add the butler to be the last guest she guesses!
A great start to the day
You might just be doing a daytime Bachelorette or maybe just one night home or away. Why not think of having a butler to serve your breakfast before you all head on to your activities? 
Your butlers will serve you champagne or mimosas while you and your squad get ready for the day. These dapper dudes will rub your feet, paint your nails, feed you fruit from a platter and help start everyone's day off right. 
Afternoon Events
Bachelorette pool parties are so much fun, and we have some amazing cities with year-round pool-dipping weather with even more amazing butlers. 
These are not your average baby-face cabana boys. Our men will dote on your bride-to-be, wait on all the guests by serving drinks and snacks, grilling lunch on the BBQ, playing party games and helping you capture amazing, instagrammable memories.
Find an Airbnb with a pool, or check out Swimply for rentable pools in your area or chosen bachelorette destination.
Night on the Town
If you are staying in for the evening, or want to pre-game before heading out on the town, our butlers are the perfect icebreaker to start your night off right. Have them come to your hotel suite, Airbnb or home and he will be at your beck and call. He will keep glasses topped up, the conversations going and make sure everyone is comfortable and having a good time. 
Or instead, have your butler arrive later in the evening when you're back at the hotel after dancing at the club. He will wait on you hand and foot, and keep the party going for all your guests for a spring bachelorette party to remember!
A spring-time bachelorette party is a classic! No matter the theme, location, or weather, our butlers are available to serve.
Book yours today and remember two butlers are twice the fun!