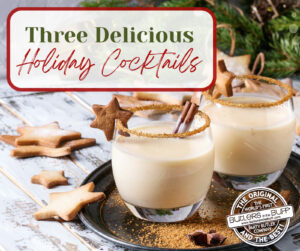 Here at Butlers in the Buff, we've seen every kind of cocktail you can think of. The good, the bad and the ugly from all of the different and amazing parties we have been to. These three delicious holiday cocktail recipes are definitely a few of the best!
Since we are at your service to solve problems, we have decided to start sharing some of the best-kept secrets we've collected throughout our 20+ years of business.
The holiday season is just around the corner, and we're going to start off our new recipe collection with a twist on these delicious classic cocktail recipes.
Hot Toddys – A Butlers in the Buff Classic Holiday Cocktail 
Winter is here, and chilly toes and frozen buns are now a daily occurrence. Our butlers are the best at turning up the heat, and nothing does that better than the warm, fuzzy feeling you get from your favourite holiday cocktail. Like the Butlers in the Buff Hot Toddy. 
If you have never tried one then this year you are in for a Christmas miracle! There are dozens of variations online but here are some tips for getting yours just right. 
At its most basic it is bourbon, lemon, honey and hot water. At its most exquisite it's a simple and stylish tastemaker of a drink that will put everyone at ease. The quality of the bourbon is paramount to the success of this recipe. We prefer to use Makers Mark, Knob Creek or something comparable. We like to stick to a single ounce of bourbon in this drink but if it's an especially cold night and you have nothing important to do, it tastes just fine with an ounce and a half.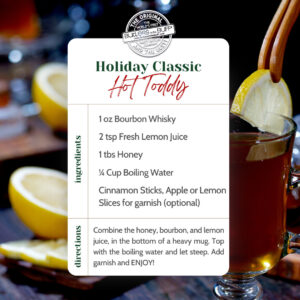 There are a few other things to consider if you want to take your Toddy to the next level. Use the best honey you can find for a robust floral aroma, and don't be shy about adding a lemon or orange peel. The oils from the peels will infuse with the bourbon and will be hard to put down. 
Lastly, the mug–and we do mean mug. Get a big heavy mug so this drink can steep and let stand for a few minutes (at least) before you drink. This little extra time helps all the flavours express themselves to their fullest for the most enjoyable version of the drink we can think of. It will also keep those hands nice and toasty!
All of our butlers are able to make this and many other amazing cocktails at your next adult party or event. 
Cinnamon Toast Shots (A Holiday Cocktail Alternative)
What would be better to warm your heart on Christmas morning, than a hot cup of coffee with a splash of something extra? Sure you could go with the usual Irish cream, there are tons of syrupy, sugar-filled flavours out there now. But for something different, that is sure to impress then these Cinnamon Toast Shots will keep your Christmas morning cheeky and cheerful!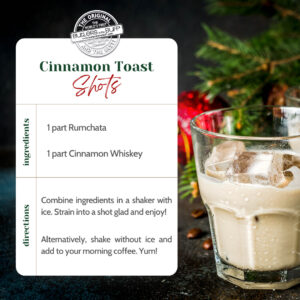 All you need is some cinnamon whisky, and Rumchata – one of the newer creme liqueurs on the market. Rumchata is a creamy vanilla and spice liqueur that lands somewhere south of eggnog and north of vanilla milkshake. It's incredibly versatile with lots of applications in deserts and coffee drinks. 
The cinnamon whisky can be any brand, but Fireball is always a classic and accessible choice. We at Butlers like this recipe for its overt simplicity. Using one part Fireball Whisky and 1 part Rumchata you will not screw this one up, no matter how sleepy you are. 
Mix equal parts together in any amount you desire and enjoy. You can serve this over ice as a sipper, spice up your morning coffee or get the full wake-up power of the whisky and do it as a shot. Offer one to your incoming guests and become the new favourite.
For a lighter alternative, just add a simple shot of Rumchata to your eggnog or coffee with a dash of cinnamon for a more mellow morning. 
The Sweet-Heart Cranberry Holiday Cocktail
There are certain tastes and smells that bring you back. No matter when no matter where cranberry is one of them. Holidays and cranberries go together like peaches and cream. We are taking you on a trip down memory lane while you indulge your more mature tastes. The classic Vodka cranberry is everything you need in a holiday drink. A tart treat, that leaves you both refreshed and warm. We have updated this seasonal favourite with a few new flourishes. Raw cranberry is almost inedible, so buying a whole bag just for garnish seems a bit bougie to us. Instead, take a walk in your neighbourhood or look in your garden to see if you can forage some fresh rosemary to set off this sexy libation.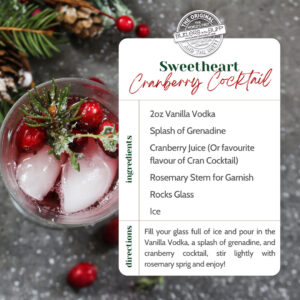 Using any version of a cranberry cocktail is acceptable here, we especially like a cherry or raspberry blend. We also suggest a slight variation in your choice of vodka. You can splurge on the grey goose if you are feeling like a queen but another less expensive yet equally tasty alternative is vanilla vodka. It is a tasty mix that really highlights the holiday aspects of this drink. Make sure you use lots of ice and a sprig of that freshly picked rosemary for a winter/piney aroma. A little splash of grenadine goes a long way here but don't worry if you add too much. Serve this with a rich holiday dinner or appetizers to get your party started or as a pre-drink before the holiday party. 
If you don't feel like mixing up these holiday cocktail recipes yourself this season, book one or more of our buff butlers for your next adult event. Our highly trained and discreet butlers make sure your private party goes off without a hitch. Make your next party a memory that you will want to go back to again and again.
Until next time, stay toasty with Butlers in the Buff.
Need some more ideas for your next holiday event? Check out our Pinterest boards!