Butlers in the Buff Recipes for Winter Warmers
These Christmas drinks are perfect served snuggled by the fire with friends by a cheeky Butler in the Buff!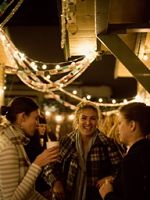 Snow Bunny
1/2 ounce of peach schnapps,
1/2 ounce triple sec
mix into a large mug of white hot chocolate.
Almond Joy
1 ounce Grand Marnier
mix into a large mug of warm Almond Milk
top with Whipped cream and Chocolate sprinkles
Delicious Christmas Party Treats!
Mini Christmas Puddings
Ingredients
1 small Christmas pudding
100g white chocolate chips or buttons
Red & green glace cherries
2 sprigs of mint
Crumble your Christmas pudding and re-form it into small round balls.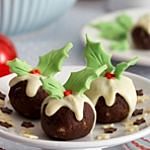 Melt your white chocolate.
Once your chocolate is melted drizzle it over the Christmas pudding balls and top with some mint, and cherries.
Place in the fridge to set then voila! A simple yet impressive and delicious canapé to impress your Christmas party guests with.
Festive Christmas Scented Homemade Candles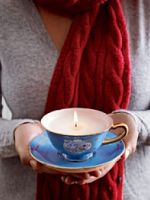 Why not impress your Christmas party guests with a homemade scented candle as a party favour? You'll be crowned a domestic goddess in no time!
Choose your container (a second hand teacup works great) and place it in the oven for a few minutes on a low heat.
Stick your wick to the bottom of the teacup using something like blue tack
Gently heat and melt your wax in a pan and stir in your scented oil, we recommend White Rose or Cinnamon & Orange scented oil then pour into the teacup and leave to set.
Make sure you hold your string up whilst you pour in your wax so that it sticks through the top when the tea cup is full.
Paper Craft Fun!
Have a Christmas Masquerade with some favourite characters -guests can select a mask when they come through the door or use as a fun place setting at your dinner party paired with a Christmas cracker!
Go retro with some old school Christmas paper chains to decorate your party venue!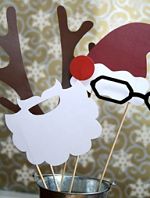 What you'll need;
Scissors
Stapler, glue or sticky tape
Assorted paper
-Decide on the colour scheme you're going for, if you want to try and make them slightly more classy & grown up why not try a gold and white colour scheme or black and white monochrome? If not, go wild and choose all the colours of the rainbow.
-Cut strips of your chosen colour and roll it into a circle and fasten at the end.
Put the next strip of paper through the loop and form the next link and so on and so on until your chain is long enough to string up for all your guests to admire!
Last but definitely not least….. Hire a Butler in the Buff!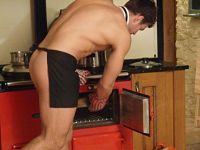 -Your Butler in the Buff would be the perfect candidate to help with the serving of drinks and nibbles at your Christmas party.
-Why not get your butler to play Santa Claus? We are sure that all your female guests would love to sit on his lap and whisper in his ear what they want for Christmas!
-Having a Christmas wedding?! The make sure you get a Butler in the Buff for your winter stagette party. He might get chilly in his minimal attire though so make sure you keep him busy!
Oh we almost forgot!
Don't forget to string up your mistletoe for those festive Christmas party kisses!
Merry Christmas! Love Butlers in the Buff x