Jack and Jill-SOHO Style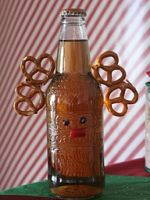 The UK's favourite way to treat a pub crawl (and they know how to do the perfect pub crawl!). It's called Fox and Hound-it's also a brilliant way to throw a Jack and Jill bachelorette party! Decide on a route through town and the bars and pubs you will be visiting, create a list and distribute to participants. Hand a piece of mistletoe to each girl. Then the girls set off 20-30 minutes before the boys with the goal of the boys to catch up with the girls. Each team must stop in the agreed pub for the agreed amount of drinks. If a boy catches up with a girl, he has to kiss her under the mistletoe! Go all out with silly costumes and it's the perfect Christmas pub crawl experience.
Dinner Party Safari
Arrange with a few friends who live in close proximity (or within designated driver distance). Plan the courses in order of the houses you will visit. So the first house will provide the first course, the second the main and so on. Hire a gorgeous Butler in the Buff to serve the desserts and coffees at the final house as a fabulous surprise! Or for a special treat hire one for each house to take coats, open wine and serve the food. A great way to mix the evening up and sit with different friends at each table!
Aussie Christmas
Ok so it won't be as warm, but there's no reason to leave your barbeque out in the cold dark shed this Christmas. Host a winter BBQ! Provide a space heater or fire bowl if you can to take the edge off and plenty of blankets for laps and warm drinks! We like Grand Marnier toddies with almond milk! Grill up festive bacon wrapped turkey and Brussels sprout kebabs with cranberry-orange dipping sauce! The perfect alternative Christmas party to host for all your homesick Australian friends in Whistler! Surprise the girls with a gorgeous Butler in the Buff in a Santa Hat- they won't mind lining up to tell him what they want for Christmas…although we do suggest for the well being of our butlers that you have him for the post BBQ party indoors!
Christmas Sangria
A perfect accompaniment to a sunny Cuban or Mexican themed Christmas Party!
2 bottles fruity red wine
1/2 cup brandy or cognac
1 cup pomegranate juice
1 large pomegranate
1 red Bartlett pear, cored and thinly sliced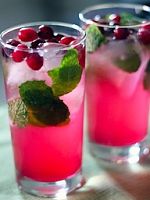 1 orange, thinly sliced into rounds
1 cup red grapes, sliced in half lengthwise
1/3 cup honey
1 bunch fresh mint leaves, reserving some for garnish
1 bottle sparkling water (optiona