You'll have invested a lot of time and energy into your marriage, so it seems a shame not to give it a special send off and celebrate the start of your new (albeit separate) lives. Here's a few ways you can make sure your marriage ends on a high:
Host a party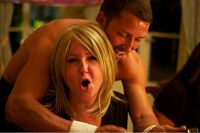 When White Stripes front-man and model Karen Elson decided to go their separate ways in 2011, they also chose to throw a party. Celebrating their sixth wedding anniversary as well as their imminent divorce, the couple embraced the occasion and let all guests know that it was a time for 'dancing, photos, memories, and drinks with alcohol in them'. And as far as parties go, you can't ask for much more than that.
Buy or bake a divorce cake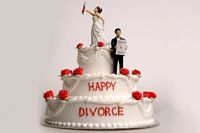 Yes, this really is a thing. It's not just birthdays and weddings that call for a celebration cake these days. The trend for divorce cakes is something that has been growing in popularity over recent years. The most popular cake designs are broken hearts, coffins and graveyards, but the possibilities are endless and it will make the experience far sweeter.
Have a makeover
If there's one thing guaranteed to give you an extra boost, it's splashing out on a relaxing spa break and makeover. Take some time out, either by yourself or with friends, to unwind and put the past behind you. As well as gaining a sense of inner peace, you will also come away looking fabulous!
Take a break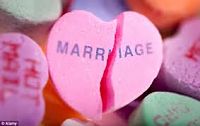 However amicable a divorce might be, it is never an easy process. Getting away from it all might be just what you need. It's also your chance to catch up with friends and unwind. Wherever you decide to go, alcohol will probably play a part, but why not add a semi-naked butler into the mix too? A butler in the buff will make it a vacation to remember and is guaranteed to put a smile back on your face.