Discover Our Top Ideas for a Winning Charleston Bachelorette
Your Charleston bachelorette party will surely be divine in "Holy City"! Everything you need is right here for an epic weekend with your crew. Our guide will provide you with all the tips and tricks you need to make this trip unforgettable.
Whether your bride squad wants to explore the sights of Chuck Town, eat delicious food, or party the night away, Charleston offers something for everyone.
Let's look at everything this city offers, what every Charleston bachelorette weekend needs to succeed! Including hiring a hunky Butler In The Buff from our amazing Charleston Bach Butler team.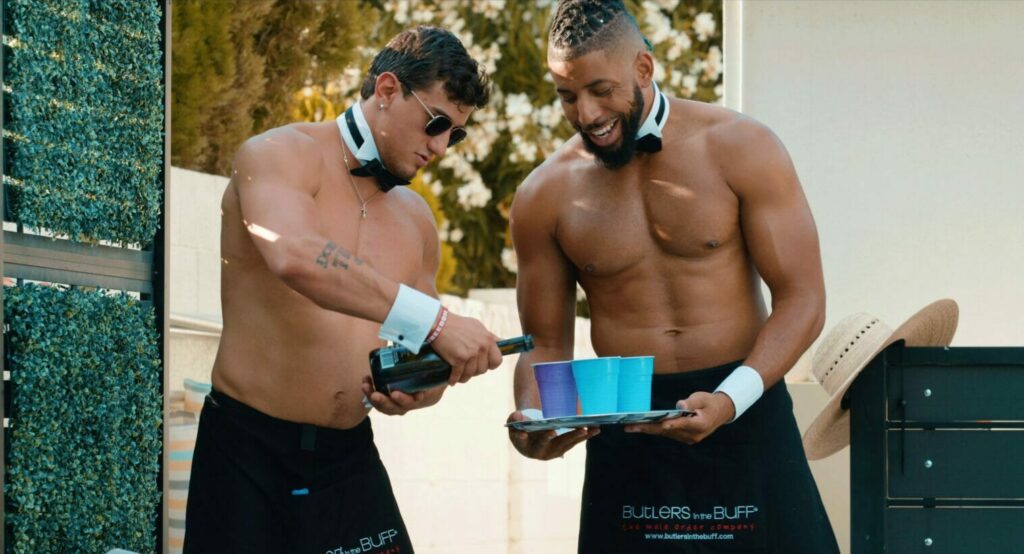 Bachelorette Accommodation in Charleston
When planning an unforgettable bachelorette weekend in Charleston, SC, there are several areas to consider for your stay. Charleston has no shortage of exceptional places for the bride-to-be and her girls to call home on a bachelorette weekend.
Why not wander Historic Downtown Charleston, where cobblestone streets, elegant antebellum architecture, and a thriving arts scene enchant you. This district boasts upscale boutiques, trendy restaurants, and vibrant nightlife, ensuring daytime exploration and exciting evenings. 
Afterwards explore the French Quarter, a delightful blend of historic charm and contemporary flair. With art galleries, cozy cafes, and plenty of opportunities to immerse in Charleston's culture. Additionally if you're seeking beachside bliss, Folly Beach is the perfect spot, providing pristine sandy shores, breathtaking ocean views, and a laid-back coastal vibe.  
Our Top Pick for Stays in Charleston
Look no further than The Pinch at King Street for an unforgettable bachelorette weekend in Downtown Charleston. 
The Pinch boutique hotel was recognized as one of Conde Nast Traveler's top 20 hotels in the charming city of Charleston. Each room has a fully operable kitchen and washer/dryer unit, ensuring you have all the conveniences of home during your stay. The attention to detail is impeccable, from handpicked artwork adorning the walls to thoughtful touches that exude tasteful delight.
The Pinch was thoughtfully designed to serve as your ultimate home base while exploring Charleston. With plenty of space to get comfortable and so much to enjoy on-site, you may find it hard to leave this stylish haven. After all its a fabulous excuse for a night in with a couple Butlers in the Buff!
All in all this chic hotel is more than just a place to rest your head; it's an experience, offering everything you need for the perfect bachelorette party getaway right at your fingertips.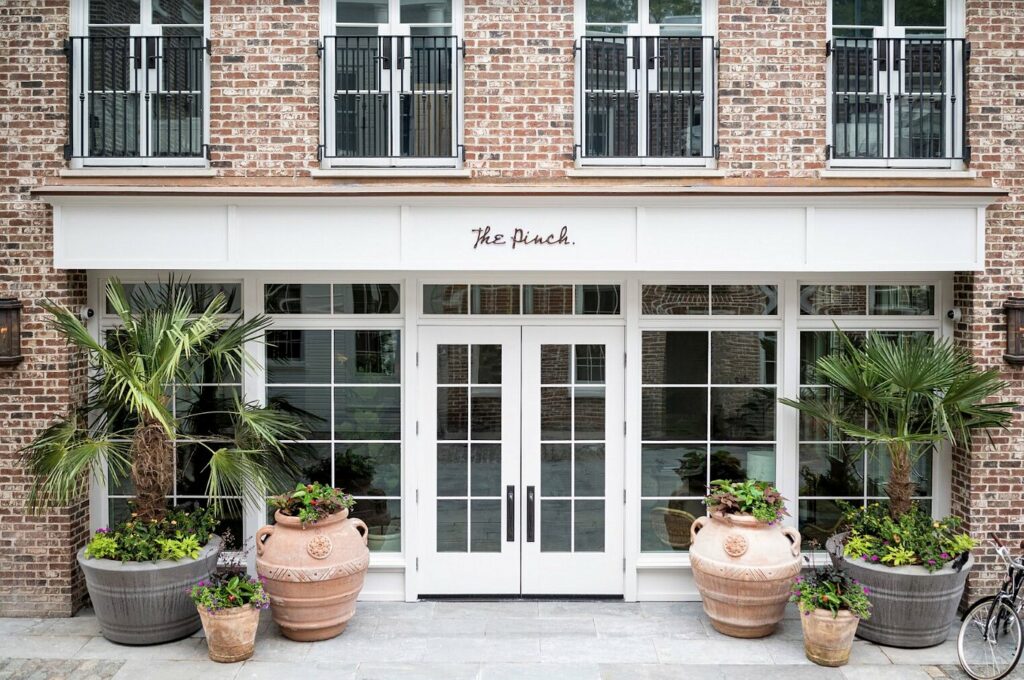 Our favourite stays for a Charleston Bachelorette Base
No matter where you stay in Charleston, you and your girls will find somewhere to suit your group. From private homes with gorgeous high ceilings to apartments on King Street or Palms Beach, you and your girl gang can find the perfect bachelorette pad.
Plus, staying in a private rental apartment means plenty of alone time to spend with one of our sexy Cabana Boys.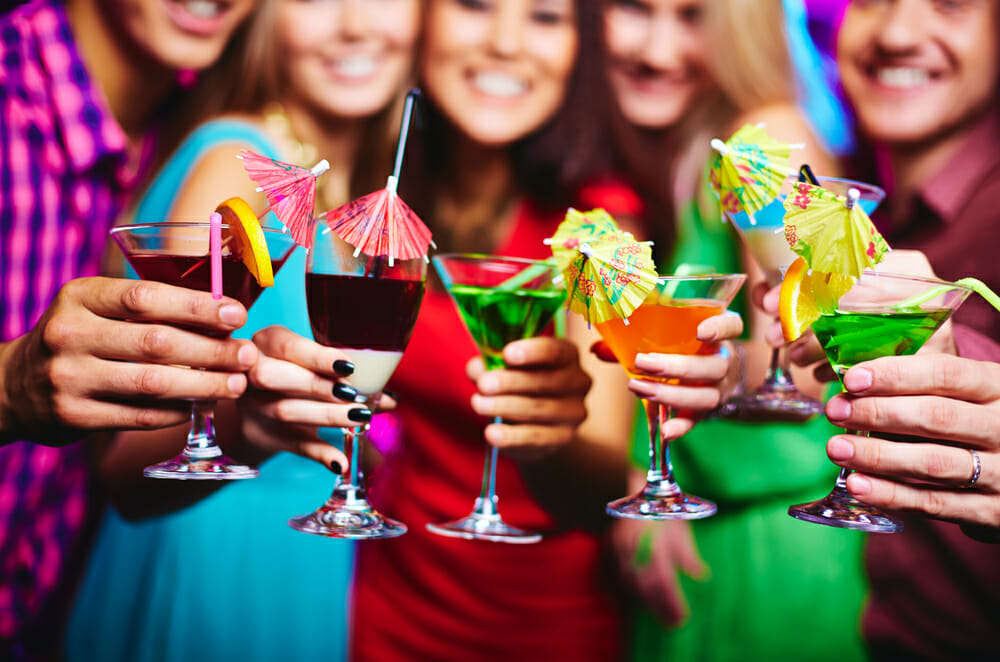 What To Do On Your Charleston Bachelorette Weekend?
Charleston offers some unique options for bachelorette party daytime activities, from rooftop bars to tiki tours, and more; here are some of our favorites:
Our Top Pick- Charleston Bachelorette on the Water
Elevate your bachelorette party in Charleston with a memorable private cruise courtesy of Charleston Yacht Charter. 
Set sail with your bride tribe on the stunning waters of Charleston, enjoying a luxurious and exclusive experience tailored to your group's desires. This private cruise promises a picture-perfect backdrop for your bach weekend, where you can celebrate the bride-to-be in style while basking in the breathtaking coastal scenery. 
With top-notch amenities and personalized service, Charleston Yacht Charter ensures that every moment aboard is unforgettable.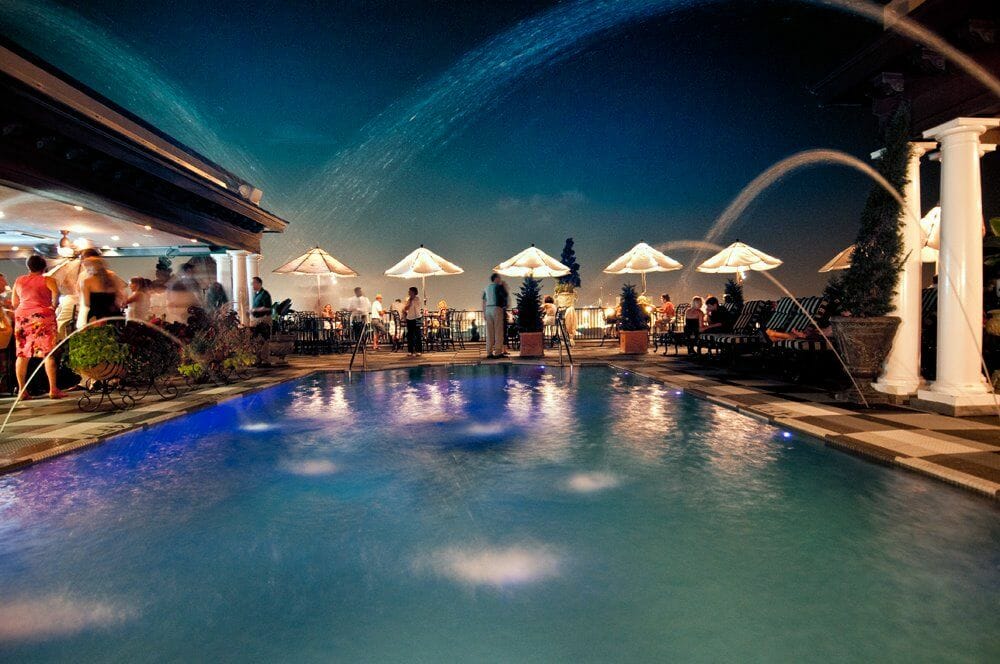 We Also love – for a Trendy Charleston Bachelorette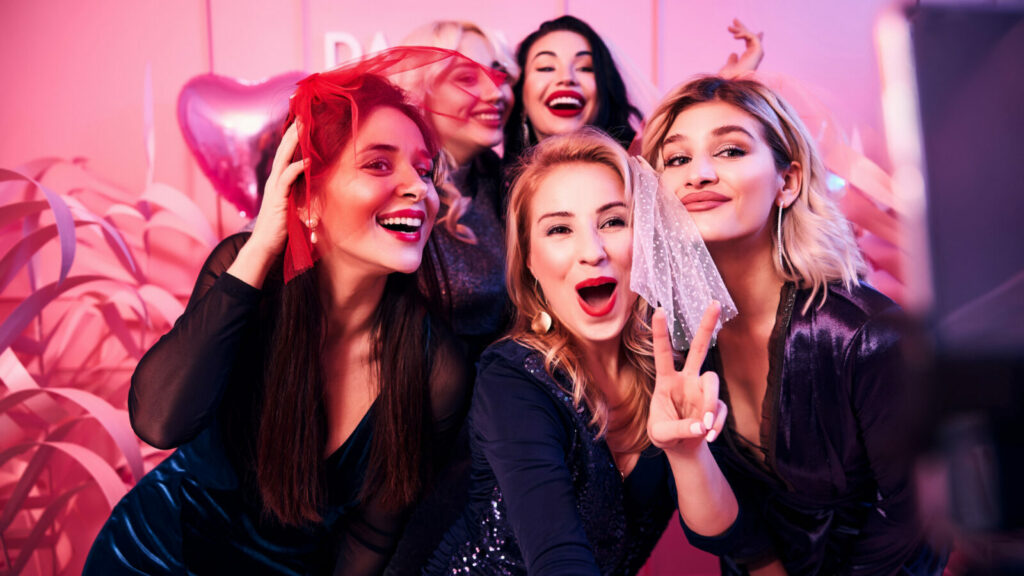 Daytime Artsy
Even our Cheeky Butlers like to get out and explore the artistic side of the cities they visit. 
Here are some great choices for artsy experiences in Charleston for you and your bachelorette ladies to enjoy at your bachelorette party, from Rainbow Row to the oldest liquor store in the USA, and even a walking tour or two
Our Top Pick: Beautiful Beaches
Charleston is blessed with some of the most beautiful beaches, each offering its unique charm. Ideal for a beach day with all your girls.
Folly Beach, known for its laid-back and bohemian atmosphere, is a surfer's paradise with its lively beachfront and vibrant community. Sullivan's Island, on the other hand, exudes a tranquil and historic feel, featuring pristine shores and the famous Sullivan's Island Lighthouse. The Isle of Palms is one of the best beaches boasting gentle waves, soft sands, and a variety of water activities. 
Whether you're looking for surf and excitement or relaxation and serenity, Charleston's beaches, like Folly Beach, Sullivan's Island, and Isle of Palms, promise an idyllic coastal escape for beachgoers and bach babes. After all, this is the time to spend quality moments together!
Rainbow Row Walking Tour
Embark on a delightful walking tour during your bachelorette weekend in Charleston and discover the iconic Rainbow Row. This enchanting historic district features a captivating row of pastel-hued houses that stand as a true testament to the city's vibrant charm. 
Afterwards go strolling along the cobblestone streets, you and your bride tribe will be enchanted by the picturesque sight of these colorful houses, each with its unique story and architectural character.
Galleries
Charleston has a wealth of galleries to explore. From fine art to modern sculpture, you and the girls will have no problem finding a gallery to spend an afternoon exploring. 
Historic Tavern
The Tavern at Rainbow Row is a must-visit destination. This historic tavern exudes a captivating ambiance, transporting visitors to Charleston's rich past. In contrast with the image of the "Holy City," the oldest liquor store in the US wouldn't have earned that title without a bit of mischief.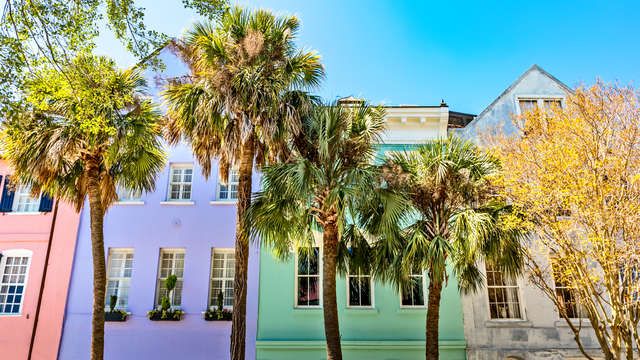 Charleston Bachelorette Party Guide: Dining
Charleston plays host to some of the very best cuisines. From fried alligator salad to pulled pork nachos, crispy fried chicken, and hangover breakfasts, Charleston has some of the best restaurants and culinary treats to satisfy the girls' appetites. As a matter of fact the only thing more delicious than food in Charleston would be the buns of our Buff Bach Butlers. 
Our Top Pick for Dining in Charleston
Indulge in a delectable dining experience for your bachelorette weekend at Magnolias in Charleston. This renowned restaurant offers a perfect blend of Southern charm and contemporary cuisine. Making it an ideal spot to celebrate with your girls. 
As you make your entrance, you'll be greeted with warm Southern hospitality and an inviting ambiance. The menu showcases a tempting array of Southern-inspired dishes crafted with fresh, locally sourced ingredients. Additionally Magnolias promises to elevate your bachelorette celebration with a memorable and flavorful dining experience in the heart of Charleston.
We Also Love
Charleston Bach Spa Treatments
A visit to a spa is a must for all bachelorette parties in Charleston. And the only thing steamier is our hot Bach Party Butlers.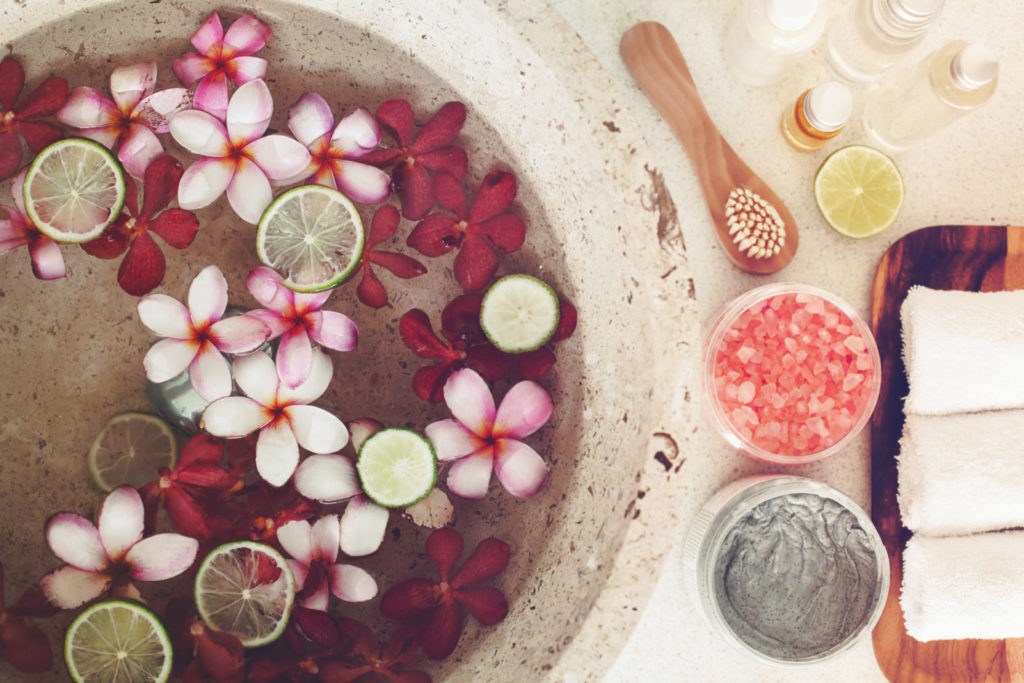 Our Top Pick
Relax and rejuvenate with a tranquil escape to Salt Spa & Yoga in Charleston. The serene oasis offers a perfect blend of relaxation and wellness. It is an ideal addition to your celebration with the bride-to-be. Immerse yourself in the calming ambiance of the salt therapy rooms, where the healing properties of salt will soothe your senses and rejuvenate your spirit. Whatever you choose this is truly a blissful sanctuary for you and your girls to unwind and recharge. Or try one our fabulous finds below.
Our Fave Charleston Bachelorette Pamper Palaces
Charleston Bachelorette Nightlife
Charleston has a vibrant nightlife scene ideal for bachelorette parties looking to dance and enjoy a few cocktails. With so many options for nightlife, you and your girls will surely party the night away in style.

Whatever you get up to in Charleston at night, there is no better way to kick off your party then with a Butler In The Buff. Our gorgeous buff butlers will bring your bachelorette party games to life to kick-start your celebrations.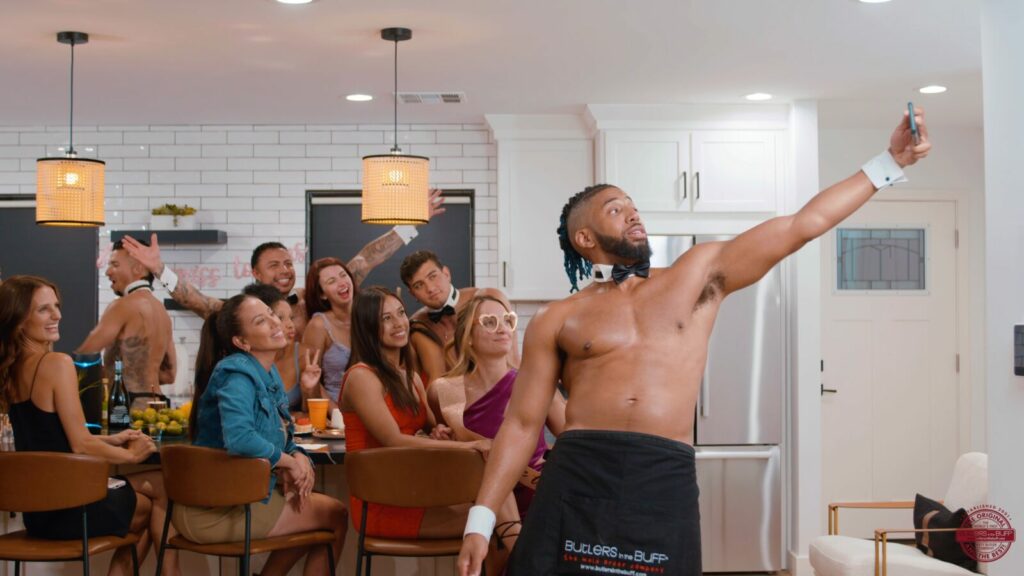 Upscale Bars in Charleston
Our Top Pic for Charleston Bachelorettes
When thinking about the best bars in Charleston, it would be impossible not to mention Republic Reign's Garden and Lounge. Republic's Garden is a unique street-level garden that boasts live music and an outdoor bar. Experience the city's best happy hour, sipping champagne and cocktails as the evening unfolds. Indulge in a delightful array of shared plates and comfort foods. From a delectable Charcuterie & Cheese Plate to mouthwatering Chicken & Waffles at Sunday Brunch. 
Republic Reign's Garden and Lounge promises an unforgettable blend of great food, live music, and a chic ambiance. After that, you can also choose from our following favourite bachelorette party vibes.
Nightclubs 
Our Top Pick
Deco Nightclub stands out as one of Charleston's premier VIP destinations, boasting an exclusive and upscale ambiance. With a strict dress code, this stylish nightclub ensures a refined and sophisticated atmosphere. The perfect spot to dress up and indulge in a truly glamorous night out. Get ready for an unforgettable evening of dancing and socializing in Charleston's vibrant nightlife scene!
Bag A Butler In The Buff
Altogether hiring a Butler in the Buff is a fun and unique way to add lively entertainment to your bachelorette party in Charleston. You and your girls will enjoy having a charming and handsome butler on hand to attend to your every need! All while dressed only in a cheeky bottom-revealing apron.
Butlers in the Buff offers various services to suit your bachelorette party needs. Our cabana boys will serve delicious drinks with a flirtatious twist. Or maybe you'd like your cheeky butler to wait on you hand and foot, serving you and your guests some tasty food while mingling.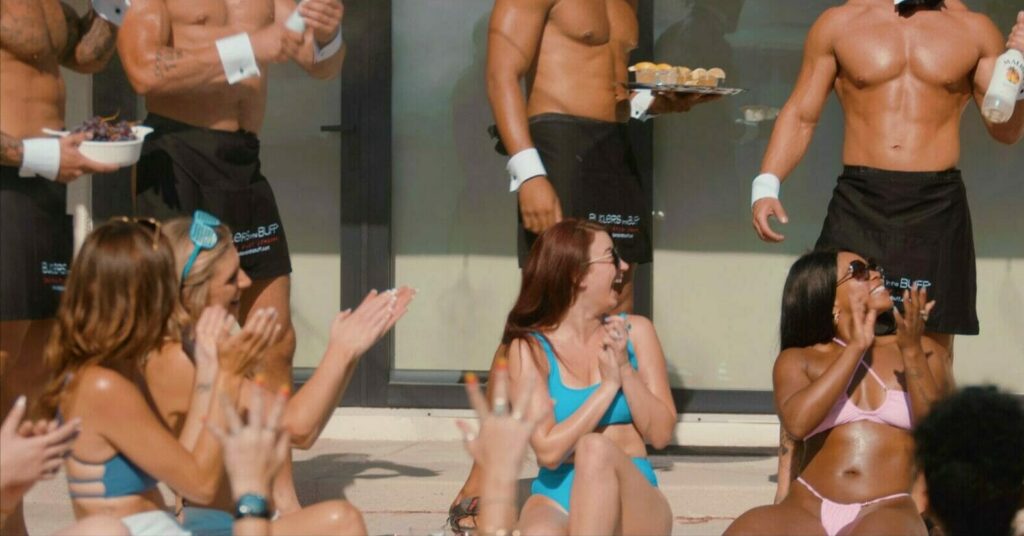 Book Your Buff Butler Bachelorette Charleston
Charleston is the perfect destination for an unforgettable bachelorette party. From beautiful beaches to Tiki tours the city offers endless fun for brides-to-be and their friends. 
Additionally hiring one of our sexy bachelorette party butlers is a must for any genuinely successful Charleston bachelorette. 

So, gather your girls, book your trip, and prepare for the sexiest bachelorette party in Charleston!