Let us set the scene: You are planning a party. It could be a bachelorette, a birthday party, a baby shower, or maybe a get-together with your girlfriends. You want the party to be casual, inexpensive and creative. You've got it! You're going to host a Cheeky Wine & Paint Night! And we are going to help you make it memorable!
If you read our blog last week about planning a bachelorette party at home, you already know how to pull this off! Now it's time to pick the theme. You've seen countless paint-a-long videos on Youtube and Pinterest of butterflies and landscapes, but your group wants something fun and adult (This is not your daughter's arts & crafts party).
The Best Theme for a Cheeky Wine and Paint Night
Our buff butlers make amazing additions to paint night. Hiring a personal butler or two to keep the wine glasses topped up, and the paint water cleared will keep all the guests happy and comfortable, and make you and your guests feel like total queens!
Even better, butlers make for an excellent subject or theme for you to study and paint with your group. This is where everyone can get creative! Different poses and accessories on your butler can go a long way and make for a hilarious art gallery by the end of the evening.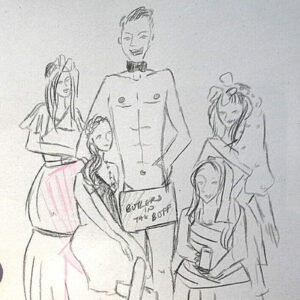 Your Butlers in the Buff can also:
Pause and play the video tutorial if you are following one
Bring fresh supplies to the guests as needed
Top up drinks, mix cocktails and serve food to guests on trays
Keep the conversations going
Be a sexy playlist DJ
Here are some other excellent painting tutorials to give you some inspiration:
Food and Drinks for your Cheeky Wine and Paint Night:
Party food is on a spectrum. On one end there is the fully catered spread that's almost too beautiful to eat. At the other end, we have the potluck/bring your own dish to share kind of event with every casserole you can think of. However, for a wine and paint night, the best option would be somewhere in the middle, with appetizers and finger food.

Some yummy party food ideas would be:
Grazing trays – Cheese, meat and crackers; fruit, veggies and dip.
Mini sandwiches, sliders or tacos
Sushi
Candy or snack bar
To keep the budget tighter, ask the guest to bring an appy and their favourite bottle of wine to share. With your butlers on hand to help out, whatever the meal, it is sure to be enjoyed!
Supplies for Hosting a Cheeky Wine and Paint Night:
The biggest thing to remember when planning a wine and paint night is that the dollar store is your best friend! Whether you're hosting and paying out-of-pocket, or the whole party is pooling funds, you don't need masterpiece-quality paint and supplies.
Acrylic paint. Assorted colours or coordinating colours to match your theme.
Canvases. Stretched canvas or canvas panels are perfect and can be purchased in packs of 12
Paint Brushes. The cheaper the better, unless you are planning to reuse them.
Table-top easels. Optional, but awesome, and they also second as a display for the art that the guests can take home with them.
Smocks or aprons. Optional. You can also ask your guests to bring an old t-shirt or wear something to paint in.
Tablecloth/drop sheet. Keeping paint off your furniture is a must!
Compostable or recyclable plates and cups. These will be used as pallets for the paint and water for the brushes.
Hair dryer. For painters to dry their canvas between layers.
Paper towel
If your guest list is bigger, or you're a super online shopper and would rather get everything in one go we've put together this quick shopping list on amazon for some ideas.
We've seen some really amazing art events throughout the years with our butlers, and every one of them is as unique and creative as everyone involved. Paint nights are messy and fun, and they can bring out the artist in everyone. Even if you think you can barely draw a stick figure, you can have a blast getting creative with Butlers in the Buff.