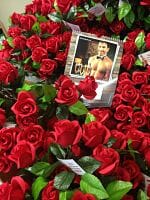 Four hunky 'Butlers in the Buff' at Grand Central Station on February 13 between 7.30am-9.30am hoping to get passers-by's day off to a romantic start.  Busy New Yorkers on their way to work won't be able to miss the love; as the butlers will only be wearing the trademark collar, cuffs, bow tie and apron, but seeing as it is only February derrieres will be covered by pants, as it might be a bit chilly for bare butts!
Butlers in the Buff does exactly what it says on the tin; the butlers serve the drinks, mix cocktails and serve food at events around the world wearing very little; a collar and bow tie, white cuffs and their trademark butt-revealing apron! The company has over 50 'perfect men' across NEW YORK and a further 150 across the states to brighten up parties.  These butlers promise to deliver service with a cheeky smile. Guests don't have to lift a finger; all they need to do is sit back and enjoy the view!
Butlers in the Buff, the original and the best 'male order' company has been so successful over the past 14 years in the UK that it expanded to the USA four years ago.  With offices also in Australia, Canada, South Africa and the UK business is booming and the bottom line is looking good for 2015.  As experts in etiquette, all of the scantily-clad butlers have impeccable manners, as well as, of course, fantastically toned muscular bodies!
"We chose the Friday before Valentines so we can catch commuters on their way to work. Valentines' is a great time to show people that love is always in the air regardless of all the doom and gloom we hear in the news every day.  We just want to make people happy; male or female; our butlers always raise a smile.  Of course, Valentine's Day is the perfect time of year to have a butler serve at parties, they help prevent any single girl or gay guys' Valentine's blues! We offer a service which makes any party exciting and memorable. Our butlers are professional, charming and fun. Our customers are as impressed with their personalities as they are with their toned bodies!" says Company Director, Stacey Bramhall.
The company is always looking to recruit as many suitable men as possible to meet the high demand in the USA and Canada. Hopefuls interested should contact the recruitment department work@butlersinthebuff.com or apply online at http://butlersinthebuff.com/us/working-for-us/become-a-butler-in-the-buff.html
Butlers in the Buff operate nationally across the USA and have a range of butlers on offer.
Roses are red violets are blue, New York, New York, Butlers in the Buff has a rose for you!
-Ends-
Notes to Editors:
For further press information about Butlers in the Buff contact Stacey Bramhall on
+44 1275 395 336 or email stacey@butlersinthebuff.com
For bookings or to apply to become a Butler in the Buff contact one of the team:bookings@butlersinthebuff.com                             
Butlers can be provided for contests,
Rate to book a butler – $95 per Butler per and travel from nearest city
Photography available on request
Butlers in the Buff – Charming, innocent, just a little cheeky.