Montreal-are you 'Buff Enough' for this fun part time job?
Butlers in the Buff are always on the lookout for fun, charming and upbeat guys who are comfortable with their bodies. Uniform is minimal- a servers apron, collar, cuffs, bowtie and nothing else! Well toned,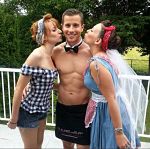 proportioned and athletic guys are well suited for 'butlering' rather than huge and hulk like. Of course the look is only 10% of what it takes to make a greatButler in the Buff. Applicants need to have a great character to match that is smart, fun and flirty. A sense of humour is a must! Customer service is integral to the business as every client needs to be cared for and made to feel absolutely amazing throughout the whole experience. The work is flexible enough to suit any schedule from student to bartender to personal trainer and is a perfect supplement for actors and models kick-starting their careers. Butlers in the Buffhave a strict code of conduct and offer full training for every new  Butler in the Buff. Even the clients are briefed on what the boundaries are and how to use their butler. This ensures a high quality service not only in Montreal but in all cities Butlers in the Buff operate in. For full application click here.
This  Part Time Job in Montreal  is 'Charming Innocent and Just a Little Cheeky'
Butlers in the Buff started in the UK in 2001 and has expanded worldwide with over 1000 butlers having fun and earning great extra income serving at parties in Australia, South Africa, Canada and the USA. If you are ready for fun and flexible work on the weekends apply online today! All you need is a good work ethic, to be honest, reliable and hard working. A fun personality is a must and you must enjoy getting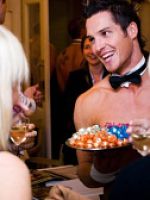 people to have fun at a party. Best candidates are talkative, confident and engaging. Applying online is easy and can be done from a smart phone or tablet. Check out the following link to discover what current Butlers in the Buff have to say about the job: Why Become a Butler in the Buff?
The Truth About Taking on a Part Time Job in Montreal
Summer is short in Montreal but it's finally here! Time to celebrate that beach body you've been working on all winter right? Well, those opportunities may be few and far between because if you're reading this then part time work is very much on the radar. As tempting as a summer vacation away can be, the reality is most guys in the 20-30 year zone are saving for their own  place, college or university. One way to amp-up the savings is by taking on a second job.  Beware job seekers of loading on additional stress and strife! Second jobs need to be fun and a pleasure to go to rather than a dreaded addition to your already packed day. Working as a Butler in the Buff is so flexible and fun it hardly feels like work at all. Plus who doesn't love a touch of great female attention? For a full application click here.