You've got to try the slopes! Look great as a group too with matching coloured scarves and hats or leis. Single out the bride by fastening a veil to her helmet or hat. Don't know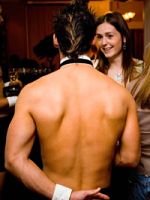 how to ski? What a great opportunity to have a lesson together. Unwind with perfect après ski drinks served in your suite by a gorgeous Butler in the Buff!
For a truly unique winter experience, book a dog sledding tour of the backcountry or a session of cross country skiing. It's action packed yet tranquil and the perfect way to explore the forest landscape.
Enjoy the magical twinkling lights of Whistler Village and the mountain views beyond as you skate Olympic Plaza before heading on a pub crawl of Whistler's finest nightclubs.
Winter Olympics-Stagette Style
Organise your own winter games with prizes and, less conventional, sports like tobogganing, team snowball fights and build the most life like snow-'willy' sculpture contest! Make the Olympic rings out of snow complete with podium where the bride can bestow the gold, silver and bronze medallions-preferably chocolate ones…
Spectacular Spa
Take in the beauty of snow capped mountains and cedar forests as you relax after all that action from the hot tubs and heated pools of nordic style spas. Quite possibly the most beautiful spa experience this side of Norway! The steam rooms and dry Finnish style saunas are cute little cabins dotted around the site. Sip on warm teas by the outdoor fireplace and heated patio area.
Divine Details
Try these fabulous additions to your suite or chalet rental to create a luxurious and personalised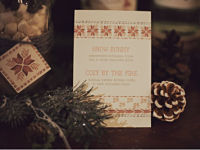 space for the bride to be and guests!
Create a hot drinks bar in your suite or cabin with your favourite liquors.
Assemble little morning after kits so no one misses out due to hangover!
Use miniature blackboards to display cocktail menu or activities for the day.
Bring the outdoors in-with pinecones, garlands and sprigs of pine or holly.
Have a Butler in the Buff on hand to hand out the goodies, serve your drinks and host party games!