Discover Our Top Party Recommendations For Your Vancouver Bachelorette
Vancouver is the place to be! Whether it's the iconic eats or the bars where you can party all night, to outdoor vistas that take your breath away – Vancity offers an unforgettable experience for your bachelorette party.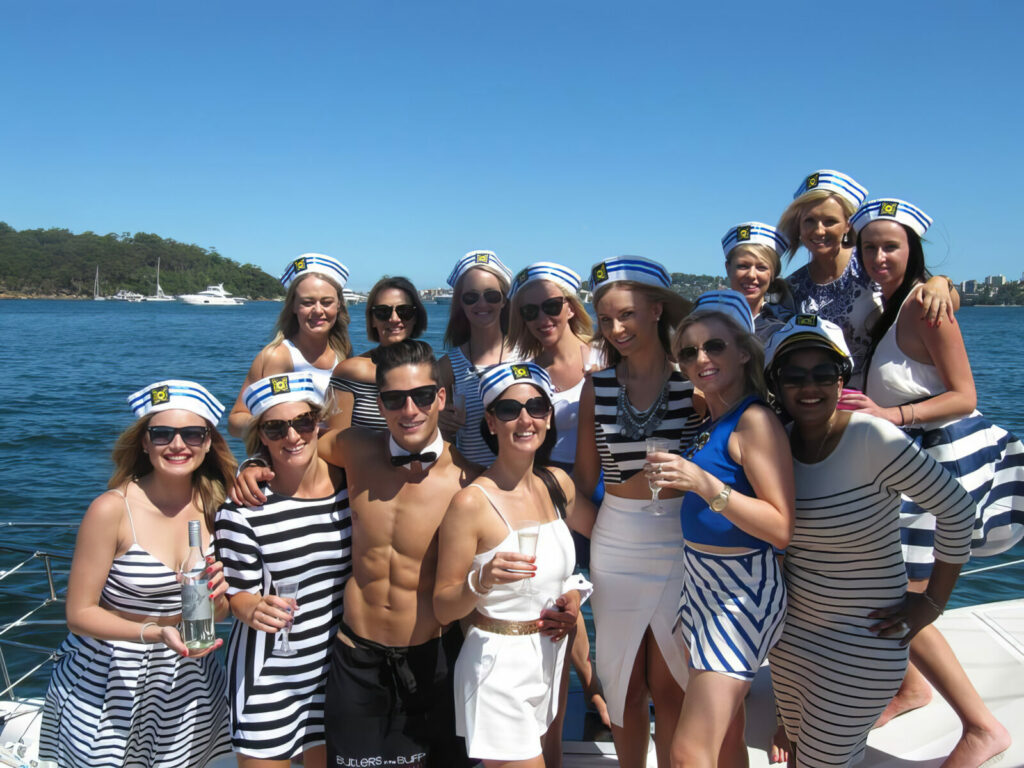 Let's look at everything your Vancouver bachelorette party needs to succeed! Including a hunky Butler in the Buff from our amazing Vancouver Party Butler crew. Available across the lower mainland.
Where to Stay: Vancouver
The first thing you should consider when planning a successful bachelorette party in Vancouver is accommodation. Vancouver has some truly beautiful places to call home on your Canadian bach weekend for you and your girls. 
When thinking about where to stay in Vancouver, you should always consider downtown. Downtown Vancouver is a hub of food, nightlife, and unique activities and sights to keep you and the girls busy all weekend. 
Our Top Pick –

The luxurious Fairmont Pacific Rim is our top pick for the best place to stay in Vancouver.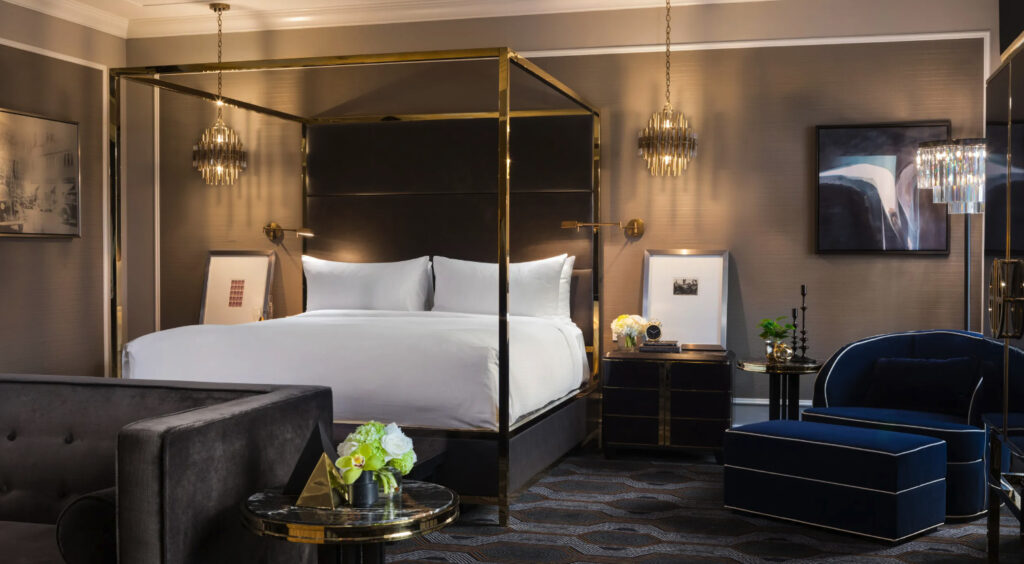 Nestled in the heart of the vibrant city, this five-star hotel offers a perfect blend of elegance and modernity. You'll be greeted by a warm and inviting atmosphere when you step into the sleek lobby. The spacious and stylishly appointed rooms provide a comfortable sanctuary, boasting breathtaking views of the city skyline or the picturesque harbour. 
The hotel's world-class amenities include a serene spa, a state-of-the-art fitness center, and a stunning rooftop pool overlooking the waterfront. The hotel's prime location allows easy access to Vancouver's most iconic attractions, trendy shopping districts, and vibrant nightlife, ensuring that your bachelorette party will be filled with excitement and entertainment. 
The Fairmont Pacific Rim truly is the epitome of luxury and sophistication.
Some other great choices for your Vancouver Bachelorette Accommodation:
Vancouver Bachelorette: What To Do
Our Buff Bach Butlers aren't the only thing in Vancouver that will get your heart pumping. Vancouver offers unforgettable opportunities for bachelorette party daytime activities, from sky tours to wine tastings in a party bus. Here are some of our favourites: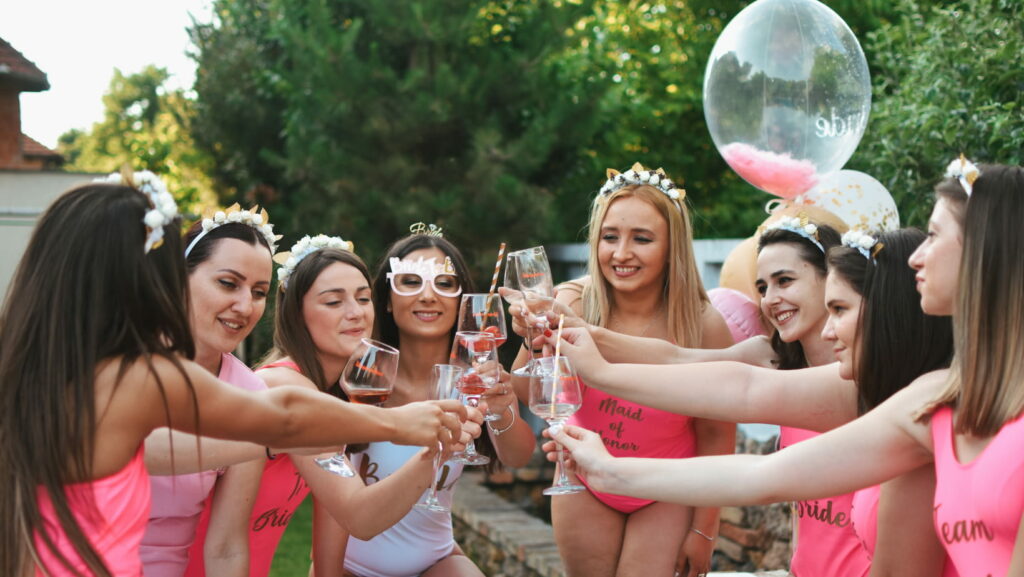 This thrilling adventure takes you on a high-flying journey above the city, providing a breathtaking panoramic view of Vancouver's iconic landmarks and natural wonders. From the comfort of a state-of-the-art airplane, you and your friends will soar above the majestic mountains, pristine forests, and sparkling coastline. 
As you take in the awe-inspiring sights, the knowledgeable pilot will share fascinating insights about the city's history and attractions. The Vancouver Panorama Airplane Tour is a unique and memorable way to celebrate the bride-to-be's special weekend. Totally the insta-worthy experience that will leave you with unforgettable memories. 
Gastown Historic Food and Wine Tasting – A Vancouver Food Tour to remember awaits on this tour that takes you and the girls to some of the most iconic locations in Gastown for an ultimate action-packed bachelorette party

. 

Wine Tasting – 

La Fabrique St-George

winery offers tastings for you and the girls to try some of the best Vancouver finest wines.

Shopping –

Since

shopping

is always on the cards in Vancouver, you'll definitely want to hit up Metrotown, or browse some high-end shops downtown and everything in between.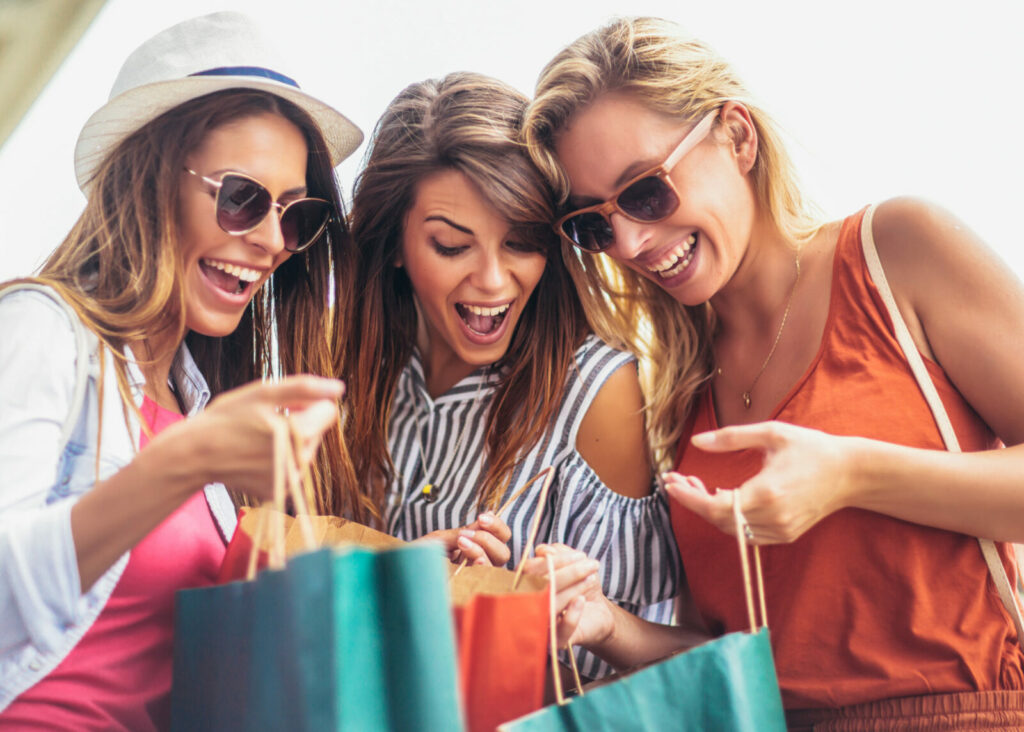 Daytime Entertainment for your Bachelorette Weekend in Vancouver
Even our Cheeky Butlers like to get out and explore the artistic side of the cities they visit. 
Here are some great choices for artsy experiences in Vancouver for you and your bachelorette babes to enjoy:
Our Top Pick –

A visit to

Kitsilano Pool

is a fantastic addition to a bachelorette weekend filled with fun and relaxation.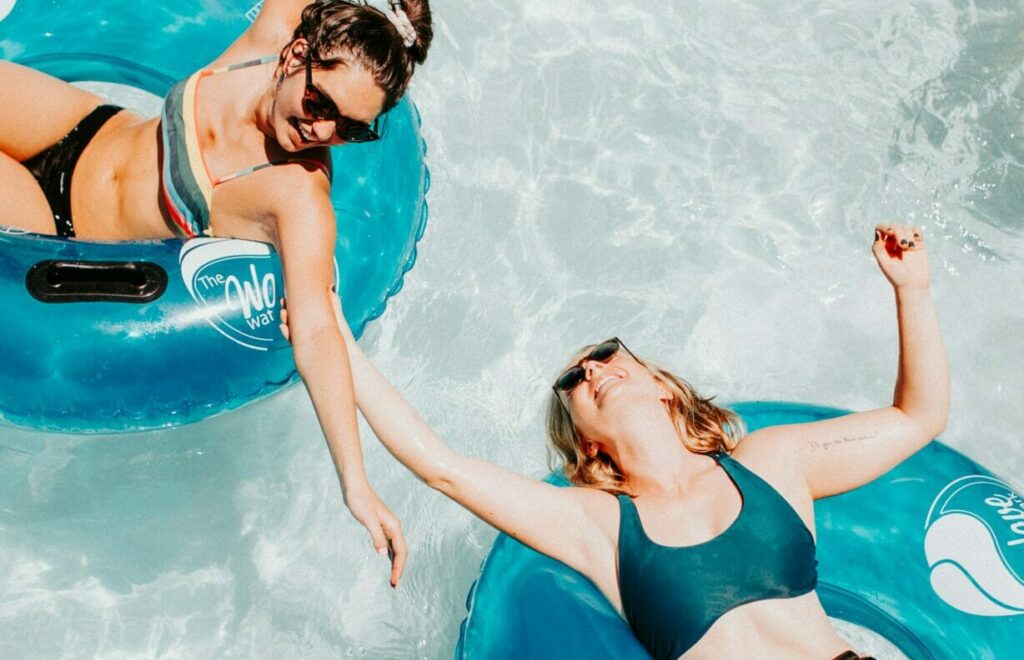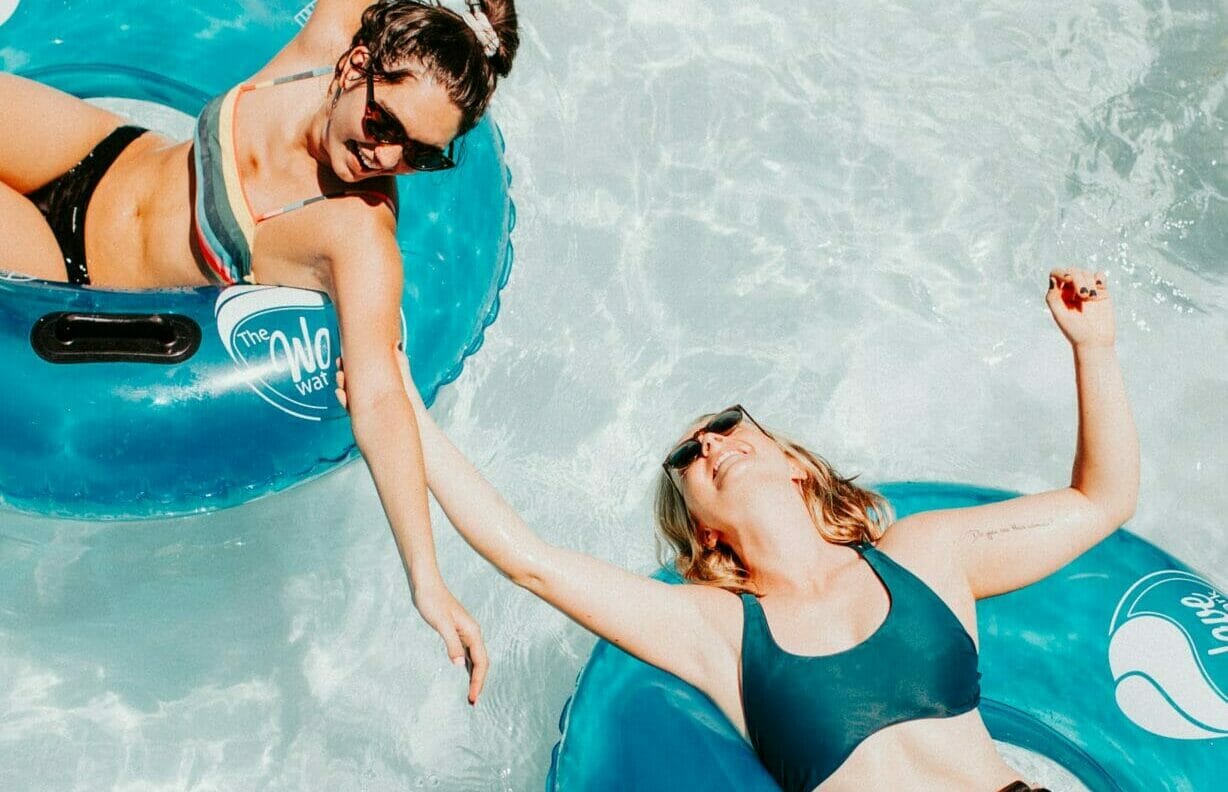 This outdoor saltwater pool offers a refreshing escape from the city, surrounded by the picturesque beauty of Kitsilano Beach. The pool is an impressive 137 meters long, providing ample space for swimming and lounging under the sun. 
The stunning backdrop of the ocean and mountains creates a serene and idyllic setting for the bride-to-be and her bach babes to unwind and soak up the sun's rays. Whether you want to engage in a leisurely swim, work on your tan, or enjoy the company of your closest friends in a breathtaking location, Kitsilano Pool offers the perfect setting.
Hiking – 

Hiking

has never been as beautiful as it is in Vancouver. Visit Stanley Park located in the heart of the city and take in some of the West Coasts' most breathtaking views. Another option is to head into the mountains and check out the Capilano Suspension Bridge or one of the many ski hills in the area. 
Unforgettable Vistas –

The

Whistler and Sea to Sky Gondola Tour

is the best way to experience Whistler in all its glory. 

Arts & Culture – No matter when you visit Vancouver there will be festivals and cultural events to enjoy. Additionally, you will be able to find amazing art galleries around almost every corner.
Vancouver Eating: Where To Dine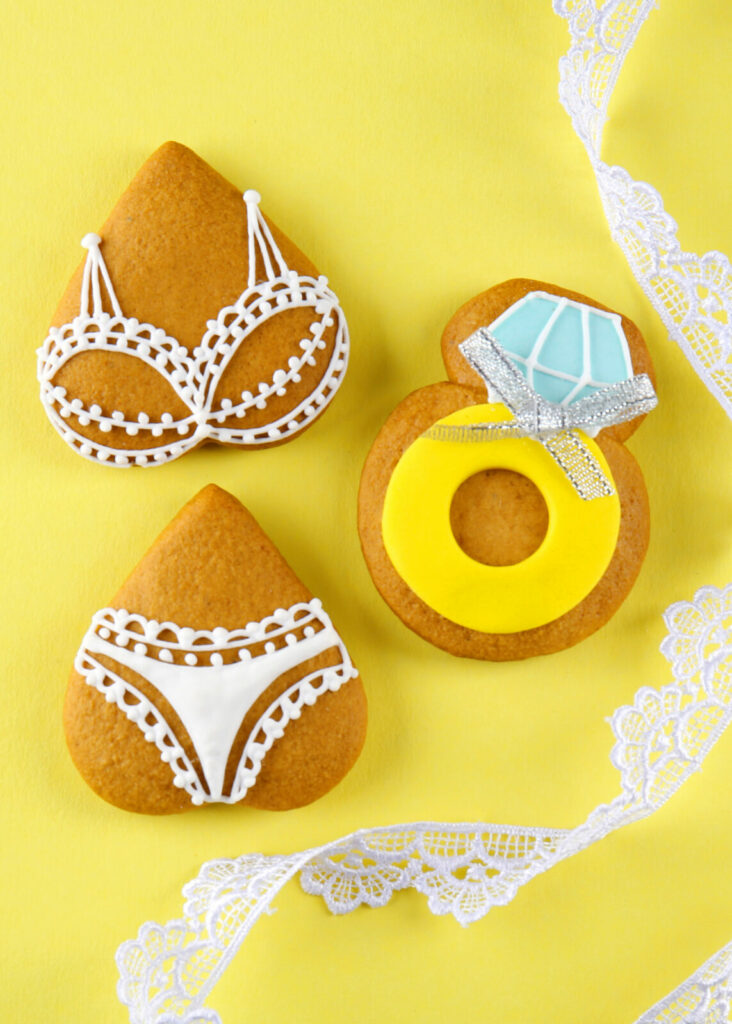 Vancouver boasts a vibrant and diverse food scene, with a wide range of culinary delights to satisfy every palate. From fresh seafood and farm-to-table fare to international cuisines and innovative fusion dishes. 
Here are some of our Buff Butlers' favourite places to eat in Vancouver:
Our Top Pick –

Dining at

Le Crocodile

is a culinary experience that promises to delight the senses and leave a lasting impression. 
This renowned restaurant, located in the heart of the city, showcases the artistry of French cuisine with a modern twist. As you enter the elegant and sophisticated ambiance, you'll be greeted by attentive and knowledgeable staff committed to providing a memorable dining experience. 
The menu at Le Crocodile features an exquisite selection of dishes expertly crafted by the talented culinary team. Each plate is undoubtedly a work of art, beautifully presented and bursting with flavour. The extensive wine list complements the menu perfectly, offering various vintages to enhance the dining experience. 
With its impeccable service, refined atmosphere, and outstanding gastronomy, dining at Le Crocodile is a true indulgence, perfect for a memorable bachelorette weekend celebration.
Upscale Seafood – Blue Water Cafe – Known for serving the freshest and best seafood in the heart of Yaletown.
Fusion Feasting – 

Kissa Tanto

offers delectable Japanese and Italian fusion food in the heart of Vancouver.

Hangover Breakfast –

Beat those hangover blues with a delicious, restorative breakfast at

Medina Cafe

.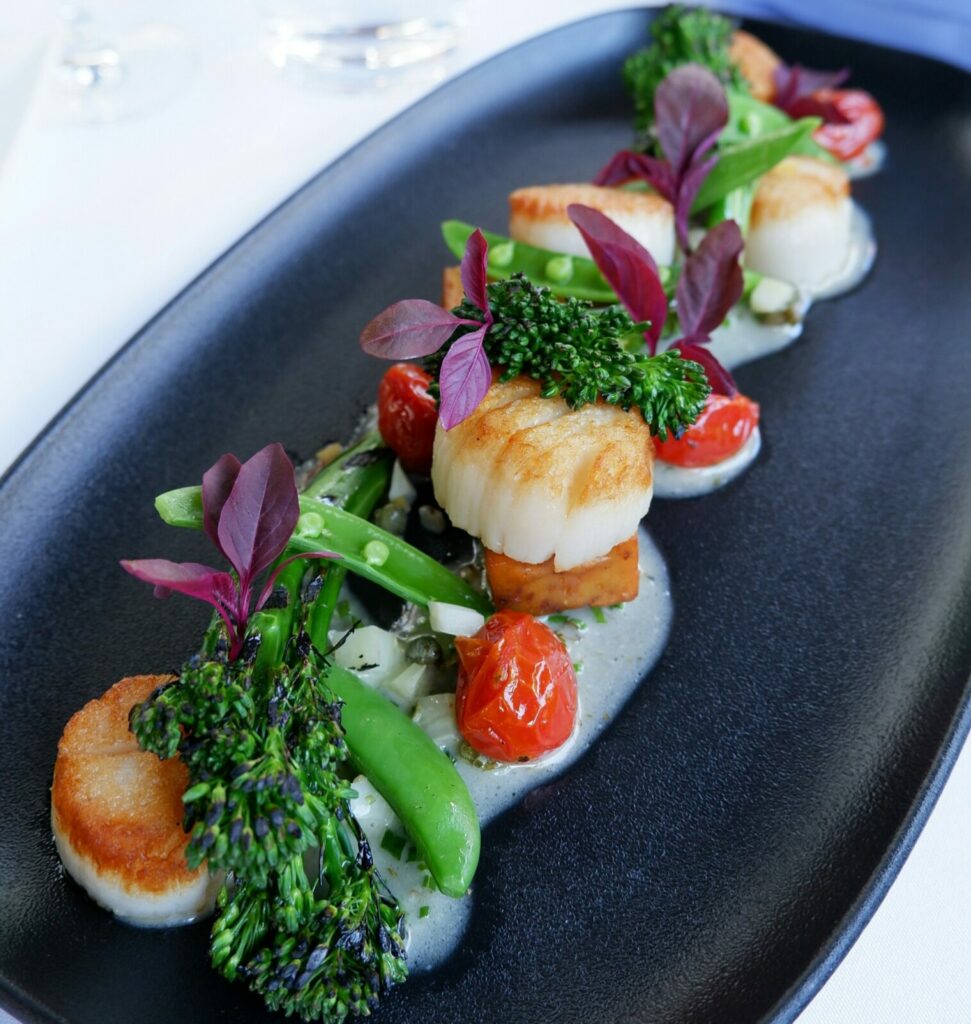 Vancouver Spa Treatments
A visit to a spa is a must at any bachelorette party in Vancouver. Certainly, the only thing steamier than the saunas in these spas is our hot bach party butlers. 
Our Top Pick –

Visiting

Smile Thai Wellness

Spa is a perfect way to unwind and pamper oneself in a serene and rejuvenating environment. 
This authentic Thai spa offers a range of traditional treatments and therapies that will leave everyone feeling relaxed and refreshed. From traditional Thai massages to aromatherapy and reflexology, the skilled therapists at Smile Thai Wellness Spa provide personalized experiences tailored to your needs. 
The tranquil ambiance, soothing music, and fragrant scents create an oasis of calm. Escape the stresses of everyday life and indulge in ultimate relaxation. The spa also offers packages and group bookings, making it an ideal choice for a bachelorette celebration. 
Whether seeking a peaceful retreat or a bonding experience with your closest girls, visiting Smile Thai Wellness Spa will leave you feeling rejuvenated.
Day Spa – 

Breathe Spa

is an excellent choice for a Vancouver day spa.

Massage At Home –

Instead of going out to the spa, bring the pampering to you! The ideal way to get rid of that hangover is a massage at your private accommodation from

EnVie Mobile Massage

.
Vancouver Bachelorette Party Nightlife
Vancouver has a vibrant nightlife scene that will keep you up all night.
Whatever you get up to in Vancouver after dark, there is no better way to kick off your party than with a Butler in the Buff. Our gorgeous buff butlers will bring your bachelorette party games to life to kick-start your celebrations.
Bars
Our Top Pick – 

Going to

Bartholomew Bar

guarantees an unforgettable night filled with sophisticated cocktails and a vibrant atmosphere. 
This trendy and stylish bar uniquely blends classic elegance and contemporary flair. The moment you step inside, you'll be greeted by a chic ambiance and a welcoming staff ready to cater to your every need. The bar boasts an extensive menu of handcrafted cocktails, showcasing creative mixology and using only the finest spirits and ingredients.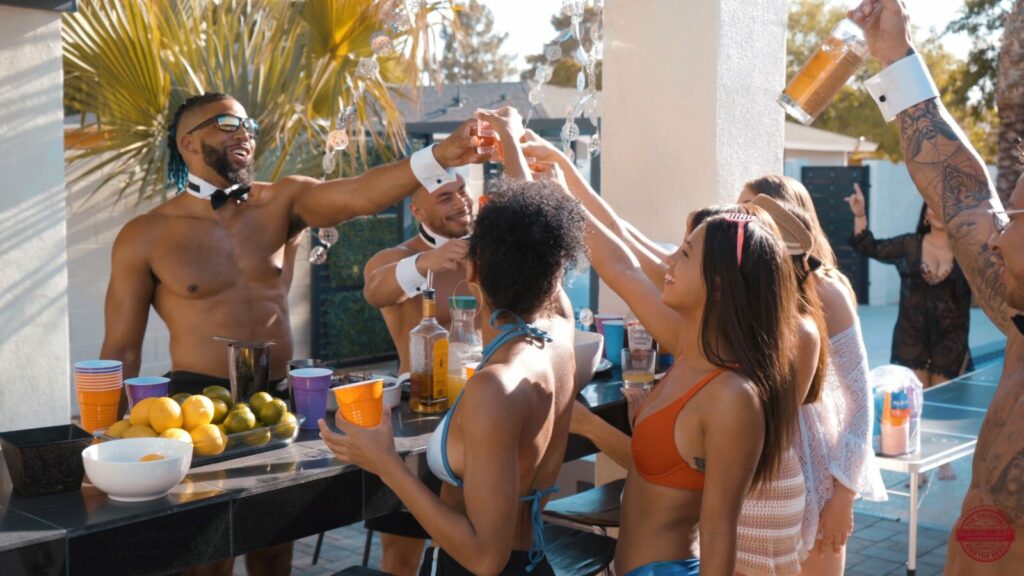 Whether you're a fan of classic cocktails or adventurous concoctions, Bartholomew Bar has something to satisfy every taste. The lively music, stylish décor, and energetic crowd create an electric atmosphere, perfect for celebrating the bride-to-be.
Best For Live Music – 

Guilt & Company

offers cocktails and some of the best live music in Vancouver.

Best Happy Hour – 

The Boxcar

is the place for exceptional Happy Hour deals and a hip atmosphere.

Best Vibes – 

The Shameful Tiki Room

is sure to offer up some of the best vibes in Vancouver.
Clubs
Our Top Pick – 

Red Room Vancouver

is an iconic nightclub known for its energetic atmosphere and vibrant nightlife vibes.
As you enter Red Room, you'll be immersed in a world of pulsating beats that will make it impossible not to hit the dance floor. The club features top-notch DJs spinning everything from chart pop to hip-hop and electronic music. You and the bach party babes will dance the night away at Red Room.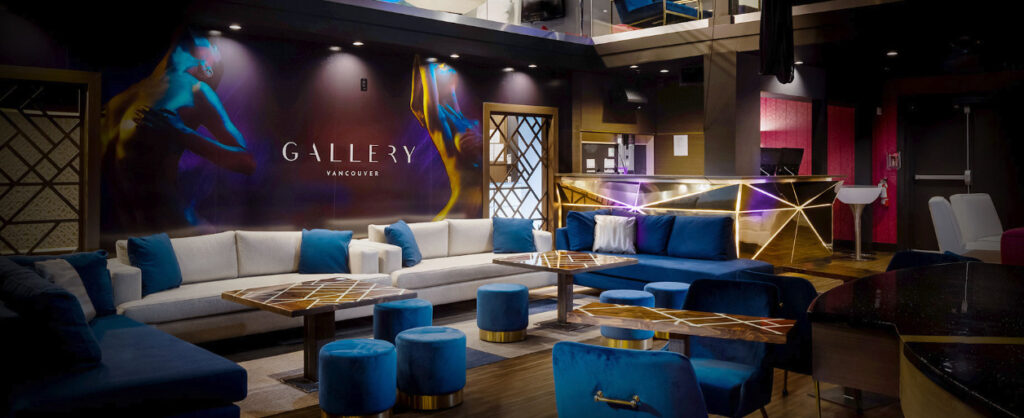 Cabaret – 

The Roxy

is the ultimate cabaret-come-nightclub destination for entertainment and dancing.

Live Music –

Live Music is the name of the game in Vancouver nightlife, and

Gallery Vancouver

is no exception. 

Dancing – The Hollywood Theatre is a blast, with live music and themed events happening almost daily.
Book a Butler in the Buff
Hiring a Butler in the Buff is a fun and unique way to add cheeky entertainment to your bachelorette party in Vancouver. You and your girls will enjoy having a charming and handsome butler on hand to attend to your every need.
Butlers in the Buff offers various services to suit your bachelorette party needs. Our boys will serve delicious drinks with a flirtatious twist. Maybe you'd like your cheeky butler to wait on you hand and foot, serving you and your guests some tasty food while providing lively entertainment.
Not only that, but you can also hire our buff butlers for various activities, such as hosting party games or greeting guests as they arrive. Whatever your bachelorette party plans, a Butler in the Buff will add a touch of ass to the occasion.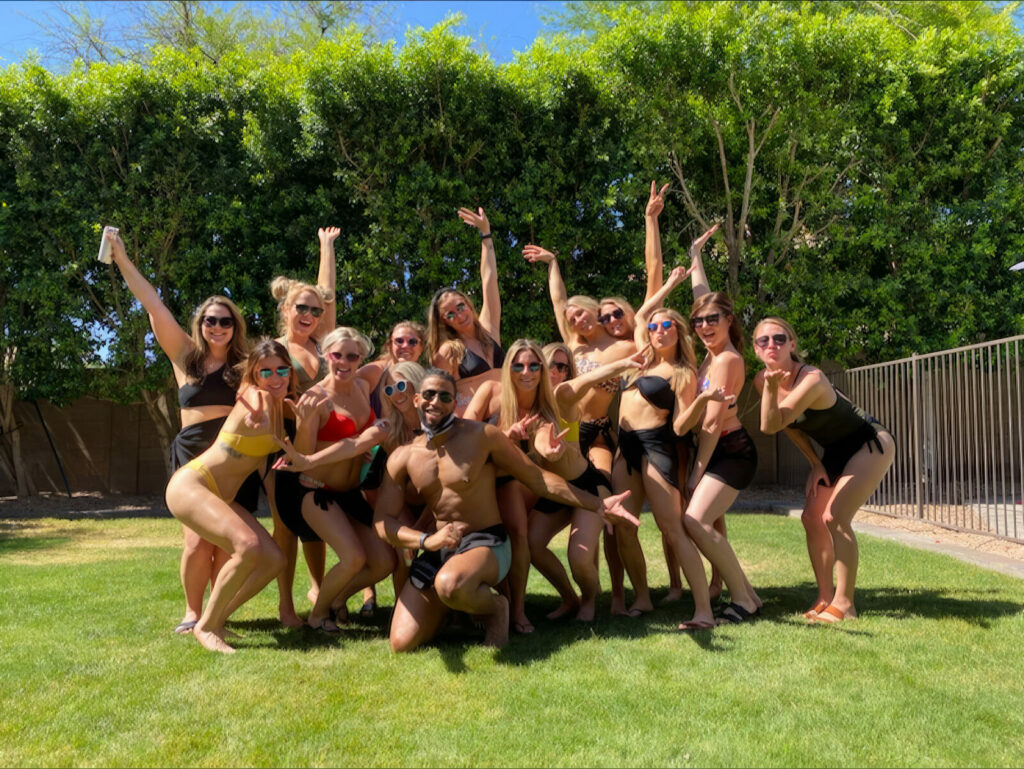 An Unforgettable Vancouver Bachelorette
Vancouver is the perfect destination for an unforgettable bachelorette party. The city offers endless fun for brides-to-be and their friends, from food and wine tastings to outdoor saltwater pools. 
In fact, hiring one or more of our sexy party butlers is necessary for any successful Vancouver bachelorette. 
So, gather your girls, and prepare for the ultimate bachelorette party in Vancouver with Butlers in the Buff!