Stagette Party Ideas: Cheap is Not a Dirty Word!
The best thing you can do to keep the cost down is have the party some place local. Meaning, no journeys to Vegas. Sorry. This leaves you with two options. You may have the party at someone's house, or you can celebrate out in public.
Living Room Lounge in Style
This is the best option as the majority of your money will be spent on alcohol and entertainment. Martinis and other hard liquor drinks will run you $9 a piece!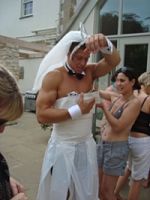 Buy alcohol and get a bartending book. It is straightforward enough for you and your buddies to make the same drinks as you can get at a bar – and at a fraction of the price tag. Get your 'Coyote Ugly' on, or, splash out on a handsome Butler in the Buff! He lasts longer than a stripper (no pun intended) and he is far more useful and entertaining. Not only will he mix and serve your drinks but he will charm the pants off your girlfriends!
For party entertainment, there are countless games you can play. 'Pin The Macho On the Guy' ( I bet you can guess what the macho is ), Wedding Dress Game, I've Never Ever and more are available to download for free on the Butlers in the Buff website here.
Out On the Town
You can still have a night out on the town but you may need to bypass the glitzier clubs with the high door charges and go boho. In most large cities, the vibrant 'bo-ho' neighbourhoods have the best nightlife! Create a challenge list for the bridal party to complete and have it transferred onto cheap white t-shirts. Then pass around the sharpie markers and let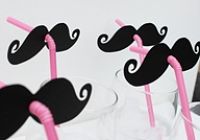 the games begin!
Keep together! Choose a theme so that everyone can keep an eye out for each other. Plus it's a great way to identify as a group and convince bartenders to slide a few free drinks your way! Don't forget to organise a safe ride home too.
Here are some useful links to get you planning:
Using your Butler in the Buff
Stagette / Bachelorette & Birthday Party Games
How it works