Looking for cheap bachelorette party ideas? At Butlers in the Buff, we aim to entertain at a cost that won't break the bank. That's why we have what you need for a cheap bachelorette party idea that offers a priceless experience full of laughter, spice and cheeky fun. Why spend countless hours planning a destination bachelorette, managing ticket bookings and hotel packages, when the perfect destination is right here at home?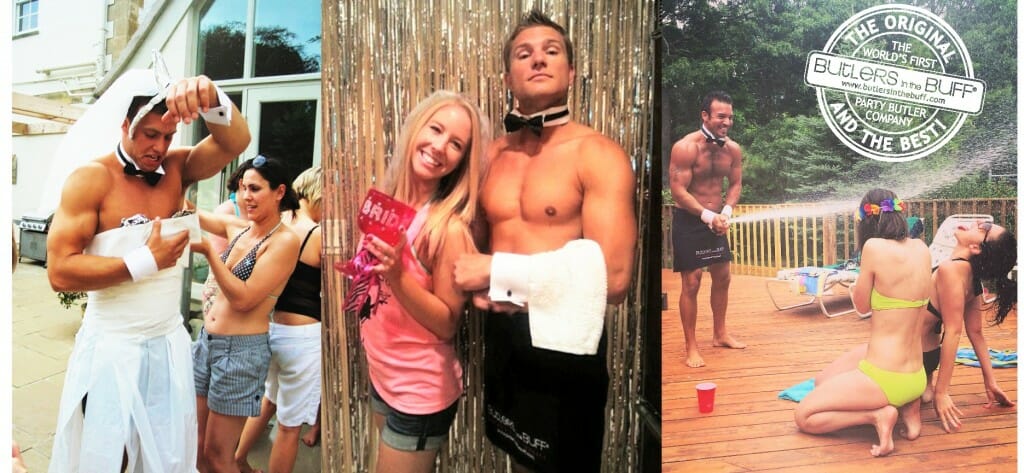 If you're in search of bachelorette party ideas on a budget, welcome to Butlers in the Buff. Check out a few of the main reasons our customers around the world hire us for their at-home bachelorettes and hen parties. Just because you aren't at a dance hall in Ibiza doesn't mean you can't give your bride-to-be an unforgettable night!
Dining & Serving
Whether you need your butler to man the BBQ, host your catered dinner or cut the cake, our Butlers in the buff will be your servers for the evening, mingling and entertaining the guests along the way. While the serving equipment isn't provided, the muscles are! Why not make the most out of your butler's talents with fun champagne or dessert stations where he can dish out the treats and give your guests the pampering they deserve. Cheap bachelorette party ideas don't have to look under done!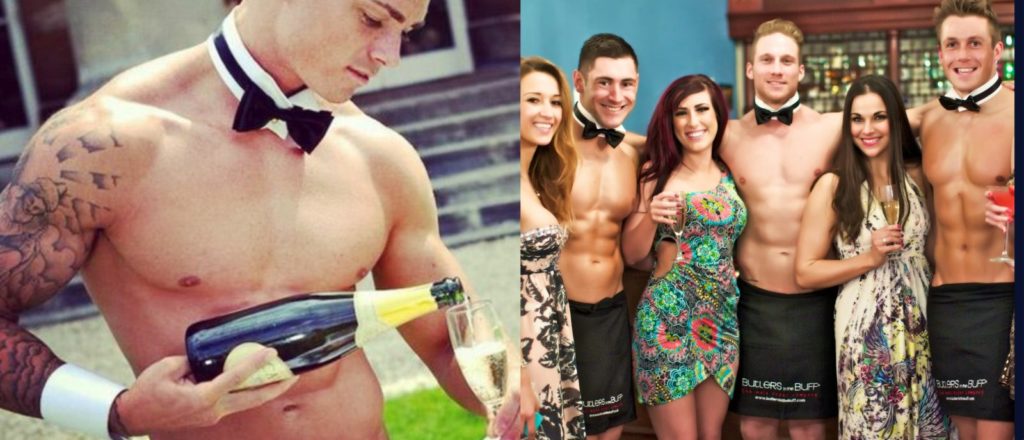 Party Games 
In addition to his many serving talents, your Butler loves to play party games. The best part of our unique service is the playful side! If you're looking for games that showcase your butler's best bits, we've got them. Check out our party game ideas for bachelorettes, which include a dress-making competition with a fashion show.
Do you plan to get rowdy with some games that require a referee, perhaps a three-legged race? Or pool side fun like volleyball or croquet? Our butlers will blow your whistle. Need a spare player? These guys are active, sporty and always ready to get their buns in the game.
Award Presentations
Will you be giving away some fun gifts or personalized awards to your group of friends? Why not let your butler take over as the master of ceremonies. He will happily hand out the tiaras, or trophies, for a win-win celebration that's sure to delight the girls.
Eye Candy
Let's be real, whatever party you plan for a bachelorette is going to be amazing, isn't that why you're in charge of organizing? No matter what you dream up, Butler's in the Buff is the little bit extra no one expected. Our butlers bring energy, enthusiasm, handsome smiles and six-pack abs for a charming aesthetic that will enhance any evening. The only thing better than a butler in the background is two.
One of the best reasons for hiring Butlers in the Buff isn't just because it's the ultimate cheap bachelorette party idea.You and your girlfriends can relax and have fun in a warm, friendly and safe environment. There is no need to worry about how your girls get home, and which creep at the bar is being just a bit too friendly. With our Butlers in the Buff, you can get wild in the comfort of your living room with handsome, half-naked men, who are pro gentlemen–with plenty of cheek. Ready to give you and your ladies an evening to remember (no matter how many whip-cream shots were consumed!)
Find out how Butlers in the Buff works, and get your instant quote today!