Book A Buff Butler for your San Diego
Bachelorette
Discover Our Best Recommendations For Your San Diego Bachelorette Party!
California is dreaming, baby! Here is everything you need to plan the ultimate San Deigo bachelorette party.
San Diego, known as "America's Finest City", is the place to go for an adventurous, unforgettable bachelorette. Whether your bach crew wants to basque in the sun on the California coast, paddleboard, eat fantastic food, or (most importantly) party, San Diego offers something for everyone.

With sunshine all year round, San Diego is the place to go.
Let's look at what this fantastic city offers and what every Cali bach needs to succeed – including a steamy Butler In The Buff from our amazing San Diego Bach Butler team!
Bachelorette Accommodation in San Diego
Everyone knows a truly incredible bach experience depends on where you stay. San Diego has no shortage of exceptional places for you and your girls to call home on your bachelorette weekend.
Blessed with year-round sun, staying near one of San Diego's many beaches is usually the most popular option for many people visiting the city. San Diego is a unique city with neighbourhoods filled with culture and places to party.
While it is impossible to say which area of San Diego is the "best," Downtown and the beach areas offer the most possibilities for an amazing bachelorette.
Our Top Pick
The Hotel Del Coronado is our top pick, an iconic beachfront hotel. The unique and luxurious setting makes it an ideal destination for a bachelorette party.

Situated on a picturesque beach with stunning views of the Pacific Ocean, you will be treated to the perfect backdrop for a memorable weekend with the girls. The hotel offers a range of luxurious accommodation options, including spacious guest rooms, suites, and cottages. Each room is beautifully decorated and has everything you need to enjoy your stay.
Hotel Del Coronado is filled with all the best bachelorette party activities for you and your crew, from indulging in a relaxing spa treatment at the on-site spa, taking a dip in the outdoor pool, or enjoying a cocktail at one of the hotel's bars. 
Fancy Hotel – Coronado Island Marriott Resort & Spa is an excellent choice if you want to indulge in luxurious suites with spa treatments and waterfront views.
Boutique Hotel  – The Pearl Hotel is your choice if you enjoy boutique hotels with a playful, modern charm.
Budget Friendly – The Shoal La Jolla Beach is just right when looking for a beach hotel on a budget.
Rental Apartments – Airbnb is the obvious place to look for private rentals. No matter which area of San Diego you are looking to stay in, there is a private apartment or home for you to rent. 
No matter where you stay in San Diego, you and your girls will find somewhere to suit your group. But staying in a private rental apartment means plenty of alone time to spend with one or more of our hunky Cabana Boys.
What To Do On Your San Diego Bach?
San Diego offers some unique options for bachelorette party daytime activities, from bike trails to pool parties, shopping, and more; here are some of our favourites: 

Our Top Pick
It's time to get your tour on, ladies. Social Cycle is a unique way to see the sights of San Diego. The Social Cycle is a 16-person pedal-powered party bike that will let you and your girls explore the city while enjoying drinks and music. Led by experienced guides who will take you to some of the city's best bars, restaurants, and attractions, a social cycle tour is an unforgettable experience for everyone in the group.

With various tour options to choose from, you can explore the city's craft beer scene, cocktail bars, and local restaurants. You can customize the tour to include your favourite local spots or landmarks. With plenty of stops along the way to take photos, grab a bite to eat, or enjoy a drink (or 3,) Social Cycle is a great way to see the city.
Daytime Artsy
Here are some great choices for artsy experiences in San Diego for you and your bachelorette ladies to enjoy:
Our Top Pick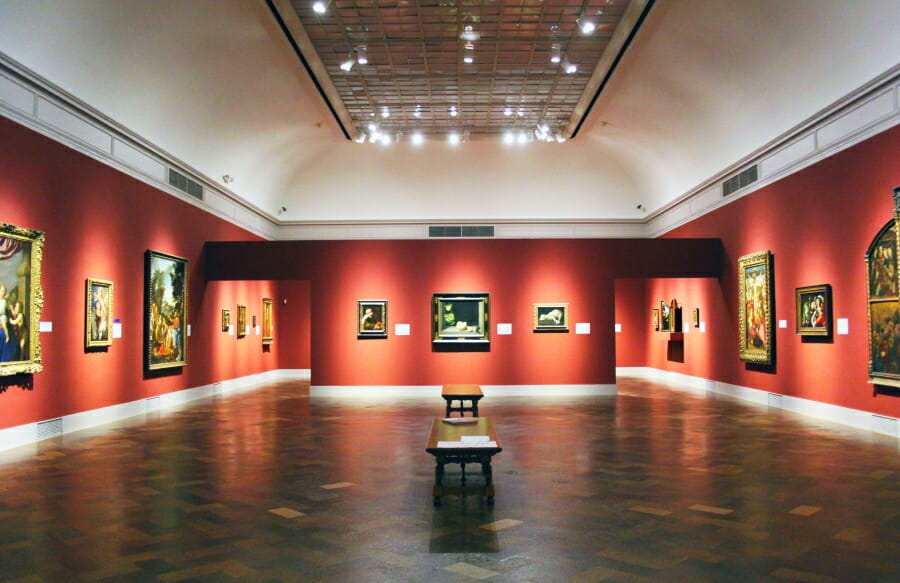 The San Diego Museum of Art is a must-visit destination for bach babes interested in art and culture. The museum features many artworks worldwide, including paintings, sculptures, decorative arts, and photography. 
The museum hosts a variety of temporary exhibitions throughout the year, which showcase works from renowned artists and emerging talents. If you're lucky, you may be able to bag a place at one of the museum's Culture & Cocktails events. Sign us up! 
Gardens –

The

Japanese Friendship Garden

is one of the many stunning gardens in San Diego. What better place to celebrate all the girls than at a garden dedicated to friendship?

Arts District – 

Arts District Liberty Station

has everything from art exhibits to dance showcases, cinemas, art classes, shopping, and more!
Eating San Diego: Best Bach Bites
San Diego has a diverse culinary scene with treats to tantalize all taste buds. 

From casual beach eats to fine dining, the culinary offerings in San Diego are bound to satisfy the girls' appetites. The only thing more delicious than the Cali cuisine would be one of our sexy Buff Bach Butlers feeding some to you at your private party.
Our Top Pick
If you're looking for a delicious and authentic Japanese dining experience in San Diego, look no further than Matsu. Offering a variety of traditional Japanese dishes, including sushi, sashimi, tempura, and more, all made with the freshest Californian ingredients.
One of the standout menu items of Matsu is the sushi. With a delectable selection of sushi rolls, nigiri, and sashimi, all made to the highest standards with high-quality ingredients. Whether you're a sushi aficionado or new to the cuisine, the chefs at Matsu Restaurant are sure to impress with their expertly crafted and beautifully presented dishes. 
A truly fantastic choice for a delicious and authentic Japanese dining experience during your bachelorette weekend in San Diego.
Elegant Italian – 

Marisi

is a pasta lover's dream come true. Handmade pasta has never tasted so good. 

Upscale Oysters – 

Sandpiper Wood Fired Grill & Oysters

is the place for amazing oysters, seafood, and grilled deliciousness. 
Hangover Breakfast –

For the ultimate breakfast experience with eye-catching decor that will pull you out of that hangover head, check out

Morning Glory Breakfast

.
San Diego Bach Spa Treatments
A visit to a spa is a must at any bachelorette party in San Diego. And there are so many to choose from. The only thing hotter than the saunas in these spas are our steamy bach party butlers. Hire your buter before you head to the spa. He will serve mimosas and hor d'oeuvres while you and your squad get ready.
Our Top Pick
Forget minimalism – Spa Kingston is a luxurious and glamorous spa that offers a range of indulgent treatments and services perfect for pampering you and your bach babes. 

The spa's experienced staff will help you unwind in style, from relaxing massages to rejuvenating facials. With beautifully chic decor, plush seating, and soft lighting, this stunning spa is the perfect place to unwind and relax.
One of the standout features is the range of indulgent packages designed specifically for groups. These packages include a variety of treatments and services, such as massages, facials, manicures, and pedicures, and can be customized especially for your bach crew. 
Best Hotel Spa –

The best hotel spa in San Diego has to be the

Spa

at Rancho Valencia for a luxe spa day.

Nighttime Spa Treatments –

Girl on the Go Wellness Spa

is perfect for an evening spa treatment after a busy day exploring the city. 

Massage At Home –

Looking for a massage? The ideal way to get rid of that hangover is a massage at your private accommodation from

Soothe

. (Book a butler at the same time!)
Bach Party By Night: San Diego Nightlife
San Diego has a vibrant nightlife scene ideal for bachelorette parties looking to dance the night away or enjoy a few cocktails. With so many options for nightlife in San Diego, you and your girls are bound to find something to do.
Whatever you get up to in San Diego at night, there is no better way to kick off your party than with Butlers In The Buff. Our chiselled, gorgeous buff butlers will bring your bachelorette party games to life to kick-start your celebrations.

Bars
Our Top Pick
When in San Diego, you HAVE to drink at one of the stunning rooftop bars. Fairweather takes the top spot for the trendiest rooftop bar in San Diego's Gaslamp Quarter. 
Boasting stunning views of the city skyline and a beautiful outdoor patio, you and your bachelorette crew can enjoy delicious cocktails, light bites, and gossip about how handsome your buff butler is. With its sleek interior and minimalist design, Fairweather makes for a chic and sophisticated night out. 
Fairweather offers an impressive selection of craft cocktails. The bar's expert mixologists are always experimenting with new and exciting flavor combinations. Only using fresh and high-quality ingredients they create delicious and innovative drinks that are sure to leave you and the girls feeling fab, flirty, and up for a night of fun.

Best Clubs in San Diego for your Bachelorette
Our Top Pick
Onyx Room is one of the best Downtown nightclubs in San Diego. With Rumba Fridays celebrating the best Latin dance music and Onyx Saturdays that pump out Latin jams all night, you and your girls will party at the hottest, sexiest spot in town.

The club regularly hosts some of the biggest names in the music industry and up-and-coming local artists. No matter what music style your girls are into, Onyx Room will keep you up all night dancing. With VIP and bottle service packages, which include exclusive access to private tables, premium drinks, and personalized service from the club's staff, Onyx Room is the perfect destination for a night of dancing and partying in San Diego's vibrant Gaslamp Quarter.
Go Dancing –

Want to dance the night away? Head to

Bloom

and show off your moves.

Awesome Vibes –

What's the club with the best vibes in San Diego?

Spin Nightclub

is an after-hours venue boasting rooftop bars and epic laser shows.
Hire Butlers In The Buff
Hiring a Butler in the Buff is a fun and unique way to add cheeky entertainment to your bachelorette party in San Diego. You and your girls will enjoy having a charming and handsome butler on hand to attend to your every need while dressed only in a cheeky bottom-revealing apron.

Butlers in the Buff offers various services to suit your bachelorette party needs. Our cabana boys will serve delicious drinks with a flirtatious twist, or maybe you'd like your cheeky butlers to wait on you hand and foot, serving you and your guests some tasty food while providing lively entertainment.
You can hire one of our charming butlers for various activities, such as hosting party games or greeting guests as they arrive. Whatever your bachelorette party plans, a Butler in the Buff will add a touch of ass to the occasion.
Book a Buff Butler for Your San Diego Bachelorette
San Diego is the perfect destination for an unforgettable bachelorette party. From iconic beaches, stunning gardens, and luxurious spas, the city offers endless fun for brides-to-be and their friends. 
Hiring one of our sexy party butlers is a must for any genuinely successful San Diego bachelorette. So, book your trip and prepare for the sexiest bachelorette party in San Diego with your Butler In The Buff!