Our Top 8 Banff Bachelorette & Stagette Party Ideas
We have Banff bachelorette & stagette party ideas galore! Banff is a great place to have your bachelorette/stagette. Just over an hour outside of Calgary it makes for the perfect girls weekend away. Banff has every kind of activity you could want for your bachelorette weekend: from horseback riding or ice skating, to spending time in the iconic hot springs, to dance the night away! That's why we believe Banff is the perfect stagette location.
#1 Banff Bachelorette Ideas & Stagette Party Ideas-Buff Butler
Of course, the best way to kick off you Banff Bachelorette Party is by hiring one of our gorgeous Butlers in the Buff. Our guys are charming, funny and of course super good looking! The butlers will entertain your guests, serve drinks and even clean up after the party! They are the perfect party accessory!  The butlers are perfect hosts to assist with party games which you can download for free here.
#2 Banff Bachelorette Ideas & Stagette Party Ideas- Sightseeing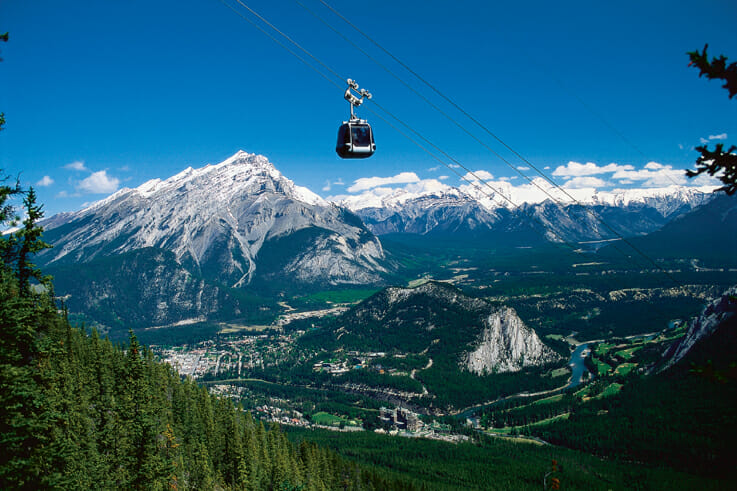 One of the best ways to check out Banff's views is to head up the Rockies in one of Banff's many gondolas, take your pick from: the Banff Sightseeing Gondola at Sulphur Mountain, the Lake Louise Sightseeing Lift, Gondola & Interpretive Centre at the Lake Louise Ski Resort, the Sunshine Gondola and Standish Chairlift at Sunshine Village Ski Resort, and the Banff Sightseeing Chairlift at Mt Norquay. Each offers a unique and breathe taking experience for your Banff Bachelorette. The Banff Sightseeing Gondola takes you up Sulphur Mountain, and once you are at the top you can enjoy the restaurants, cafes, and a number of short hiking trails. The Lake Louise Gondola takes sightseers up 2088 metres to see the amazing views of Lake Louise and of Victoria Glacier. This is also a great spot to see some local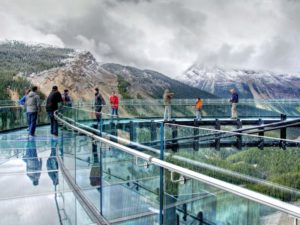 wildlife, including grizzly bears! The eight-seater Banff Sunshine Village Gondola is perfect for a small bachelorette party and is open Friday to Monday and offers 360 degree views of the Rocky Mountains. From there, catch even more breath-taking views from the standing viewpoint or connect to the sunshine meadows hiking trails. The Banff Norquay Sightseeing Chairlift offers an open air ride to the summit of Mount Norquay where there is a number of viewing platforms, walking trails and restaurants.
Don't forget to book your butlers

#3 Banff Bachelorette Ideas & Stagette Party Ideas-Horseback Riding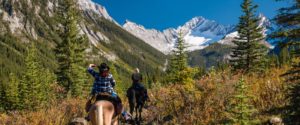 There is a number of different options out there when it comes to horseback tours of the Rockies or trails around the Banff wilderness but they depend upon rider ability. The horses are well behaved and the scenery is stunning, so this is a great chance for truly awesome experiences for your Banff party adventure!
#4 Banff Bachelorette Ideas & Stagette Party Ideas-Hiking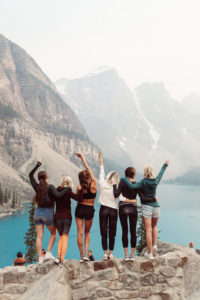 There is an abundance of hiking trails in and around Banff National Park and Lake Louise, 1600 kilometers worth in fact! They range from short walks around the town of Banff to much longer and challenging hikes that promise amazing views. We recommend heading up the mountains in a gondola and then follow the hikes around the summit so you can avoid too much uphill hiking, especially if you are not a hiking expert.
Another popular option is doing a Tea House Hike, where you can reward yourself for doing the hiking with a delicious slice of cake and cup of coffee- it's the best of both worlds! The Lake Agnes Tea House was built in 1901 and the hike up to the tea house offers incredible views of Mirror Lake and Lake Agnes. To find out more about this Tea House Hike  and The Other Tea House then follow these links.
Get an instant quote for Butlers in the Buff
#5 Banff Bachelorette Ideas & Stagette Party Ideas- Water Sports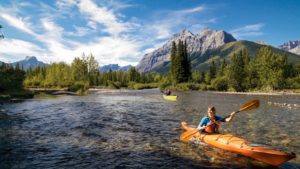 With Lake Louise and a whole load of other amazing lakes so close to Banff it would be a crime to not try out some water sports during you Banff Stagette. Whether you are after some white water rafting or some relaxing paddle boarding, you'll find it in Banff! For all things water sports related and more information click here.
#6 Banff Bachelorette Ideas & Stagette Party Ideas- Pamper time!
If all the long walks and outdoor activities (or a big night out) has worn you out then a spa trip is just what you need.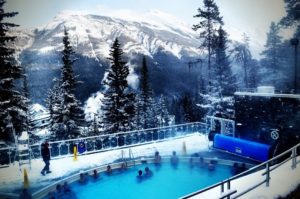 A must whilst you're in a Banff is to head to Banff Upper Hot Springs. The hot springs were discovered in 1883 by three Canadian Pacific Railway workers and have been popular ever since. A soak in the steamy hot mineral water after a long hike or a night on the town will leave you feeling relaxed and rejuvenated! We highly recommend heading to the hot springs at sunset or first thing in the morning so that you get the most amazing views whilst you relax on your Banff Stagette.
If a traditional Spa is more your thing then head over to the Red Earth Spa or Willow Stream Spa at the Fairmont. Both Spas offer a wide range of different treatments as well as access to the hotels hot pool, steam room and gym to spoil your Banff bachelorette party.
Booking Butlers in the Buff is the icing on the cake
#7 Banff Bachelorette Ideas & Stagette Party Ideas- Food Glorious Food!
No Banff Bachelorette party is complete without some great food and there is plenty to choose from here!  
Block Kitchen and Bar serves up some great world cuisine, specifically tapas not to mention some great cocktails!   No bachelorette party is complete without cocktails – Don't forget you can also get you Butler in the Buff to mix up cocktails at your accommodation before you head out.
Saltlick is perfect for any occasion, they have a lounge menu and a formal dinner menu, ensuring that you'll be able to find whatever takes your fancy! They also have an excellent wine list. 
The Bison simply describes itself as 'Regional. Seasonal. Canadian.' A place where everyone is welcome whether it's in high heels or walking boots! So if some authentic and ethically sourced food is what you are after then this is the place for you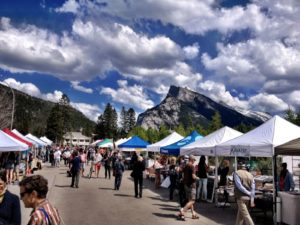 Melissa's Missteak, despite its name, is one of the best steak house in Banff but it also offers great brunch, so make sure you can squeeze it into your Banff Bachelorette weekend plans at some point!
If you are after some fantastic vegan and vegetarian food then you MUST check out Nourish Bistro. Since 2005 Nourish has been committed to serving delicious and innovative vegetarian cuisine! 
In the summer months it's also worth checking out the Banff Farmers Market.
#8 Banff Bachelorette Ideas & Stagette Party Ideas-Nightlife
Whether you came to Banff to party or to have a relaxing time it's vital that you celebrate the Bride to Be. So we've chosen some of our favorite late night destinations that are perfect for a couple of cocktails or if you want to dance until you can't dance anymore!! And, of course, you have to start the night with one of our hunky party butlers waiting on you!
If a club is what you are after for your Banff Bachelorette, then there is two options: The Dancing Sasquatch and hooDoo. The Dancing Sasquatch (how much do you love the name!!) is a rocky mountain cabin bar featuring local and international DJ's and all the craziest events! Rumor has it that on some nights you can dance with a Sasquatch too! The hooDoo Nightclub is a funky mountain lounge with a dance floor that showcases live DJs 5 nights a week. It describes itself as 'the place to party with real locals!'
If you want something that isn't quite a nightclub but still has a lot of energy and atmosphere then check out Wild Bill's Legendary Saloon and Magpie and Stump. Wild Bill's offers an authentic Western Canada Saloon, offering hearty food, line dancing and a mechanical bull as well as a variety of live music nights! Magpie and Stump could not be more different from Wild Bills. The Magpie and Stump offers exclusively Mexican food and drink. They have a great drinks menu and an amazing roof top terrace in the summer months. If you like tequila, then this is the place for you!