Seattle Bachelorette Party Idea#1 Champagne Brunch in your Hotel
The perfect way to start a day out with the girls or to kick off your weekend is with mimosas and a room service brunch served by a scantily clad Butler in the Buff. Book a Butler in the Buff or two to serve champagne, mimosas and crépes in your hotel suite before your bachelorette party heads out to Pike Place market or to explore the pier. Gorgeous and articulate, your Butler in the Buff will answer the door, serve drinks, help host party games and even clear up afterwards. All while only wearing a little apron, collar, cuffs and bowtie. The bride to be and guests will feel truly pampered and amazing. Popular and bachelorette friendly hotels in are:
Seattle Bachelorette Party Idea #2 Some like it Hot (In the Kitchen)
Cooking parties are a great way to spend a Saturday afternoon or for a low key bachelorette party in Seattle with the girls. Big City Chefs are professional chefs that come to you and work with your chosen theme. Try a French dinner party class or a Spanish tapas evening. Surprise the girls afterwards with a Butler in the Buff to serve the wine pairings or round off the evening with a favourite cocktail or two!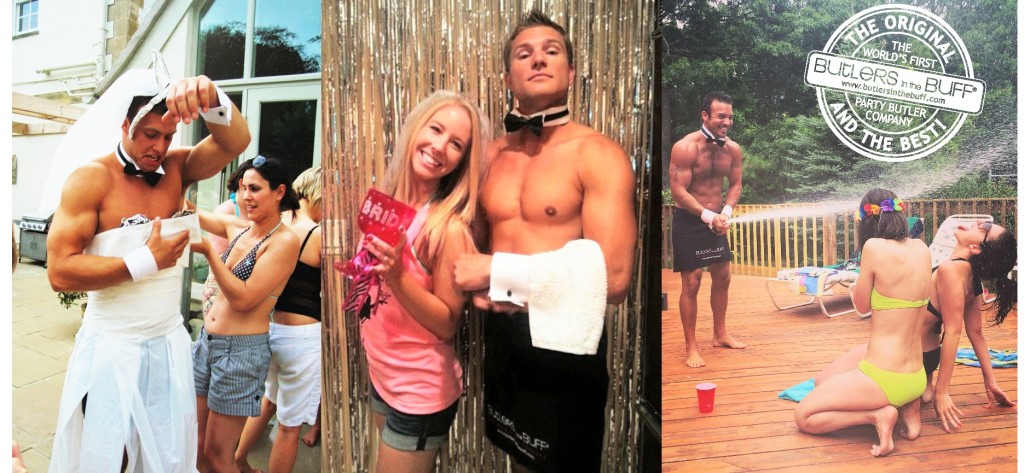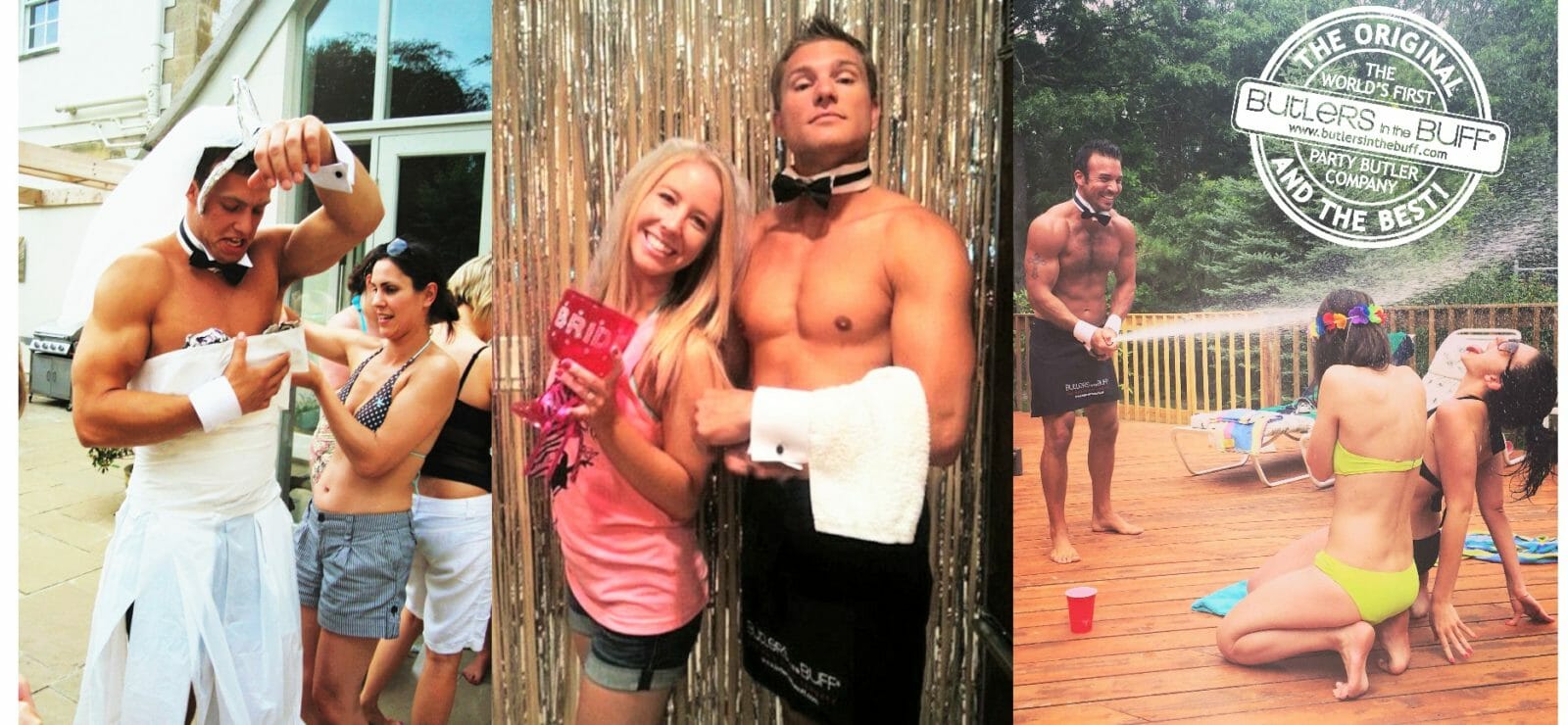 Seattle Bachelorette Party Idea #3 Best of the West
Puget sound and the Georgia basin support some of North America's most beautiful scenery. For the active bachelorette who just loves to get out there a stop at Washington Surf Academy is a must! From stand up paddle surfing to actually riding some waves to relaxing yoga camp this company has it all and are very bachelorette party friendly. Round off the perfect day of action with a brewery tour of Seattle with Road Dog's Seattle Brewery tour. Or relax back at your hotel suite and have your Butler in the Buff pamper the girls with some après surf refreshments!
If budget allows it and your group really wants to get away for some bonding then head to Olga on the San Juan Islands where a fabulous glamping ground and spa await you. Choose from yurts, cabins or domes! Hot tub, sauna and spa treatments are available as well as yoga classes at the waterfront studio.
Hire a Butler in the Buff
Seattle Bachelorette Party Idea #4 Pure Indulgence
You can't really go through a girls weekend in Seattle without a downtime activity, a chance to chat, catch up and anticipate the upcoming evening adventures. For a daytime experience to while away an afternoon pop into Gene Juarez a gorgeously decorated oasis in downtown Seattle. The perfect little urban getaway that will leave your bachelorette party feeling truly amazing! If you plan to base your weekend away at a spa hotel then look no further than Vida at the Pan Pacific Hotel or the spa at The Four Seasons for a truly luxurious getaway!
Seattle Bachelorette Party Idea #5 Shopping Party
Seattle is home to not only the world famous Pike Place market, (and world's first Starbucks) but the boutiques of the Fremont, Ballard and Capitol Hill neighbourhoods are a must see. Particularly if you have a love for boho fashion. Peppered amongst the clothing shops are beatnik style coffee bars and even the rare record shop. Perfect for an afternoon with the girls!
Seattle Bachelorette Party Idea #6 Arsty Party!
This backyard art party will be perfect for friends who love to create. Set up a variety of art project stations in the back yard and have your Butler in the Buff serve the refreshments, hand out equipment and maybe even pose for some life drawing!
The Jackson Pollock This one works for all abilities! Hang a large piece of primed canvas between two posts and lay out pots of paint in a variety of bright colours. Use brushes to splat the canvas with colour. This way everyone can contribute to an art piece that can be divided up and stretched on smaller frames for a keepsake. The Naughty Pottery Barn Use oven-bake clay and have a competition to create the best rude mug or teapot! If you can get hold of a pottery wheel you can get even messier and creative hire some help and instruction to make really useful pieces.
Seattle Bachelorette Party Idea #7 Cocktail Class
Cicchetti and her sister restaurant Serafina often offer fabulous cocktail classes with deliciously paired foodand a little insight into the world of craft bartending. Or just stop in for a cozy low key evening with the girls.
Seattle Bachelorette Party Idea #8 Boudoir and Burlesque
Ready to up the ante and the naughty factor? Host an early evening soiree at Belle Boudoir Photography and get in touch with your inner vixen! Beautiful vintage inspired pin up style photo shoots that are group friendly. Then head to Can Can for a burlesque show for a truly fabulous evening of entertainment.
Seattle Bachelorette Party Idea #9 Nightlife Northwest
Trinity and Volume are popular with the beautiful people of Seattle where all the big dance hits can be found.
Explore Seattle's famous live venue scene, with a little forward planning you can catch some great gigs at Crocodile and Triple Door.
Neighbours is just a good time. Bar none. It's full of fun loving party goers of the LGBT crowd dancing to hits from the 80's and 90's. Perfect for a fun theme night!
Seattle Bachelorette Party Idea #10 Road to Recovery
After the panda eyes have been tended to, fresh food in an easy atmosphere will definitely be in the cards for a delicate bachelorette party! If it's atmosphere you crave then make a stop at Cafe Campagne in Post Alley. Why not pop across to the first ever Starbucks for some memorabilia and a latte afterwards?
All of these fabulous activities are suggestions that work well on their own or combined for a fabulous weekend. Remember, whatever your plans are, to include a fabulous Butler in the Buff to compliment your experience! We also offer fabulous free party games to download here.
Butlers in the Buff are also available to hire in Los Angeles, San Fransisco and Las Vegas!