New York Bachelorette Party Idea #1 Happy Hour
The perfect place to start is with a bachelorette happy hour. Why wait until the end of the night to bring in a fabulous male bod? Book a Butler in the Buff or two to serve champagne and canapés in your hotel suite or home before your bachelorette party gets underway with the evenings plans. Gorgeous and articulate, your Butler in the Buff will answer the door, serve drinks, help host party games and even clear up afterwards. All while only wearing a little apron, collar, cuffs and bowtie. He'll get everyone giggling and mixing together-the perfect icebreaker!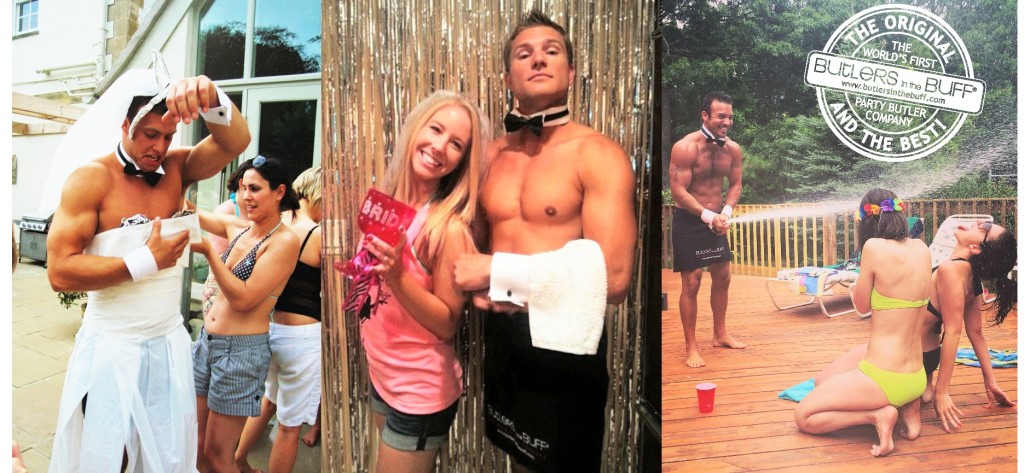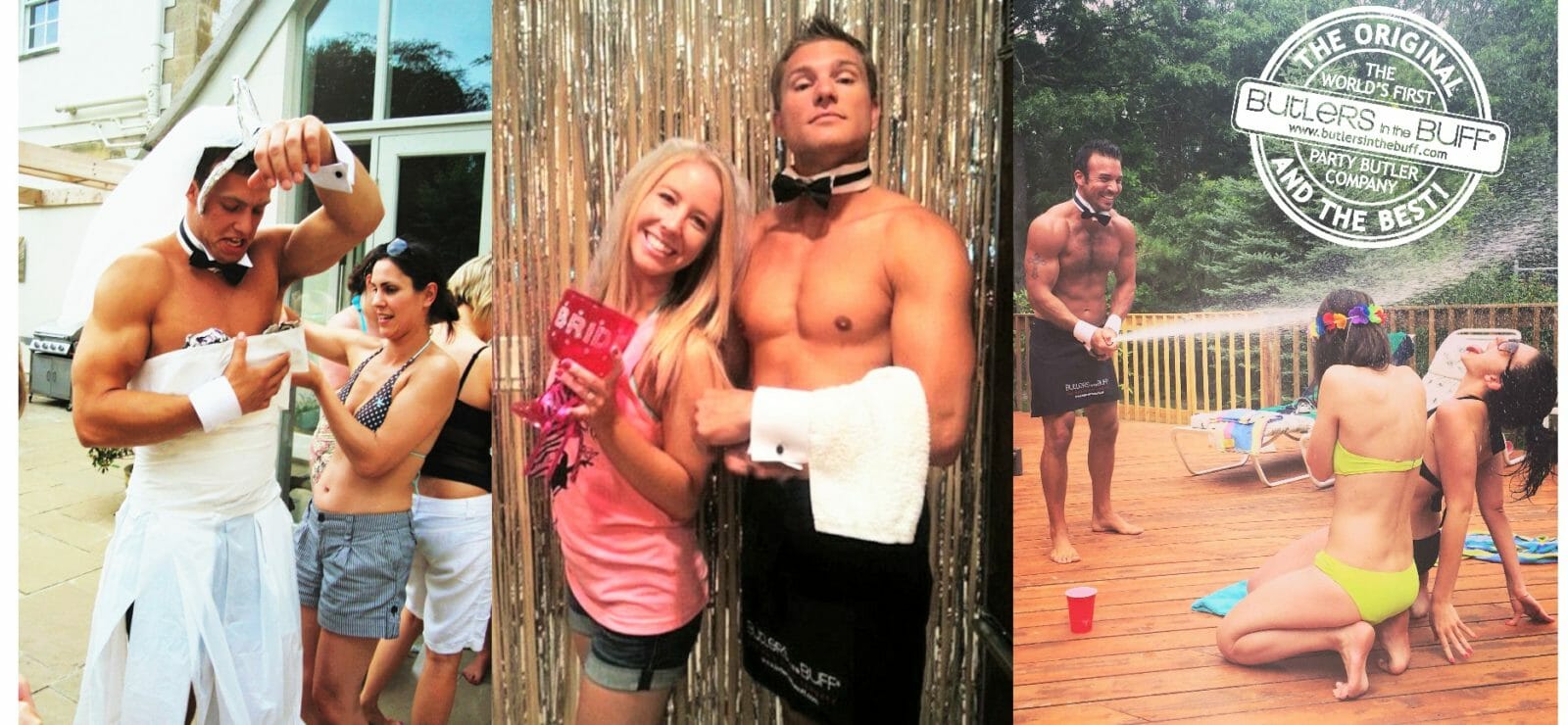 New York Bachelorette Party Idea #2 Cooking Competition
My Cooking Party is a fabulous way to spend either the first evening of the weekend, or a low key bachelorette night with the girls. This Master Chef–style contest will satisfy any bachelorette with a taste for competition as well as the foodies in the group. Create hors d'oeuvres or desserts that will be judged on presentation, taste and creativity. After the cooking portion your bachelorette party are treated to a three-course meal prepared by MCP's own chefs. The pricey class ($160 per head) does come with plenty of extras such as branded aprons to take home and complimentary red and white wine. Plus, the bride-to-be dines free. Surprise the bachelorette party afterwards with a Butler in the Buff in your hotel suite to round off the evening with a favourite cocktail or two!
New York Bachelorette Party Idea #3 Central Park Bike Ride
This is a daytime activity that's a perfect transition between breakfast and a shopping or spa afternoon. Wilder groups can dress the bike and/or your bride to be with the usual embarrassing penis garb and ride through a gorgeous Central Park in full bloom. Try getting the hottest guys you can find to sign your bride to be. A fun, fresh take on the challenge games normally reserved for a pub crawl-why not set up a treasure hunt through the park? Make it as risqué as your group wishes. Guaranteed there will be a lot of hooting, hollering, wolf-whistling and treating men like meat but it will be a memorable highlight!
Hire a Butler in the Buff
New York Bachelorette Party Idea #4 Manicure/Pedicure
You can't really go through a girls weekend in New York without a manicure or pedicure but make sure you plan this strategically in the day. Don't get a pedicure and then go pole dancing or a manicure then to a pottery or cooking class! This is definitely a post-lunch downtime activity, a chance to chat, catch up and anticipate the upcoming evening adventures. We love New York Nails and Spa on the upper east side. They've got a sumptuous tea room to relax in while you wait for your appointment and the atmosphere is so relaxing. No overpowering chemical odors and assembly line layouts here!
New York Bachelorette Party Idea #5 Shopping with a Butler!
This idea is perfect for the out of town bachelorette party in New York! Your guide, a gorgeous Butler in the Buff (fully clothed this time!) will navigate the shops of famous Fifth Ave for your group. Enjoy VIP treatment as your gorgeous shopping assistant meets you in your hotel, hails your taxi, carries your purchases, opens doors, even take your orders for lunch or a cheeky afternoon cocktail!
New York Bachelorette Party Idea #6 Go for a Dip
After pounding the pavements of New York everyone will be ready to recharge and refuel for the evening. A fun and communal way to feast is with fondue! Bourgeois Pig are renowned for their fondues, wines and cheese plates. Your group can relax together on cozy sofas boho-style and enjoy a fabulous bottle of wine with your meal. The baked brie wrapped in filo dough smothered in real maple syrup is not to be missed! This is the best way to spoil a wine loving bachelorette party!
New York Bachelorette Party Idea #7 Dinner and a Show
The Cutting Room is a multi-level nightclub with a speakeasy feel and hosts a wide variety of live music talent. Love the giant chandelier made from real Fender stratocasters! Catch Le Scandal Burlesque, a wonderful show boasting a fire eater, sword swallower, provocative art performances, and of course burlesque dancers. The food is pricey but is fantastic. There are an array of pizza choices such as BBQ, veggie or shrimp with roasted garlic, vegetable spring rolls, sushi, quesadillas, baked potatoes with chili, burgers, and turkey clubs. The Slipper Room hosts beautiful burlesque style stripteasers, quiz nights, cabaret style variety shows, and 1920s theme nights. It's like Moulin Rouge meets The Great Gatsby.
New York Bachelorette Party Idea #8 Even Cheekier Dinner and a Show!
Ready to up the ante for a true edgy New York experience? Look no further than Lips and their fabulous drag dining venue. The ladies of Lips will have you laughing, singing and dancing in the aisles. It's sooooo much more colourful and witty than an all (straight) male revue. Plus you don't ever have to worry about some oiled up guy doing the helicopter in your face! It's all glitter, glam and shoes to die for.
New York Bachelorette Party Idea #9 The Club
The Dark Room is just a good time. Bar none. It's underground, pumps music from New York's hottest DJ's and full of fun loving party goers. This is a lower-east side gem for those who just want to get their dance on.
Southside in Little Italy is worth getting bottle service and a VIP table to get in quickly. Great club for celebrity spotting and enjoying the beautiful people. This club is the post 2am destination of choice for the hard core bachelorette party in New York that is set to dance until dawn.
New York Bachelorette Party Idea #10 Recovery Brunch
Spoil your bachelorette party with the best brunch (and mimosas) New York has to offer. Your selection should include a refreshing atmosphere if not outdoors already and of course delicious food! A complimentary cocktail on the side is not a bad idea either…
Paradou is in the Meatpacking District and the view truly is as lovely as its name! Enjoy the a la carte menu or the $29 limitless cocktail brunch cocktail right in a beautiful garden! The perfect way to revive the group. The West Village boasts Agave which also offers outdoor dining and a complimentary margarita (or choice of any brunch cocktail) with your meal.
There are of course lots of fabulous low key ideas that can be arranged either at home or in your hotel suite. From mobile spas, to lingerie parties and cocktail making classes Butlers in the Buff are a fabulous way to get everyone involved and feeling pampered.