Top 5  Bachelorette Party Ideas Orlando
The search stops here for Bachelorette Party Ideas Orlando! This sunny playground is a popular destination both sides of the border. For a girls' getaway it's a welcome retreat during the winter months! Fabulous for a winter or spring bachelorette party. Read on for inspiration!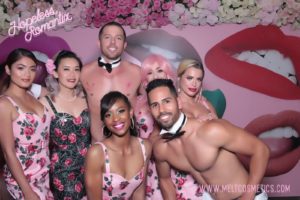 #1 Bachelorette Party Ideas Orlando
Looking for the best Orlando bachelorette party ideas? Hands down it has got to be a poolside afternoon with your drinks brought to you by a handsome Butler in the Buff! His bottom revealing apron, tanned and toned body is quite the poolside attraction and best experienced at a private home or cottage rental location.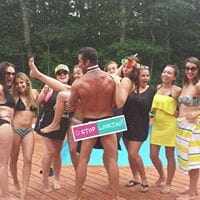 #2 Bachelorette Party Ideas Orlando
A food tour is not to be missed if you are planning a weekend escape to Orlando for your bachelorette party! Visit Orlando Food Tours Surprise your girlfriends after your tour with a Butler in the Buff to lead a blind wine tasting! There's nothing steamier than having him blindfold the bride! More inspiration can be found here.
#3 Bachelorette Party Ideas Orlando
Orlando's version of Vegas "The Strip" is International Drive, known by locals simply as I-Drive. I-Drive has evolved into an upscale entertainment and dining district with spoilt-for-choice venues all within walking distance
For Coyote Ugly style fun factor stop by Taverna Opa—you're actually encouraged to get up on the tables and dance. Vodka connoisseurs will love Icebar, where you can enjoy bottle service and dancing in the lounge. Even the bar stools and glasses are made of ice. Perfect after a hot day out! Continue the bar crawl at Howl at the Moon, where the dueling pianists know every song under the sun and especially love bachelorettes. End the night at Mango's, a spectacular Latin club straight out of South Beach with live shows nightly.
Bachelorette friendly Hotel: Castle Hotel. This sophisticated boutique hotel is located right in the heart of I-Drive. Rejuvenate at the Poseidon Spa the next morning before hitting the pool.
#4 Bachelorette Party Ideas Orlando
Whether your Phoenix bachelorette is in a house or a luxury hotel a surprise brunch brought to the girls by a Butler in the Buff is a sweet treat indeed. Your Butler in the Buff will serve the mimosas and man the buffet. Then finish with a few bachelorette or bridal shower themed party games.
#5 Bachelorette Party Ideas Orlando
No visit to Orlando is complete without at least a day or two at a theme park. Universal Orlando Resort is a perfect bachelorette party spot, with its lively dance clubs, trendy hotels and festive restaurants. After a day of rides and roller coasters inside the two theme parks, hit CityWalk for a big night out.
Universal's free dining and entertainment district is just steps away from the parks and hotels. Start with a laid-back, casual dinner at Margaritaville, and once you have some tequila courage, you're ready for Rising Star. This is not your typical karaoke bar—you and your girlfriends will take the stage with your own band, back-up singers and professional lighting!
Where to Stay: Hard Rock Hotel. This resort is all about the fun, from the special treats they leave in-room, to the rock 'n' roll playing everywhere to the pool area which has its own sandy beach. Guests also get access to the deluxe Mandara Spa at the Loews Portofino Bay Hotel next door.