Bachelorette Party Los Angeles Idea #1 Hollywood Happy Hour
Start your night off right in LA with a Butler in the Buff! A gorgeous, articulate server who knows how to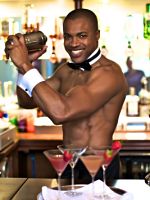 get a party started. He will answer the door, serve drinks, help host party games and even clear up afterwards. All while only wearing a little apron, collar, cuffs and bowtie. A great way to start the weekend off in your home or hotel suite. Bachelorette Friendly hotels in Los Angeles are:
W Hollywood Hotel
Hollywood Roosevelt
Andaz West Hollywood
Bachelorette Party Los Angeles Idea #2 Go Great Gatsby
Go old style Hollywood with a night out at the Emerson Theatre, where opulent golden era decor meets all the gorgeous people and kick-ass modern day tunes. Run with your theme even further! For a whole weekend of Burlesque activities check out Burlesque LA for up and coming burlesque performances and events from cabaret style dinner and a show to makeup classes and burlesque lessons from Hells Belle's. Pair your experience with a glam hotel to match and stay at The Redbury. Its old Hollywood glamour, conveniently located and has its own night club.
Hire a Butler in the Buff
Bachelorette Party Los Angeles Idea #3 Skydive Surprise
Wait-what? The bridal party might ask about this activity. No need to fret about breaking the bride's leg. Surprise the girls with indoor skydiving! Get your thrills without committing to a plane ride. iFly indoor skydive center has great staff who really know their stuff and will coach each and everyone through their fantasy freefall!
Bachelorette Party Los Angeles Idea #4 Picasso Party
Host a back yard art party-perfect for friends who love to create. Set up a variety of art project stations in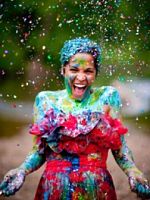 the back yard and have your Butler in the Buff serve the refreshments, hand out equipment and more!
Our favourites are:
A Jackson Pollock splatter wall- Perfect for all abilities! Hang a large piece of primed canvas between two posts and lay out pots of paint in a variety of bright colours. Use brushes to splat the canvas with colour. Everyone can contribute to an art piece that can be divided up and stretched on smaller frames for a keepsake! Awesome when its organised with music!
Pottery Barn Gone Wild– Use oven-bake clay and have a competition to create the best rude mug or teapot! If you can get hold of a pottery wheel you can get even messier and creative (maybe persuade Butler to recreate scene from 'Ghost') or hire some help and instruction to make really useful pieces.
Bachelorette Party Los Angeles Idea #5 Cocktail Class
Host the most amazing cocktail class from your home or hotel suite with Drink Chic. Or go out to Sunset Marquis bar for a private group lesson. Have your scantily clad Butler in the Buff pass around your creations for friends to sample! A must do for the cocktail connoisseurs.
Bachelorette Party Los Angeles Idea #6 Super Spas
For the bachelorette party that craves luxury, Los Angeles has some of the most glamorous spas in the world to tempt your group. Two of our favourite experiences are:
The Ritz Carlton spa- Restful cabanas, rooftop pool and gorgeously designed treatment rooms are the order of the day here. Of course it's the Ritz so you can't expect anything less than perfection.
One the Spa-head a little further afield for a weekend getaway at Shutters on the Beach Santa Monica for a true Californian experience, with a west coast take on Hammam and Japanese treatments.
Bachelorette Party Los Angeles Idea #7 Laugh out Loud
A great way to start the evening on the Sunset Strip before hitting the nightclubs. Laugh Factory plays host to the hottest and up and coming comedians so there is little risk of disappointment. Choose either the VIP lounge for a chilled out atmosphere or go front and centre to really get your group really involved! The famous Comedy Store is also a favourite and helped launch the careers of Jim Carey and Chris Rock.
Bachelorette Party Los Angeles Idea #8 Bad Bad Bingo Ladies
If your bachelorette party likes to serve the sass and loves a counter-club culture then your bachelorette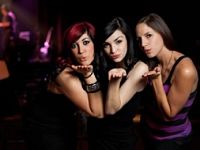 party will have a ball at Hamburger Mary's drag queen bingo! This is an early evening event that is an absolute riot! Perfect introduction to West Ho for out of towners too. Get interactive with fabulous 'celebrity' ball callers (no pun) like Beyonce, Paris Hilton and Lady Ga Ga. This is great for the bachelorette on a budget and defiantly $20 well spent with proceeds going to charity- so you can feel like true karma chameleon!
Bachelorette Party Los Angeles Idea #9 Boulevard Babes
Party like a celebrity at Boulevard3, this expansive indoor/outdoor club is well worth reserving bottle service for. Perfect for celeb spotting and living the high life for a night. The rooftop club at The Standard is where the gorgeous people of Hollywood go to dance to the tunes of the most elite and talented DJ's in the world. If you're after a sleek, Ibiza style night out make this club your top destination.
Bachelorette Party Los Angeles Idea #10 Detox at Dawn
Well, more like noon for after your night of debauchery, everyone in your bachelorette party may be feeling a little delicate! Plan the morning after ahead of time with thoughtful additions like recovery packs for the girls to leave in the hotel suite. Cooling eye packs, Tylenol and bottles of water will be welcomed and once the girls start to stir they'll be more likely to go for a farewell brunch! Or for a truly luxurious experience order a champagne brunch from room service and have it served up by a Butler in the Buff!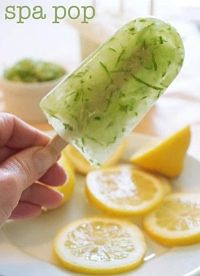 Butlers in the Buff are available to serve throughout Los Angeles, Orange county and in Palm Springs. Also check us out in San Diego, San Francisco and Las Vegas!