Bachelorette Party Ideas Atlantic City #1 Champagne Breakfast
We've got the perfect bachelorette party ideas for Atlantic City! First start a day out with the girls is with mimosas and a room service breakfast or brunch served by a scantily clad Butler in the Buff. There's no need to wait until the evening to bring in a fabulous male bod! Book a Butler in the Buff or two to serve champagne, mimosas and crépes in your hotel suite. Gorgeous and muscular, your Butler in the Buff will answer the door, serve drinks, help host party games and even clear up afterwards. All while only wearing a little apron, collar, cuffs and bowtie. The bride to be and guests will feel truly pampered and amazing. Popular and bachelorette friendly hotels in Atlantic City are:

Bachelorette Party Ideas Atlantic City #2 Cooking Party
Cooking parties are a fabulous way to spend a Saturday afternoon or for a low key bachelorette party night with the girls. Harrah's Casino Resort is a gleaming, state of the art cooking school for connoisseurs and beginners alike. Try a French dinner party class or a class from their 'Girls night' range that feature fondues to a Vegas themed menu. All classes include wine pairings and bottles of wine under $25. Surprise the girls afterwards with a Butler in the Buff in your hotel suite to round off the evening with a favourite cocktail or two!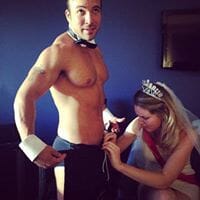 Hire a Butler in the Buff
Bachelorette Party Ideas Atlantic City #3 Classic Beach Bar
A visit to the beach is a perfect transition between breakfast and a shopping or spa afternoon. If your bachelorette party is after some quiet time thumbing through magazines book a cabana. Spice it up with a laid back beach bar crawl. Wilder groups can band together with a vintage tiki girl theme. Or try this fun beach bar crawl challenge! Buy a second hand surfboard, decorate with ribbons, veil, beads or glitter and challenge the bride to have every single guy on the beach sign it with colorful magic markers. Goes really well along with truth or dare games. Bachelorette party friendly beach bars are:
HQ Beach Bar at Revel
Margaritaville at Resorts Casino Hotel
Worship Surf Bar at Showboat
Bachelorette Party Ideas Atlantic City #4 Pure Indulgence
You can't really go through a girls weekend without a downtime activity, a chance to chat, catch up and anticipate the upcoming evening adventures. Bask spa at Revel is 32,000 square feet of splendour, with hammam, mineral pools that wind around warm lounges, a Himilayan salt grotto and steam rooms giving you plenty to indulge in while you wait for your treatment in one of their 32 secluded rooms.
Bachelorette Party Ideas Atlantic City #5 Shopping Party
This idea is perfect luxury for the out of town bachelorette party in Atlantic City! Your guide, a gorgeous Butler in the Buff (fully clothed this time!) will navigate the shops of Tanger Outlets with your group. Enjoy VIP treatment as your gorgeous shopping assistant meets you in your hotel, hails your taxi, carries your purchases, opens doors, even take your orders for lunch or a naughty little afternoon cocktail!
Bachelorette Party Ideas Atlantic City #6 Casino Royale
Of course no trip to Atlantic City is complete without a trip to a world famous casino or two! From Caesars to Trump towers and the Tropicana there's a ton of fun to be had whether you're in it to win on the big tables or just want to casually play the slots. Knock out the casino floor in style with black cocktail dresses and the bride to be decked out in a vibrant colour!
Bachelorette Party Ideas Atlantic City #7 Dinner and a Show
Atlantic City is a hive for A- list comedians, singers and performers from around the world. Catch the hottest world class DJ's at Revel's nightclubs afterwards with bottle service for a truly VIP experience. Many hotels offer complete packages for bachelorette parties and host fantastic shows within their resort. Check out Hard Rock Cafe, Revel and Showboat.
Bachelorette Party Ideas Atlantic City #8 Beautiful Burlesque
Ready to up the ante and the naughty factor? Look no further than Royal Jelly at the Revel. For the ultimate Burlesque experience join in on their bachelorette party packages which include lessons from RJ performers, VIP entry to the nightclub with bottle service and complimentary champagne!
Bachelorette Party Ideas Atlantic City #9 The Nightlife
Mur.mur
If you want your bachelorette party to rub shoulders with celebrities in true Jersey Shore style than look no further than mur.mur. Glossy, sensual and always hosting world class DJ's. The VIP lounge has eye candy bottle service and a great view for watching the beautiful people before getting your dance on.
Tropicana Boogie Nights is just a good time. Bar none. It's full of fun loving party goers dancing to hits from the 70's and 80's. Perfect for a fun theme night!
Bachelorette Party Ideas Atlantic City #10 The Recovery
After the eye masks have been removed and panda eyes tended to, fresh food in an easy atmosphere will definitely be in the cards for a rather delicate headed bachelorette party! If it's not too busy Hannah G's is the sweetest little eatery in Atlantic City and a local favourite with reportedly the best omelettes in town. Just a short walk off the boardwalk is charming Brittany cafe on Ventnor Ave. Pancakes and waffles are a specialty and graciously light on the wallet which may be welcome after an indulgent weekend!
All of these fabulous activities are suggestions that work well on their own or combined for a fabulous weekend. Remember, whatever your plans are, to include a fabulous Butler in the Buff to compliment your experience! Ask for a quote today.
Butlers in the Buff are also available in Miami, Tampa, New York and Philadelphia see all our other locations here.