How to Plan a Bachelorette Party at Home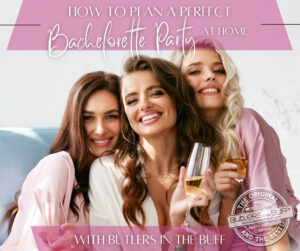 So you're planning a bachelorette party at home. Whether it's your house, the bride's, or her mother-in-law's, hosting a celebration at home can be stressful. Bachelorette parties can be incredibly hectic for the person in charge of planning. With so many things to remember to do, people to please, and the expectations of the bride to maintain, by the time the date of the event rolls around you still might be under pressure to make sure all details are perfect.
You might be saying to yourself "I don't even know all these people!", or "Does anyone know how to open a bottle of champagne or make a dirty martini?", "I can't forget about games!".
When you're planning a bachelorette party at home, you deserve to enjoy all the spoils too! That's why we have compiled the best solutions so that you, the bride-to-be and all of your guests have the most memorable bachelorette party ever!
Plan the Bachelorette Party in Advance
You wouldn't plan a wedding a week in advance, and planning a bachelorette party should be prepared ahead of time as well. Here are a few things to keep in mind while planning:
1. First things first, pick a date. Start with what works for the bride and for you, and go from there.
2. What are the bride's interests? Her favourite food, colour, and alcoholic beverage. Does she like to get wild, or is she more classy and reserved? What is her taste in music? What is her fiance like? Take this information into consideration when planning the activities and theme of the bachelorette party.
3. How many guests? Make your guest list, and plan the food, drinks and activities around that number.
4. What is the budget and how much can each person contribute to the event?
Delegate Tasks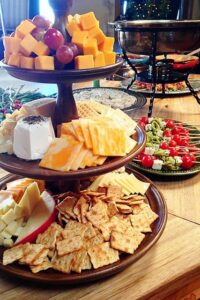 Now that you have the details you need, it's time to put that into action. Make a list of the things that are required, and work with your group to find out who does what by when.
Is one of your guests great at cooking? Put them in charge of the food. Does the bride's sister have great taste in music? That playlist is hers, girl!
Take the stress out of planning a bachelorette party by remembering that YOU don't have to do everything by yourself. Everyone is there for the bride-to-be.
Decorate and Create the Perfect Bachelorette Atmosphere
Having a bachelorette party at home doesn't have to mean your entire home, and it also doesn't mean you have to settle for boring. For example, if you would like the party to stay in the living room, decorate that room as well as the entrance. Set up a table as a bar for food and drinks available throughout the night to keep the guests out of the kitchen, or from wandering through your house. Keeping the party to one or two rooms, or your backyard or patio can also make for easier cleanup after the event!
1. Stick to a theme – whether it's a colour, a vibe, or fun & sexy innuendos, the decoration (and even the food and drinks) should match.
2. Photobooth/backdrop – Always a great addition to any event. Ensure Instagram-worthy photos every time!
3. Attire – Having all the guests match can be super fun! Whether it's custom tank tops or matching dresses, let the guests know what to wear in the invitation. You could also provide them with the outfits/accessories upon arrival.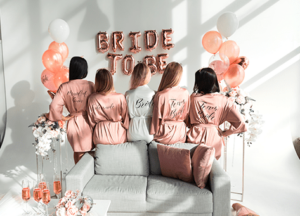 Check out our Pinterest page for some great theme and decorating ideas!
Hire Butlers in the Buff – A Personal Butler for your home event!
This is the best part. Our handsome butlers are the ultimate accessory to any event, especially bachelorette parties!
Your personal butler will be there to answer the door and greet your guests He will mix drinks and serve food and beverages. They can also host your party games so you can participate, clear dishes and even help clean up. If the bride-to-be wants to sit in a comfy chair and have the butler feed her grapes, he will do that too.
Butlers in the Buff can make a simple party at home feel like you're out on the town, being treated like rock stars. After all the hard work you have put into this event, you deserve it!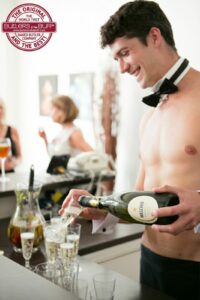 Summary
Article Name
The Perfect Bachelorette Party at Home
Description
Great tips for hosting a bachelorette party at home with Butlers in the Buff
Author