The personal touch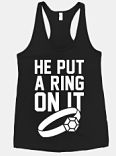 Many a bachelorette party has featured personalized t-shirts or sashes. Branded with your own slogan, they certainly make you stand out. From 'what goes on a bachelorette party stays on a bachelorette party' to 'who let the hens out?' you can be as creative as you like. Whatever you go for, it will get your message out there.
Costume party
Going for the fancy dress option is a great way to go mad with the accessories. Shake your coconuts as Hawaiian hula girls, channel you inner Baywatch beach babe in yellow tees and red shorts or get sexy and serious as New York cops. Of course, for these you will need pineapples, red floats and handcuffs, respectively.
Penis paraphernalia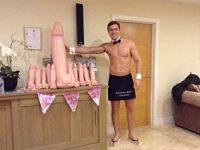 For many it's a bachelorette party favorite. In fact anything shaped like a willy can generally raise a smile. From penis piñatas and willy hoopla to penis popsicles there is no end to the possibilities. It's not for all brides-to-be, but it gives a party added balls.
Vintage charm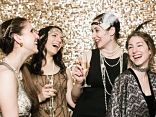 If you would rather put the inflatable man and sparkly tiaras to one side, you might prefer more demure vintage accessories. Go for a Gatsby-themed party and think headbands, bobbed wigs and feathers. Or for fifties glamour it's all about petticoats, gloves and ankle socks. Select the cocktails popular at that time and you've a recipe for sophisticated success.
Getting a bit cheeky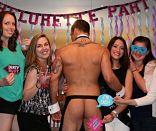 If you really want to accessorize your bachelorette party in style then why not hire a Butler in the Buff? Is any bachelorette party complete without a pert bare bottom on show? You butler will be at your beck and call serving drinks, food and joining in with games. He'll also be happy to flex a few muscles, if you ask nicely.
To hire a Butler in the Buff or two now