Bachelorette Party Ideas San Diego #1 Hunky Happy Hour
Butlers in the Buff: gorgeous, articulate servers who know their way around a bottle of champagne are specialists in how to get a bachelorette party started. Like a real butler he will answer the door, serve drinks, help host party games and even clear up afterwards. That's where the similarity ends. He only wears a little apron, collar, cuffs and bowtie! Cheeky, charming and articulate-this is no stuffy Downton Abbey butler. The perfect way to start the weekend off in your home or hotel suite. Bachelorette friendly hotels in San Diego are:
Hotel Solomar great bachelorette friendly base camp with cute poolside bar and cabanas for daytime relaxation.
Hard Rock Hotel uber stylish modern suites ensure that you party the final single days as a rock star. Great bachelorette party packages on offer here.
Ocean Beach if sand and surf is more your thing than look no further than this cute boutique hotel right on the beach. Gorgeous sunset and ocean views!
Hire a Butler in the Buff
Bachelorette Party Ideas San Diego #2 Big Time Burlesque
If your bachelorette party is in love with the decadent and theatrical with a dash of spice than a burlesque themed night is in order. Start your evening off with a custom party from Drop Dead Dames anti Art School. Specialists in life drawing from pin-up models Drop Dead Dames is fabulous fun and a great creative activity with the girls that is a cut above the rest. Pin up stylings range from Victoriana/Edwardian peep-show to vintage 40's and 50's to swinging sixties space vixen. Why not add in a Butler in the Buff or two to hand out equipment, serve your drinks and appetisers to help feed your muse?
Want to get a bit more hands on with your burlesque experience? Visit Caburlesque for themed workshops for your bachelorette party. What's more is they'll show up at your event venue and will easily fit in with your evening or weekend activities.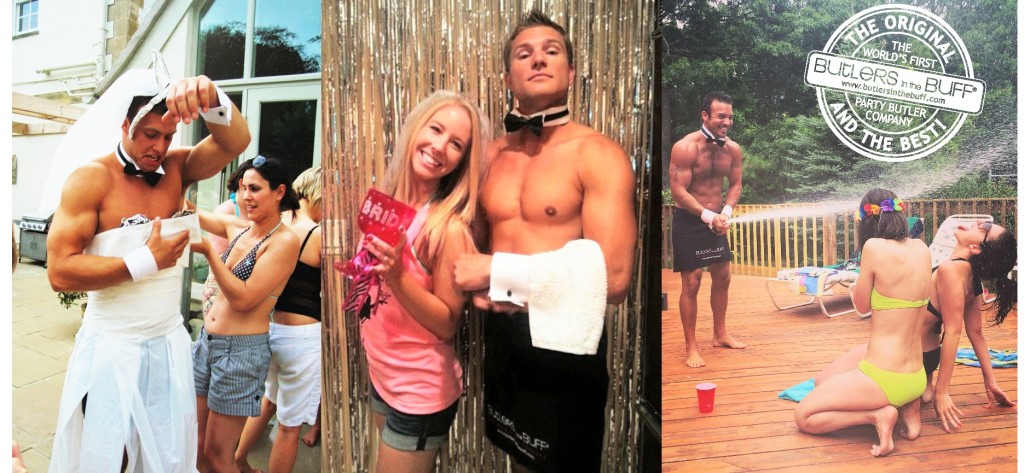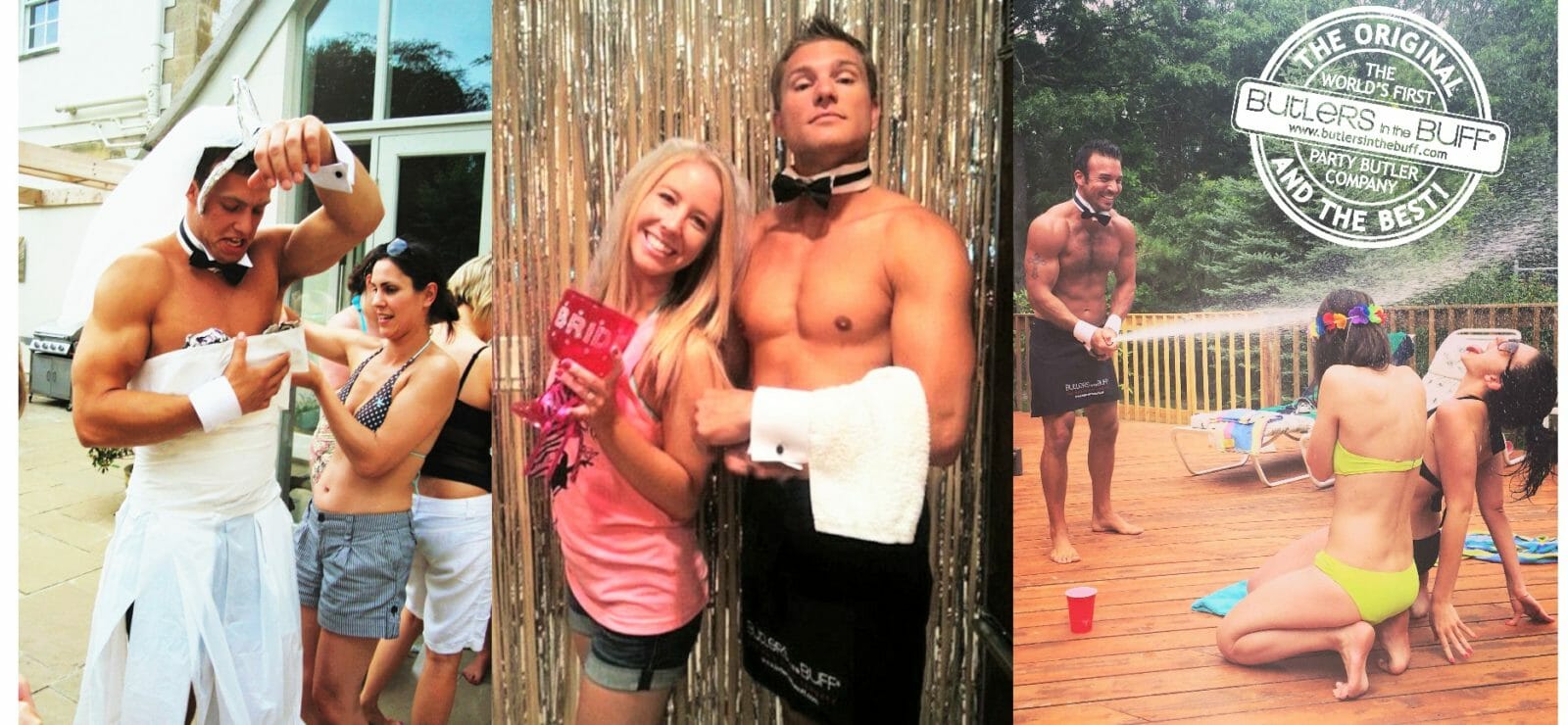 Bachelorette Party Ideas San Diego #3 Sassy Skydive
Wait-what? Before your bridal party starts panicking-specify it's indoor skydiving! Not to worry about breaking the bride to be's let and get your thrills too. The great staff at Skydive Perris indoor skydive center really know their stuff and will coach each and everyone through their virtual freefall!
Bachelorette Party Ideas San Diego #4 Pamper Party
Hosting a bachelorette on a tight budget in San Diego? Bring the party to you with these great ideas that break down to less than $130 pp including drinks (even less if your group is larger than 5)! Start with an afternoon of pampering with Jade Body mobile spa services. Surprise the girls afterwards with a gorgeous Butler in the Buff to serve spa water or pops, champagne and appetisers. A fun alternative to our service is to create a home cinema with the butler as movie usher, serving liquor infused caramel popcorn and cocktails. Best if planned in the final 20 minutes of your booking so the girls can focus on the film!
Bachelorette Party Ideas San Diego #5 Mixin' Vixens
Love a good cocktail? Seek out local hideaways that use fresh local ingredients and have a fearless attitude towards executing the perfect libation. The 1940's style supper club ofBlue Point Costal Cuisine is a great first stop before a night out in the Gaslamp Quarter. Polite Provisions is a cheeky little watering hole that serves up delectable little creations in a glass.
Bachelorette Party Ideas San Diego #6 Spa Hotel Sanctuary
For the bachelorette party that craves luxury San Diego has some pretty amazing spa hotel getaways that need to be experienced. Loews Coronado Bay Resort is an island getaway- in San Diego! Beautiful ocean views or city views from every room and the Pacific and South Sea inspired spa menu will surely melt away any tension
Bachelorette Party Ideas San Diego #7 Outdoor Adventure
For the bachelorette party that would rather be in the ocean than enjoy views of it sign up for a surf school or seek out a kayak excursion with San Diego Bike and Kayak tours. Great activities on offer for parties that need to let loose outside before settling in for a night on the town.
Bachelorette Party Ideas San Diego #8 Pub and Grub
A visit to San Diego just isn't a true visit without taking a tour of the amazing pubs! Perfect for the low-key bachelorette a pub crawl doesn't neccessarlily have to be a debauched tacky affair (unless you want it to be!). Hit up these tried and true public houses of San Diego:
The Regal Beagle
Blind Lady Ale House
The Field
Bachelorette Party Ideas San Diego #9 Nautical but Nice
Head for the high seas with Hornblower cruises. They have great bachelorette packages for private parties. Why not bring along a gorgeous Butler in the Buff as your steamy first mate? He'll make sure your party with stay afloat all night long.
Bachelorette Party Ideas San Diego #10 Dawn Detox
San Diego has amazing hidden gems when it comes to brunch options. Cafe 222 does a decadent peanut butter and banana French toast, or if you're feeling a little delicate from the night before try the lighter offerings at Zanzibar. Fresh salsa and ingredients are the key to their amazing Southwest omelette. Or for a truly luxurious experience order a champagne brunch from room service and have it served up by a Butler in the Buff!
Butlers in the Buff are also available to serve throughout Los Angeles, Orange county and in Palm Springs. Also check us out in Portland, San Francisco and Las Vegas!