Bachelorette Party Ideas in Atlanta
If you're looking for the best bachelorette party ideas Atlanta has to offer, look no further. A charming city break in this Southern gem is a must! Atlanta is not only graced with southern hospitality but fabulous shopping districts, cocktail lounges, and sweet little day spas to boot. Here at Butlers in the Buff, we know how stressful it can be to organize a bachelorette party. So we have made things a little easier and gathered our favorite bachelorette party ideas for Atlanta!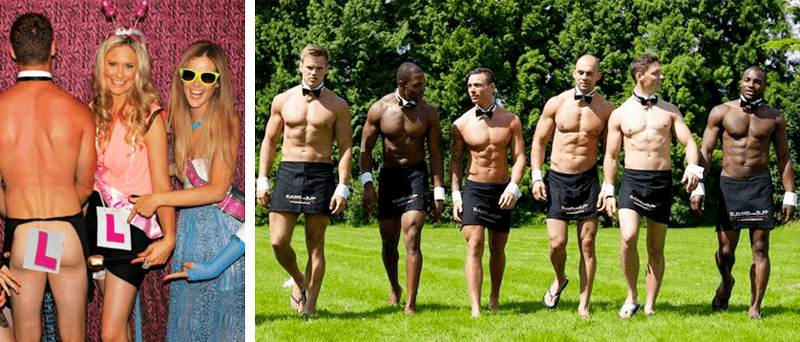 Daytime Bachelorette Party Ideas in Atlanta
A day of pampering is a must, and there's no better place to indulge than Buckhead. After shopping the high-end boutiques, drop by the luxe spa at the Mandarin Oriental Hotel. Home to the largest spa in Atlanta, it's complete with a steam room, sauna, and an outdoor terrace perfect for sipping champagne between treatments. Or, have the spa come to you with Ultraluxe Home Spa! Have your Butler in the Buff on hand to serve refreshments while your girlfriends wait for their treatments. He'll be a handsome distraction in his little apron, collar, cuffs, and bowtie! Plan in a few bachelorette party games before you get ready for the evening.
For great bachelorette party ideas in Atlanta and how to get your butler involved, check out our party games page to get your Atlanta bachelorette party started!
RESERVE YOUR PARTY BUTLER
Great Evening Bachelorette Party Ideas Atlanta
For a bar hop alternative why not book a private wine tasting at Paces & Vine to learn all about selecting wines and enjoy delicious food to complement them. Then head to the Havana Club for dancing and VIP bottle service! Make sure you book reservations to avoid waiting in line! If you want something a little more laid back, Whiskey Blue serves up carefully crafted cocktails you can sip the evening away from their chic outdoor patio. Then, let Cosmo or the Lava lounge sweep your bachelorette party away into the night! Both are bachelorette-friendly venues and worth getting in touch with for special packages.
Bachelorette Brunch Ideas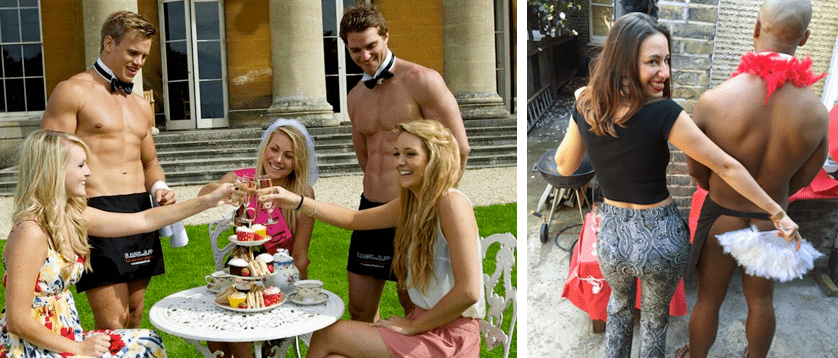 Why not surprise the girls with a fabulous room service brunch served up by a handsome Butler in the Buff? Ask us how and we'll share some great ideas on how to pull it off! Or venture out for some traditional southern fare at Ria's Bluebird. Their pancakes with pecans and caramelized bananas are not to be missed! A great way to wrap up your Atlanta bachelorette.
RESERVE YOUR PARTY BUTLER