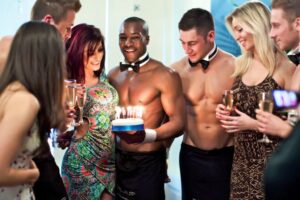 Are you looking for a unique and unforgettable way to celebrate your birthday? How about adding a touch of excitement and elegance to your birthday party with a sexy butler? 
Explore creative birthday party ideas with a butler in the buff to make your special day an unforgettable experience for you and your guests!
Birthday Party Ideas
Whether you want to have a dirty 30 birthday or you desire to celebrate any birthday in a unique way, it's best to make things more exciting by booking our naked butlers. Here are some birthday party ideas you can consider:
Pool Party Extravaganza: Host a pool party that will be the talk of the town by hiring a buff butler who can serve drinks and hors d'oeuvres in style. Imagine sipping cocktails by the pool with a charming and well-toned butler at your service, ensuring your guests are well taken care of.

Glamorous Cocktail Night: For a more sophisticated and glamorous birthday celebration, host a cocktail party with a sexy butler serving handcrafted cocktails and delectable appetizers. This upscale experience will make your birthday celebration a night to remember.

Themed Costume Party: Choose a theme for your costume party and have your buff butler or sexy butler dressed to impress. Whether it's a James Bond-themed soirée or a Great Gatsby-inspired extravaganza, your hot butler will be the perfect addition to your themed birthday party.

Private Dinner Party: For an intimate and refined birthday celebration, invite close friends and family to a private dinner party. A buff butler can serve a gourmet meal, ensuring your guests have a delightful culinary experience, all while adding a touch of sexiness to the evening.

Artistic Nude Life Drawing: For a unique and artistic birthday party, consider hosting a life drawing class with a twist. Invite a professional nude model, or in this case, a sexy butler, for an unconventional and memorable experience. Your guests can enjoy drawing or painting while sipping wine and admiring the model's physique.

Game Night with a Twist: Combine the fun of a game night with the excitement of having a buff butler serving snacks and drinks to your guests. From board games to card games, your guests will have a blast while your butler ensures everyone is well taken care of.

Beach Party Bonanza: If you're fortunate enough to have access to a beach, why not throw a beach party with a buff butler? Your butler can assist with setting up beach games, serving tropical drinks, and ensuring that your beach bash is the ultimate summer celebration.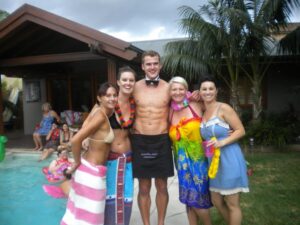 A Unique Approach to Entertainment
Regarding birthday party ideas, it's essential to stand out and provide a unique experience for your guests. Hiring a naked butler is an innovative and unexpected twist that will leave your guests talking for years to come. 
Having a charismatic butler serve your guests while dressed in a tasteful and cheeky attire adds an element of excitement and entertainment that is hard to match. This unconventional approach to entertainment is sure to make your birthday celebration memorable and one-of-a-kind.
Challenging Stereotypes
It's essential to recognize that hiring a naked butler isn't about objectification; it's about embracing empowerment and challenging stereotypes. The butlers are well-trained professionals who prioritize respect. 
They are there to provide top-notch service and entertainment, all while respecting boundaries and consent. By choosing this unique entertainment option, you're not only shaking up traditional norms but also supporting a concept that values empowerment, inclusivity, and personal choice.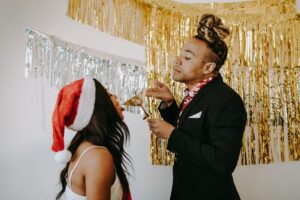 Making Unforgettable Memories
A birthday party is a special occasion; you want your guests to leave with cherished memories. A naked butler adds an element of surprise and fun that will leave a lasting impression. 
They'll engage with your guests, provide drinks, and even participate in games and activities, ensuring everyone has a fantastic time. The laughter, camaraderie, and memorable moments created by the butler will make your birthday party an unforgettable experience.
Designing Interactive Activities
To make the most of the naked butler experience, designing interactive activities involving both the butler and your guests is a great idea. Whether it's cocktail-making competitions, trivia games, or photo booth sessions, having engaging activities will keep the energy high and the fun flowing. 
These activities create an entertaining atmosphere and give your guests a chance to interact with the butler in a lighthearted and memorable way. Be creative in planning these activities to ensure your guests have a blast and the butler becomes an integral part of the celebration.