Bench the Bride!  (or Guest of honour/ Birthday Girl/Boy)
Hey bachelorettes and MOH's!  Are you hosting a fab bachelorette party soon? Join our customers around the world and send us lots of fun, quirky or outrageous  videos taken of your butlers at your parties!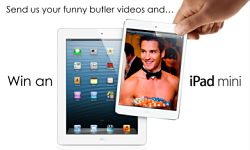 The videos will be published on our social media and the video with the most likes, tweets or shares in total on Facebook, Twitter, Instagram and Pinterest at Christmas
WINS an iPad mini for YOU and one for the BUTLER.
The competition is called Bench the Bride but doesn't have to apply to only bachelorette parties. Girls nights, birthdays -whatever reason!  We just want funny/witty short videos that we can use on our website and social media to show off our handsome hunks in action and the effort you all go through to create fabulous parties!
Butlers bench pressing guests, dance offs, funny tricks, surprise reactions as the Butlers enter the room, anything amusing!
Here are the rules:
Only short videos
Keep it clean-no swearing
Good lighting wherever possible
Make sure you show us a bit of your butlers bottom – if you can!
You can enter more than one video – the more the merrier-and more opportunities to win!
Email videos to This email address is being protected from spambots. You need JavaScript enabled to view it.">Stacey@butlersinthebuff.com or upload directly to our Facebook.
Video with the most likes/re-tweets or shares in total by Christmas wins an iPad mini for the bride and one for the butler.
You must be happy for it to go online.
It doesn't have to be set up, it could be clip of the games you have planned with the butler or the funny additions to the butlers outfits. Or if your butler is a surprise for the guests film his entrance!
Tell all your friends to like your video!  The more likes/shares/retweets in total the better your chances of winning
The number of likes, retweets, shares etc. across Facebook, Twitter, Instagram and Pinterest will be added together to give a total number. Highest number wins.
If there is a tie break – the competition will be extended for a further 24hrs and the highest number after the 24hrs will.  If still a tie-breaker, a winner will be picked out of a hat.
Send your video entries to This email address is being protected from spambots. You need JavaScript enabled to view it.">Stacey@butlersinthebuff.com or upload directly to our Facebook pages:
Or upload to your country's Facebook page:
UK:                            www.facebook.com/butlersinthebuff
USA & Canada:     www.facebook.com/butlersinthebuffcanada
Australia:                www.facebook.com/butlersinthebuffaustralia
South Africa:         www.facebook.com/butlersinthebuffsouthafrica
Get all your friends and family to like/share/retweet your video to win!
Good Luck! Happy Filming 😉