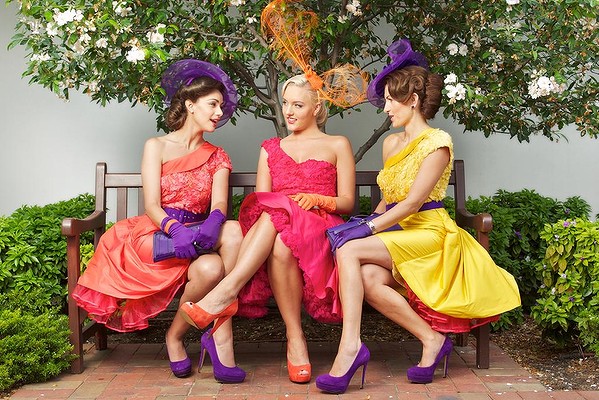 Weather you were in Melbourne for the festivities, attended a local event or office party. It truly was the race that stops the nation…and an excuse for the ladies (and some men) to get all dressed up and try your luck with a punt on a the big race.
Saturday 1st November kicked off the biggest week of fashion and horse racing in Australia…and probably one of the biggest weeks of alcohol consumption….
The week consisted of 4 major events: –
Derby Day– 1st Nov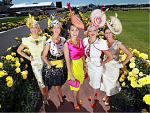 Melbourne Cup– 4th Nov
Oaks Day (Ladies Day)- 6th Nov
Stakes Day– 8th Nov
Apart from the minor detail of horse races actually taking place, lets be honest- these days it really is all about the fashion, and with fashion comes fashion etiquette.
Fashions on the field has become a major event and is one of Australia's largest outdoor fashion events….and its not just for the ladies!!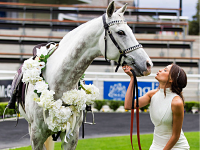 WHAT TO WEAR:
Melbourne Cup fashion isn't about wearing what is hot on the runway right now.  Denim, mini skirts and outrageous fashion isn't what spring carnival is all about.  The races are about time-honored traditions and elegance (Dresses that come to your knee…and not dresses that leave nothing to the imagination)
Don't get me wrong, this isn't a snobby event, but a lot of "ladies" this year forgot to keep it classy.  We seem to be hearing all about the "ladies" who stood out for the wrong reason.
Spring carnival isn't just about the colour of your outfit.  Although orange can be a great outfit choice, it is best kept to your clothes and not your skin!!  Getting a fake tan a few days before your event was not a good idea as it doesn't help to avoid last minute tanning disasters.  Better yet- why no go al-natural (but don't forget your sunscreen).  Red is definitely less flattering than orange!
A hat, headpiece or a fascinator as always was a must for this racing season. But bigger wasn't always better. It is the one-day of the year that you can go all out, but I'm not sure if all of the ladies took a look in the mirror before they left the house, with giant birds nests  or some king of alien creation atop their head (also making it hard for anyone stuck behind them)
If a fascinator isn't you- maybe just a pretty headband.  Make sure it is comfortable, it shouldn't come off…..like your shoes, its meant to be kept on all day.
Here is some advise to save for next years carnival:
DERBY DAY: – this is the day for classic elegance.  Derby day is traditionally known for its Black and White themed fashion for the ladies and grey or dark suits for the gentlemen.
MELBOURNE CUP: – This day is all about colour and looking fabulous.  This is the day that you can make a bold fashion statement with colour- be daring…but tasteful
OAKS DAY (ladies Day): – The ultimate day for the ladies to express their style.  Colour, floral prints, silk, chiffon but always remembering to be feminine.
-Choose clothes that suit your style, personality and body type.
STAKES DAY: This is the more relaxed day, traditionally known as family day at Flemington.  A great opportunity for your little ones to showcase there own personal style.